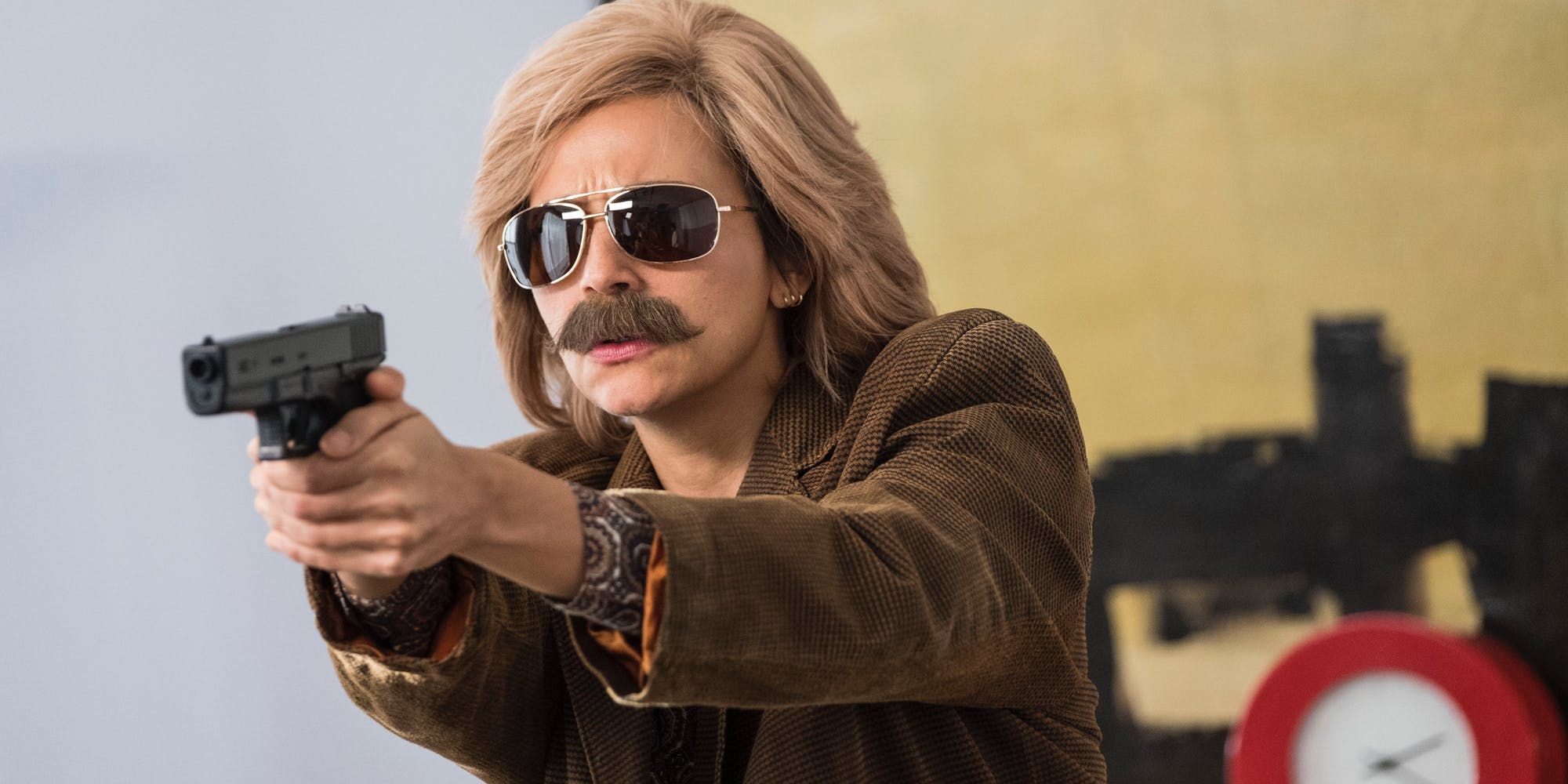 Brooklyn Nine-Nine just hit a two-year ratings high in its NBC debut this month, so clearly, the popular police-satire is doing something right. Celebrated for its witty portrayal of serious issues, actor Andy Samberg brings the laughs as an immature (yet competent) NYPD detective in Brooklyn's 99th precinct. As wonderful as it is, no show lasts forever, so it's important for fans of cop/workplace comedies to have a list of similar shows in their back pocket that are perfect for a rainy day. Here are 10 similar shows to watch if you love Brooklyn Nine-Nine.
RELATED: 25 Little Details Only True Fans Know About Brooklyn Nine-Nine
10. Parks And Recreation
When thinking of shows that remind me of Brooklyn Nine-Nine, this is the first one that comes to mind, and there's a good reason for that. Parks and Recreation is a hilarious political satire that was co-created by Mike Schur, who also happened to co-create Brooklyn Nine-Nine. Yep, that's where you recognize this relatable blend of inefficient bureaucracy and ridiculous one-liners! If you enjoy character-driven comedy and parodies, then Parks and Rec. is just what the doctor ordered.
RELATED: 10 Things Parks & Recreation Did Better Than The Office
9. The Good Place
Brooklyn Nine-Nine fans are sure to appreciate The Good Place, which was also created by Mike Shur (who also helped co-write The Office). Similar to Brooklyn Nine-Nine, the relatable jokes, absurd situations, and ridiculous characters in this fantasy-comedy series will have you rolling.
The series follows Eleanor Shellstrop (Kristen Bell) who arrives in Heaven (The Good Place) by mistake and tries to hide her bad behavior and misdeeds in an effort to stay there. If nothing else, be sure to watch it for the twist ending at the end of season one.
RELATED: Every Clue To The Good Place's Points System Twist
8. The Office
As I mentioned before, Brooklyn Nine-Nine creator Mike Shur co-wrote many scenes in the American version of The Office. He also made multiple appearances on the show as Mose Schrute, the cousin of Dwight Schrute. For those who haven't seen it, trust me, this is exactly the kind of character-driven comedy Brooklyn Nine-Nine fans would go wild for. The Office is a mockumentary-style comedy series that follows the every day lives of employees of the Dunder Mifflin Paper Company in Scranton, Pennsylvania. The humor's pretty dry, so get ready to laugh and cringe at the same time!
RELATED: Mindy Kaling Thinks The Office's Kelly Might've Eventually Murdered Ryan
7. Happy Endings
Happy Endings might have been canceled back in 2013, but like The Office, this single-camera ensemble comedy had quite the cult following because it was just so darn relatable. Unlike some of the shows on this list, Happy Endings doesn't take place in a work environment, but instead follows the lives of six best friends living in Chicago who put the FUN in dysfunctional. We've all "met" the types of characters in this show: the married couple, the overachieving businessman, the neurotic housewife, the ditzy single girl, the manchild, and the Taylor Swift-inspired character who just can't manage to keep a man. Sound familiar? You'll love every minute of it.
6. Veronica Mars
For those of you who enjoy Brooklyn Nine-Nine's perfect blend of crime and comedy, it might be time to check out Veronica Mars, a show that has been described as "a mystery wrapped in a comedy inside a teen drama."
The series is set in the very rich, very fictional town of Neptune, California, and follows Veronica Mars (Kristen Bell) as she follows in her father's footsteps moonlighting as a private investigator throughout high school and college. Anyone who appreciates a good character-driven, crime-solving series with a dash of light-hearted comedy will love every minute of it.
RELATED: Veronica Mars Revival Sets Another Original Cast Member To Return
5. Superstore
What do Brooklyn Nine-Nine, The Office, Parks and Recreation, and Superstore have in common? Miserable and clueless employees, that's what! The vast majority of people in America have had to put on a laminated name tag at some point in their lives, even if it was back in high school, so this show was bound to be a hit because so many people get it. Superstore follows a group of employees who work at a fictional retail store in St. Louis, Missouri, and we all know that workplace comedies are golden. Watch and find out why many are calling this show a worthy successor of The Office.
4. Angie Tribeca
Just like Brooklyn Nine-Nine, Angie Tribeca is a satirical take on the "police procedural genre," which apparently is a thing. The series stars Rashida Jones as police detective Angie Tribeca, a member of the LAPD's elite RHCU (Real Heinous Crimes Unit). Angie and her new partner solve a different crime in every episode, and the series is delightfully heavy on irony, slapstick comedy, and witty one-liners that you'll be quoting before you know it.
RELATED: Angie Tribeca Season 4 Gets A Trailer & Weekend-Long Marathon
3. Chuck
Chuck is a workplace/action/crime comedy all-in-one, so hold onto your butts. Chuck (Zachary Levi) works as a computer tech for a retail outlet and his life is just as average as his name. That is until he receives an encoded email from an old friend working for the CIA. After that, Chuck has top-secret intelligence downloaded into his brain and things change pretty fast as he's thrown into the undercover world of espionage. The series was popular and beloved enough to run for five seasons, even under multiple threats of cancellation, and finished in 2012.
RELATED: Where Are They Now? The Cast Of Chuck
2. Sirens
Listed as one of the most underrated sitcoms to stream on Netflix, Sirens follows the professional and personal lives of three EMT paramedics in Chicago and you won't believe what they get up to. Unlike some of the other workplace comedies on this list, the jokes and situations in this show are pretty crass and dirty, so maybe don't watch it with your grandma… Despite being a bonafide pearl-clutcher, Sirens (which is loosely based on the British series of the same name) is both quirky and laugh-out-loud funny.
1. Reno 911
Any fan of cop-humor had to know this one was going to make the list, right?! Reno 911 was a mockumentary-style parody of law enforcement documentary shows, specifically Cops, and it was just as ridiculous as you can imagine. The series ran on Comedy Central from 2003 to 2009 and followed a bunch of incompetent police officers as they chased criminals, performed their daily duties, and carried out questionable police procedures. Interestingly, most of the material used was completely improvised, which is pretty impressive.