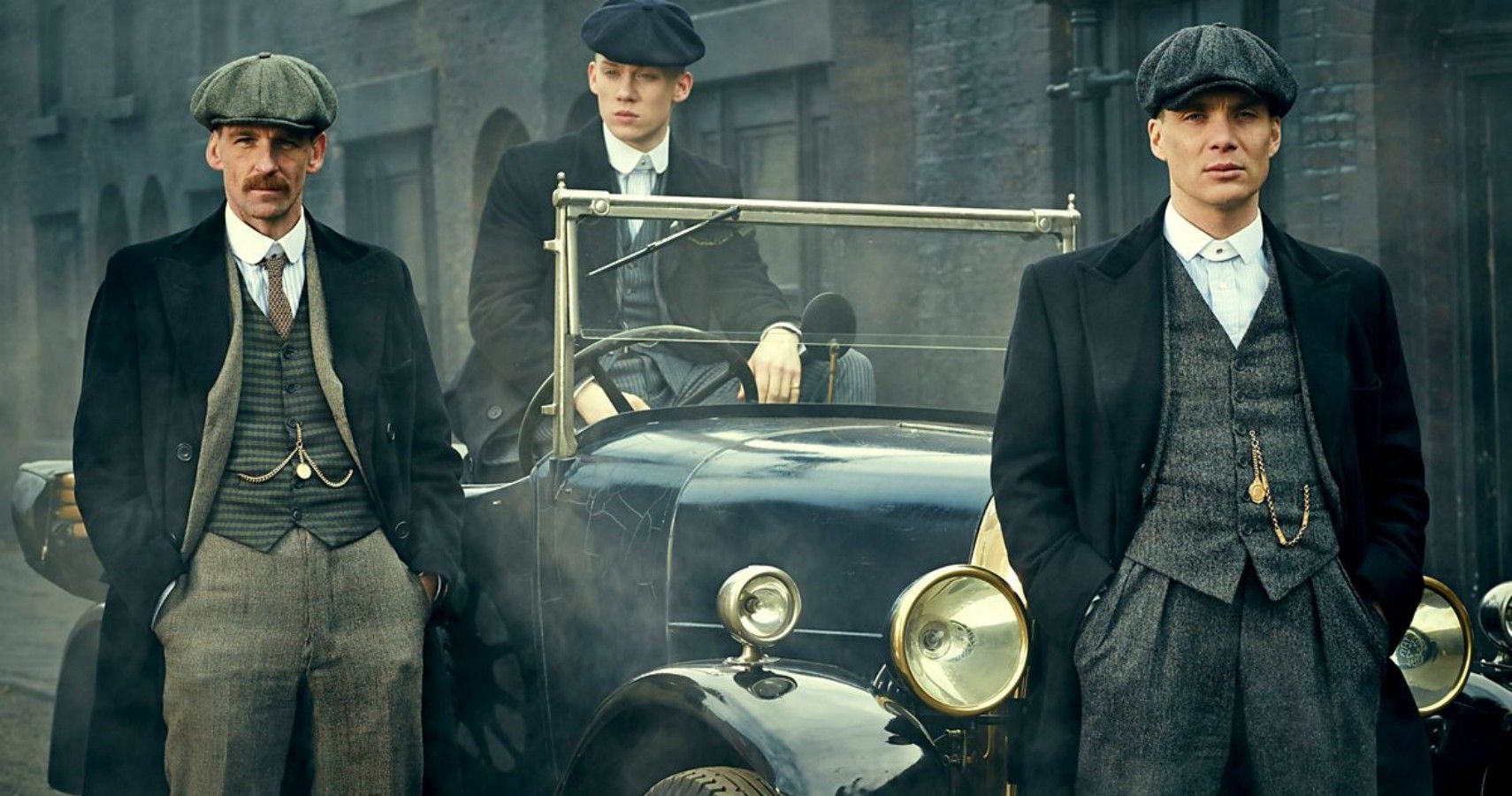 We can't speak for everyone, but personally, when we don't have a fantastic TV show to binge-watch, we don't handle it too well. We live for a marathon, but it's amazing how quickly you burn through those episodes. Even with a series as on-the-edge-of-your-seat entertaining as Peaky Blinders, there's only so many times you can re-watch before you want something more.
Ready to end the post-Peaky Blinders marathon dilemma? Well, you're in luck, friend! Read on and check out these 10 amazing series that Peaky Blinders fans (and everybody else, for that matter) are guaranteed to get a kick out of!
10. Boardwalk Empire
If you're coming down from the Peaky Blinders high, then Boardwalk Empire is the next best thing. Created by Terence Winter (The Sopranos, The Wolf of Wall Street) and brought to viewers by HBO, this one's got it all. Beautiful sets and costumes, drama, crime, A+ acting, and a storyline that just won't quit.
Boardwalk Empire centers around Nucky Thompson (Steve Buscemi), the treasurer of Atlantic City, New Jersey, and he's also the biggest bootlegger in the state. Other famous gangsters make appearances, like Al Capone, Arnold Rothstein, Charles "Lucky" Luciano, and Meyer Lansky. With five seasons to enjoy, Boardwalk Empire is one show where hitting "play next episode" to.
RELATED: 10 Best TV Shows From The Golden Age Of Television 
9. Sons of Anarchy
Sons of Anarchy may not be a period drama, but what it lacks in the former, it makes up for with the latter. In this FX series, Charlie Hunnam (Pacific Rim) stars as Jackson "Jax" Teller, who serves as the vice president of the Sons of Anarchy Motorcycle Club Redwood Original (SAMCRO).
We don't want to give too much away since that would spoil things for you and all. But, if you're a big fan of modern westerns that feature motorcycles and explore government corruption and vigilantism, then put this series at the top of your list.
Oh! And, clear your schedule, because this is one series you're gonna wanna binge-watch.
8. Ripper Street
Set in Victorian England in the wake of the Jack the Ripper murders, Ripper Street follows detective inspector Edmund Reid (Matthew Macfadyen) and his team of investigators who make up the H Division of Whitechapel. Along with detective sergeant Bennet Drake (Jerome Flynn) and Pinkerton, agent captain Homer Jackson (Adam Rothenberg) investigate the many crimes and homicides in the East End of London.
Ripper Street starts out in 1889, and even though it's not set in 1919, it still has a definite Peaky Blinders feel to it, so you'll feel right at home from the very first episode. You can even catch this show on Netflix.
RELATED: Netflix Original TV Shows To Be Most Excited About In 2019
7. The Sinner
Hey, while you're on Netflix, you should also check out The Sinner. Starring Jessica Biel as Cora Tannetti (a disturbed young mother with a troubling past) and Bill Pullman as detective Harry Ambrose, it's about a man who must get to the bottom of a crime Cora has no memory of committing.
If you're just itching to sink your teeth into another thrilling tale, full of mystery, intrigue, and, of course, a healthy dose of crime, check out The Sinner the next time you get time to do some serious TV watching. With two seasons and a total of 16 episodes, you can easily tackle this in a weekend or two.
6. Taboo
We love crime dramas, but do you know what else we love? Tom Hardy (a la Venom, aka Bane). If you're a fan of Peaky Blinders, then you know Tom Hardy appeared in the show as Alfie Solomons. Shortly after his stint on that period piece, he moved on to another — FX's Taboo.
It's dark, it's edgy, it's intriguing. Set in London during the War of 1812, James Keziah Delaney (Hardy) is an adventurer, but he's returned home after inheriting his late father's shipping empire. In his quest to make the business profitable, Delaney soon realizes he's also inherited his father's many enemies — people who would do anything to get their hands on what's rightfully his.
RELATED: 24 Wild Details About Tom Hardy's Bane That Fans Choose To Ignore
5. Better Call Saul
If you're not watching Breaking Bad's epic spin-off prequel by now, then what the heck are you even doing?! Better Call Saul on AMC just might be the best thing since sliced bread.
The series tells the story of Jimmy McGill, the man who would become Saul Goodman, and explores the many moral dilemmas he faces (often of his own making, BTW) as well as how he deals with them. Chock full of crime and relatable, downright likable criminals, Better Call Saul is totally worth a watch
RELATED: Better Call Saul Characters Sorted Into Their Hogwarts Houses
4. Godless
Starring Downton Abbey's Michelle Dockery as the widowed Alice Fletcher, this American Western is set in the 1880s and tells the riveting tale of a town that, after a mining tragedy, is inhabited almost entirely by women. Trouble comes a knockin' when an outlaw named Frank Griffin (Jeff Daniels) visits on a ruthless hunt for his former protege, Roy Goode (Jack O'Connell).
If you love gorgeous shots of the wide open range, showdowns at high noon, and plenty of good, old-fashioned cowboy action, Godless definitely won't disappoint you. With seven episodes, this series was just made for bingeing, and it's ready to watch on Netflix.
RELATED: Downton Abbey Movie Teaser Trailer: The House Takes Center Stage
3. The Making of the Mob
Charles Luciano, nicknamed Lucky, was a supporting character in Boardwalk Empire, but in The Making of the Mob, an eight-part series on AMC, Mr. Luciano is the star of the show. Narrated by Ray Liotta (Goodfellas), the story starts in 1905 and, over the course of more than 50 years, follows Luciano's rise to power.
Get your gangster fix with this gripping, info-rich docu-drama; a series so great, it inspired a second season titled Chicago, which tells the story of Al Capone. So, when you finish this one, you've got a promising back-up. Isn't learning while simultaneously being immensely entertained just the best?!
2. Billions
(Psst. Hey, you. Yes, you! Listen, if you could read the following in a movie announcer guy's voice, that'd be great. It's not mandatory or anything, it just makes this more fun.)
Corruption. Greed. Lies. In a world where money is the only thing that matters, one man will dare to put materialism to the side and come face-to-face with pure evil Starring Paul Giamatti and Damian Lewis, don't miss Billions on Showtime.
Alright, enough goofing around. Let's get down to brass tacks. Paul Giamatti stars as Charles Rhoades, a U.S. Attorney who's made it his personal mission to expose Robert Axelrod, the super wealthy manager of a hedge fund who relies on insider trading and bribery to grow his empire.
RELATED: 15 Movie Stars You Didn't Know Were Making The Switch To TV
1. Penny Dreadful
While you're visiting Showtime, check out another stellar series that they have to offer called Penny Dreadful. Full of delightfully spine-chilling, steampunk-ish horror, this series takes place in Victorian England. It features familiar characters from classic literature, like Dorian Gray, Dr. Frankenstein, and the latter's infamous monster.
Inspired heavily by gothic fiction and based on the once popular penny dreadfuls, this series is full of that blood-curdling dark fantasy that most Peaky Blinders fans find resistible. With three seasons under its belt, and a spin-off (Penny Dreadful: City of Angels) in the works, this one's a must-see.
NEXT: Penny Dreadful Spinoff City of Angels Ordered By Showtime