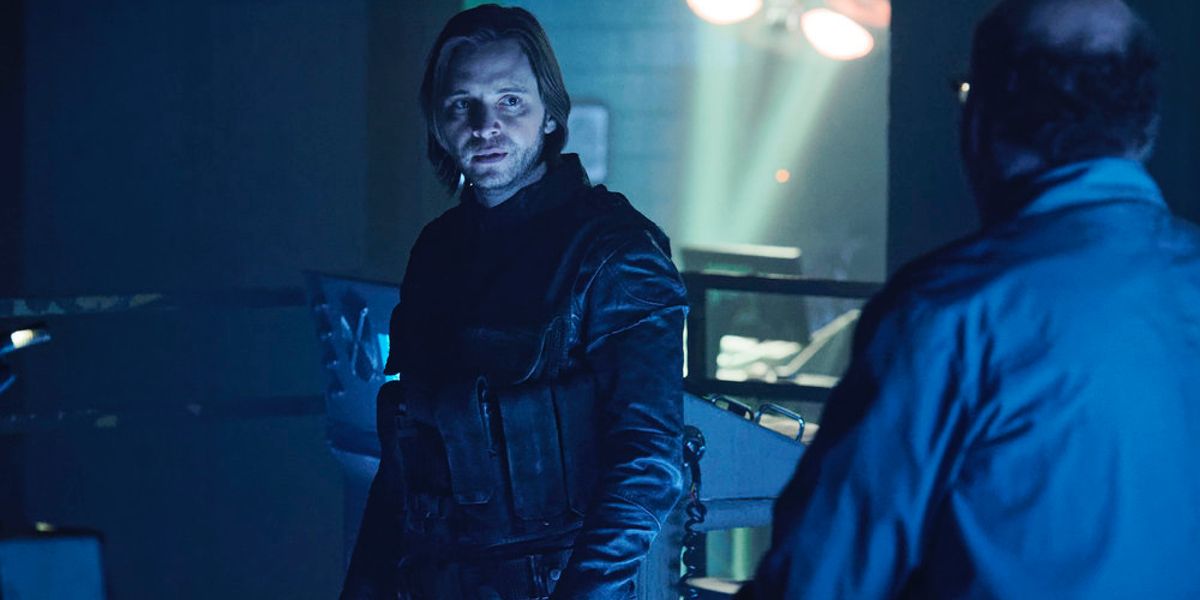 Ending a television series after four seasons is "bittersweet," according to 12 Monkeys star Aaron Stanford. The actor is just a week away from seeing his SYFY show reach its time-hopping conclusion as the four-week final season marathon marches toward the finish line. But while it's always nice to be a part of a series that gets to tell a complete story from start to finish, Stanford says that there are other emotions that come along with it, and some of them might even creep into the actors' performances. 
The chance to take part in a series finale is nothing new for Stanford. Before making the move to SYFY, he co-starred alongside Maggie Q on The CW's Nikita for four seasons. Despite his familiarity with final seasons, Stanford's experience is nevertheless a mix of emotions since, as he puts it, he's "saying goodbye to [his] family."
Stanford talked about bringing 12 Monkeys to a close in a recent interview with Screen Rant, where he discussed the amount of time an actor spends with the crew and fellow cast members, and how bringing that to an end can be challenging. Stanford said:
"It's bittersweet. Obviously you're always happy when you can tell a story completely from beginning to end, and tell it in a satisfying way where you're able to make yourself happy and make the audience happy. It's gratifying to be able to do something like that and see something through from beginning to end. On the bitter side, you're saying goodbye to your family. You know these are people that you work with and spend every day of the week for between 14 and 16 hours. You share your life with them, and it's tough when it comes to an end."
A sense of finality has been present throughout the fourth season, particularly when James and Katarina (Barbara Sukowa) venture back to the beginning of their time travel adventure only to encounter themselves. Stanford says that feeling likely came through in the performances as a byproduct of the actors knowing they are working with one another for the last time. 
"What you're reading there is probably what we were projecting as people and as actors. There was a feeling, for me anyway, throughout the entire final season, there was that feeling every time we shot in a location where 'This is the last time we're gonna shoot here.' Or This is the last scene that I'm going to have with this person. Those things had a weight and a gravity to them. I think it just ended up coming across naturally in the performance. And I think it really works for the story, but it was a pretty natural process."
12 Monkeys concludes next Friday with 'The Beginning: Parts 1 & 2' on SYFY.
The post 12 Monkeys' Aaron Stanford Reflects On The Series Ending After 4 Seasons appeared first on ScreenRant