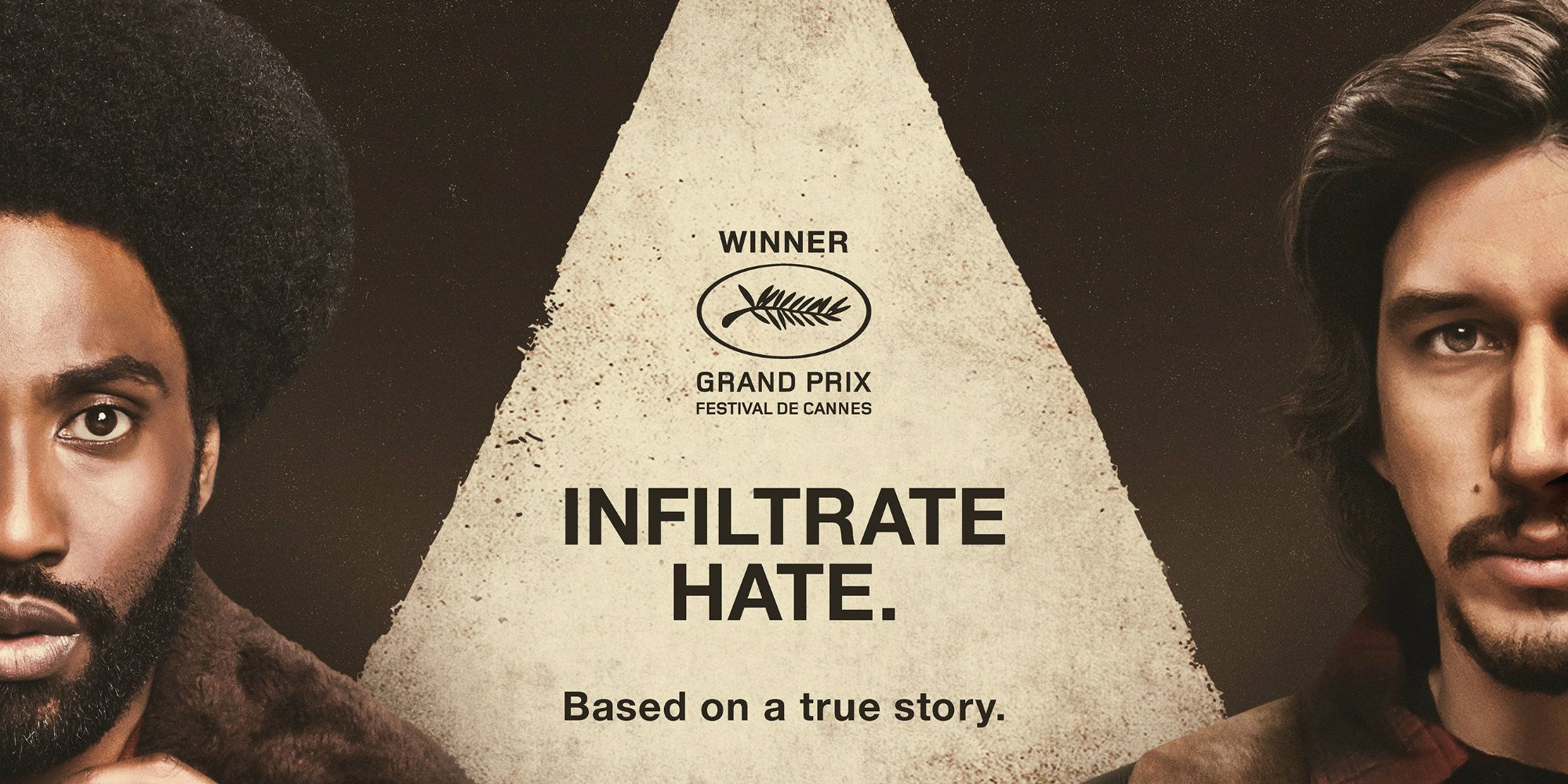 BlacKkKlansman reveals a brand new poster in anticipation of the new Spike Lee Joint. The film, based on the remarkable true story by Ron Stallworth, saw its world premiere earlier this year at the Cannes Film Festival, where it took home the Grand Prix award, and a Prize of the Ecumenical Jury Special Mention.
BlacKkKlansman's origins lie in a book first published in 2014. Black Klansman, written by Stallworth, recounts the true story of a police officer who infiltrated the Ku Klux Klan back in 1979. The writer, now retired from the force, kept his story a secret until 2014, but it wasn't long before it was optioned for a film, which soon signed on prolific filmmaker and auteur Spike Lee to co-produce, direct, and co-write the script.
The newly released movie poster for BlacKkKlansman features stars Adam Driver and John David Washington – who happens to be Denzel Washington's son – standing before a white triangle reminiscent of a klan member's hood. The simple tagline "Infiltrate Hate" aligns with the essential focus of the film, and additional credits illuminate the involvement of Get Out's Jordan Peele, who co-produces the film alongside Jason Blum and his production company Blumhouse.
Driver and Washington both feature prominently in the BlacKkKlansman trailer which dropped in May, playing the roles of Stallworth and his partner detective Flip Zimmerman, who attends face-to-face meetings with the Klan in Stallworth's stead. This trailer also revealed actor Topher Grace, who plays white supremacist and former Grand Wizard of the KKK David Duke, hoodwinked by Stallworth in a phone call pretending to be an eager new convert to the cause. The relationship between Stallworth and Zimmerman seems effectively clarified in the poster as well, with Washington holding binoculars, demonstrating his practical coordination of the investigation from afar.
Stallworth broke color barriers as a rookie officer in the Colorado Springs Police Department, and his extraordinary and ultimately successful undercover infiltration into the KKK sounds like an inspired basis for a summer film. Despite the apparently serious subject matter, the true story foundation, and the current era in which it's presented, the trailer hints at an experimental and entertaining hook – BlacKkKlansman seems to combine the accessible nature of a buddy cop film with an insightful exploration of historic racism, a topic consistently relevant in our present day.
Spider-Man: Homecoming's Laura Harrier and Kong: Skull Island's Corey Hawkins co-star in BlacKkKlansman, which releases August 10 and is distributed by Focus Features.
The post Adam Driver Prepares To Infiltrate Hate In BlacKkKlansman Poster appeared first on ScreenRant