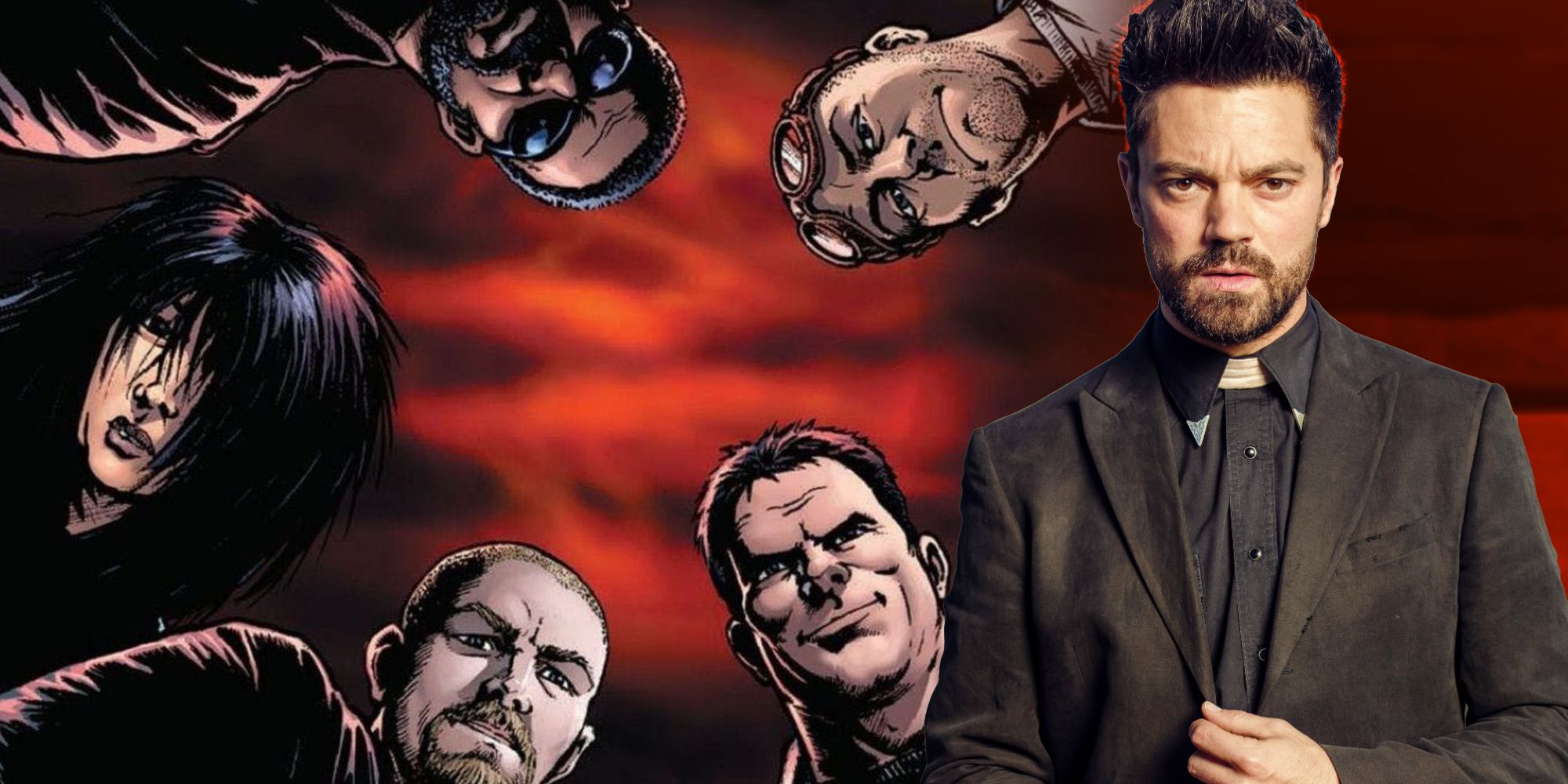 Production on Amazon's adaptation of Garth Ennis and Darick Robertson's mocking, ultra-violent superhero series, The Boys, is now underway, and executive producers Seth Rogen and Evan Goldberg say the show wouldn't have been made if not for the success of Preacher. At first glance the over-the-top, sometimes controversial adaptation of the comic book series, by Garth Ennis and the late Steve Dillion, doesn't seem like the sort of program that would pave the way for more shows like it, but, as it turns out, looks can be deceiving.
Because the content and tone of Ennis's two series are so similar, it's a given that any adaptation would inevitably veer gleefully into tricky TV-MA territory, where the line between derisive and distasteful is perhaps razor thin. It makes sense, then, for the people cutting the checks anyway (in this case, Amazon), to turn to Rogen and Goldberg, considering they have experience not only adapting Ennis's work, but also in delivering successful projects with a similar sensibility. 
Rogen and Goldberg said as much during a recent conference call in which they primarily discussed Preacher season 3. When asked about The Boys finally coming to fruition with Supernatural creator Eric Kripke in place as showrunner and 10 Cloverfield Lane director Dan Trachtenberg on board to helm the pilot, Goldberg felt Preacher was responsible for paving the way for the new series. He said:
"Without the success of Preacher I can't imagine they ever would have considered it for a minute. Even though Preacher is by far the craziest most reality-bending, genre-bending thing, The Boys is much more grounded in reality but it is equally insane in its own unbelievably gritty, unforgiving analysis of like societal flaws through this very different story. Without any doubt, there's no chance they would have even considered letting us do this, nor would they consider anyone doing it I would imagine without Preacher, because it just proved this crazy can happen."
Rogen followed up those sentiments by alluding to the hurdle of getting Preacher made in the first place, much less readying for the start of the third season. Ultimately, though, getting this new series made came down to the pair drawing from their experiences on Preacher to garner a greenlight for The Boys. 
"I think mostly that's what Preacher did: it kind had been dubbed unmakeable. And that was crazy to us because we couldn't have had a more clear vision of how to it could be made. And a similar thing was happening with The Boys, where it was kind of handed off by a few different people who, by all means, should've been more suitable to make it than us, but for whatever reason they couldn't and the whole time we were just sittin' there like 'We get this. We can do this. This is not that crazy to us.' We understand how this world works and we partnered with Eric Kripke who really understands how the world works and Dan Trachtenberg made one of my favorite movies that has come out in a long time and so getting him to direct the first episode was just like thrilling, honestly. And we were just in Toronto watching them film it and I think they're filming the second or third episode right now."
It will be interesting to see how The Boys handles the content of the source material considering it will face fewer restrictions being on a streaming service like Amazon. That freedom, along with a cast that includes Karl Urban, Elisabeth Shue, and Antony Starr might see the series court even more controversy than Preacher has.
The Boys is currently in production and is expected on Amazon Prime sometime in 2019. 
The post Amazon's The Boys Wouldn't Have Happened Without Preacher's Success appeared first on ScreenRant