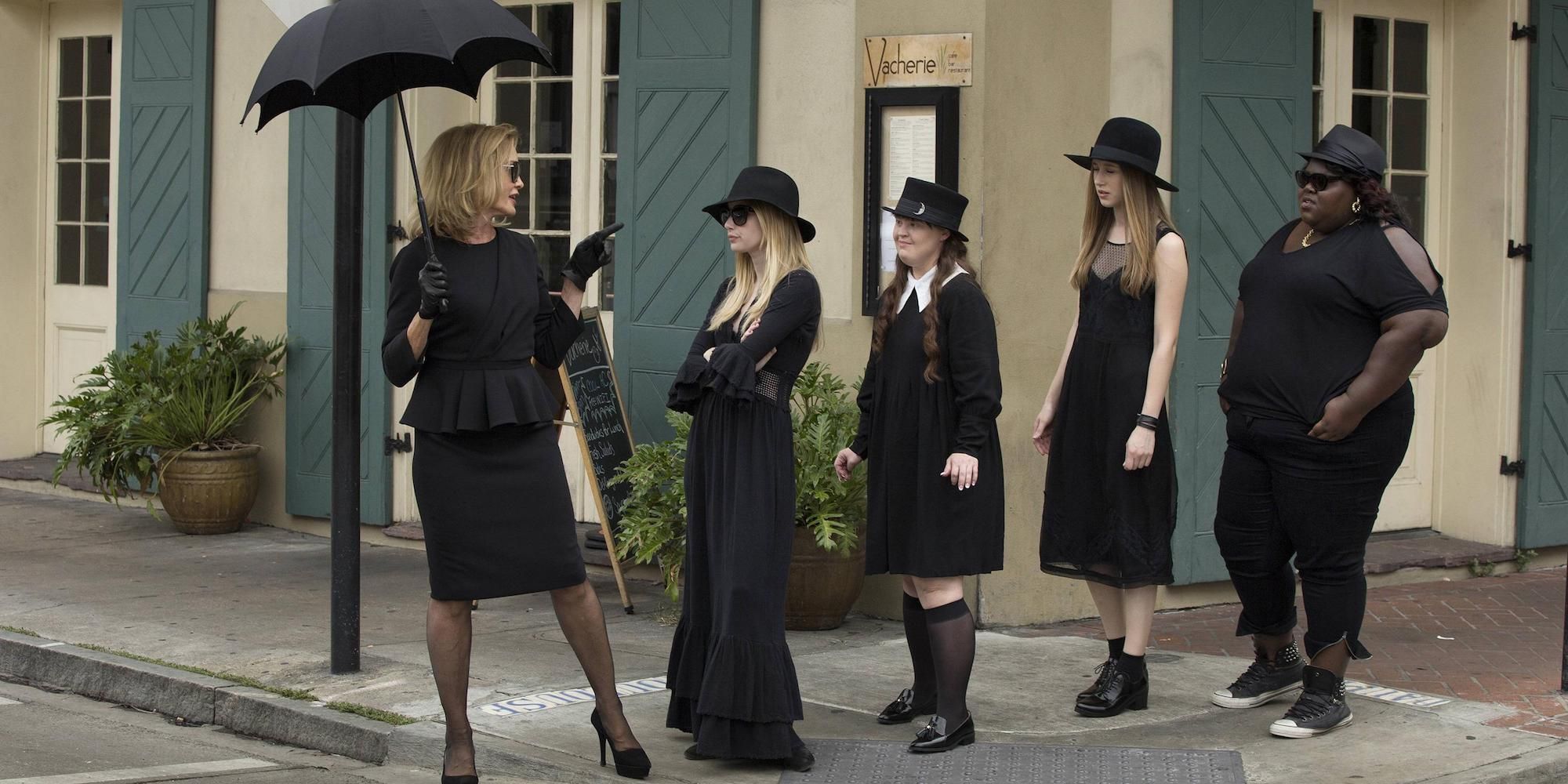 Showrunner Ryan Murphy has released the first official cast photo for season 8 of American Horror Story, and it's all about the witches. Called Apocalypse, the plot will see the first full-length crossover of previous stories in the supernatural mythology show, as characters from Murder House (season 1) will be mixing it up with those from Coven (season 3). To mark the occasion, Murphy has released an image for the reunion of the Coven actresses, and it's like they've never been away.
After the semi-realistic and politically charged events of Cult (season 7), Murphy has been teasing details about the content of season 8. At one time it was thought to be a post-apocalyptic futuristic tale to be titled Radioactive. But he succeeded in misleading everyone, when it was finally announced that it would officially be the long-promised crossover season. All the AHS regulars were confirmed for a return, with the welcome news that Jessica Lange would be making a comeback as her character from Murder House. In turn, this revelation led to some more details regarding the overall story, with Antichrist Michael Langdon coming into conflict with the witches from Cordelia Foxx's Coven.
Related: American Horror Story Season 8 First Trailer Teases The Apocalypse
Bearing in mind that some of the cast – such as Taissa Farmiga and Evan Peters – played central roles in both of those seasons, there's always been some question as to which characters would be part of Apocalypse. Murphy has apparently answered that to some extent, with this new photo posted on his Twitter, which reunites the main characters from Coven. Introduced with the words "The Coven Returns", it sees seven members of the cast posing on a staircase which presumably places it at within Miss Robichaux's Academy in New Orleans. You can check out the full post below;
Along with Sarah Paulson as Cordelia, you can see Lily Rabe (Misty Day), Emma Roberts (Madison Montgomery), Taissa Farmiga (Zoe Benson), Gabourey Sidibe (Queenie), Frances Conroy (Myrtle Snow), and Stevie Nicks (who of course played herself in Coven). As they're all in 'witch' costumes from their previous academy days, it seems reasonable to assume that they will be reprising their characters from season 3. This alone raises some interesting questions. The final episode of Coven saw Madison, Myrtle, and Misty all die pretty conclusive deaths. And AHS: Hotel (season 5) saw Queenie also apparently killed by the combined effort of ghosts and vampires. While it's never wise to second-guess Murphy's sleight of hand, it seems to suggest that some of the characters will either be resurrected by witchcraft (which has happened to several of the characters previously), or there may be an element of time-travel possible. No doubt all will be explained when the show finally debuts.
Whatever plot twists and turns Murphy has planned for viewers, this season is possibly the most-anticipated one for some time. Also joining Lange and the Coven members will be Kathy Bates, Billie Lourd, and Joan Collins in presumably new roles. While most of the plot is being kept under wraps, the basic concept of witches confronting the Antichrist seems to be ripe for Murphy to use his usual shenanigans to shock, surprise, and scare. We look forward to seeing what he has in store for the Coven and for viewers.
American Horror Story: Apocalypse is will debut September 12 on FX.
Source: Ryan Murphy