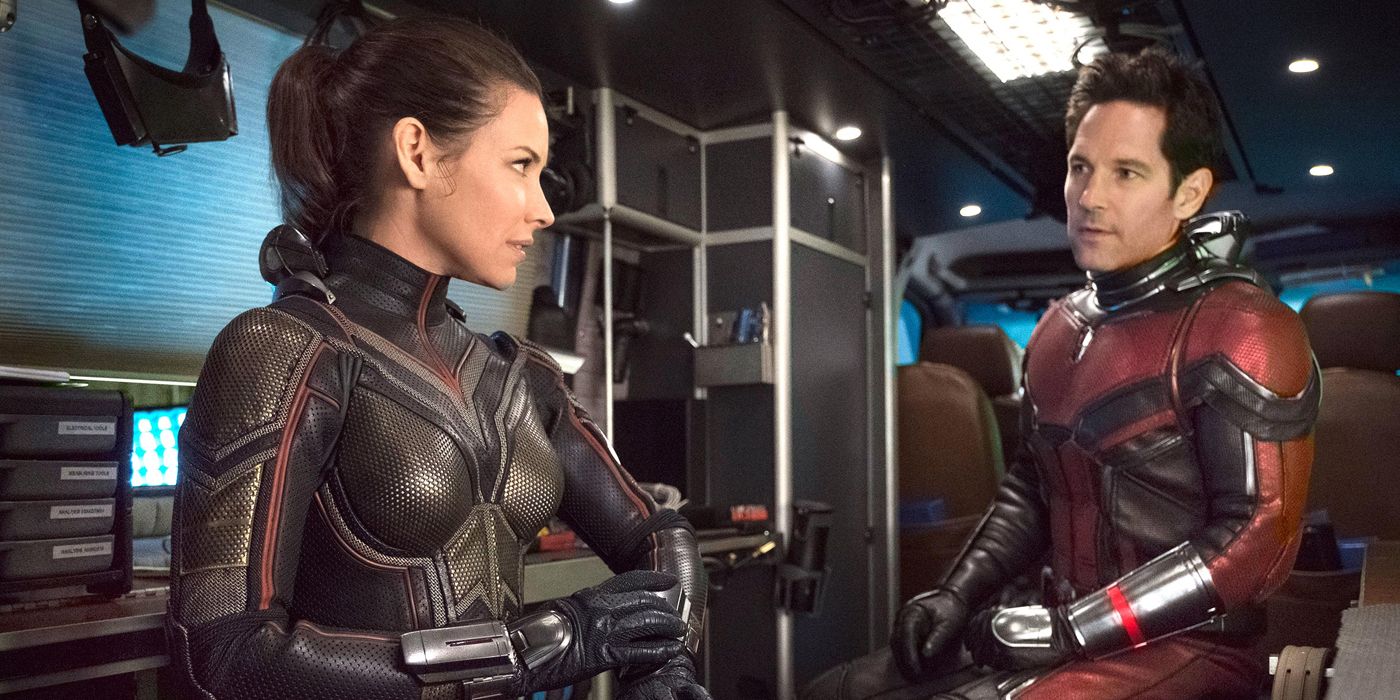 Now that she is officially suiting up in Ant-Man & The Wasp, it turns out that Evangeline Lilly worked even harder than her costar Paul Rudd on stunts. Even though both actors are meant to be working side-by-side in the movie, the titular Ant-Man apparently isn't putting in as much effort as his superhero counterpart.
Following up 2015's Ant-Man, Ant-Man & The Wasp centers around Scott Lang (played by Rudd) as he deals with the massively consequential events set up in Captain America: Civil War. Having agreed to house arrest after siding against the Sokovia Accords and breaking international law, Lang is ultimately swept back into his role as Ant-Man – this time accompanied by Hope Van Dyne/The Wasp (played by Lilly). The two embark on a mission that not only pits them against a new villain known only as Ghost (played by Hannah John-Kamen), but uncovers mysteries from the past. Also starring Michael Douglas, Michelle Pfeiffer, Lawrence Fishburne, and Michael Peña, Ant-Man & The Wasp is directed by Peyton Reed and co-written by Chris McKenna, Erik Sommers, Paul Rudd, Andrew Barrer, and Gabriel Ferrari. Now, with the movie edging closer to its release date, Reed has opened up about how Lilly put in significantly more effort than Rudd, albeit in a clearly playful manner.
While stunt work is definitely a big part of the job for lead actors in the MCU, Reed explained (via THR) that Lilly was especially dedicated to perfecting her physical approach to the Wasp. Especially compared to Rudd, Lilly took the stunt work and training "very seriously," adding that she was adamant she be perfect even to the smallest details. He also explained that she wanted to sweat while she was performing her stunts, as opposed to looking "great and glam," like other female superheroes. He said:
"Evangeline is a very physical actor and she takes very seriously the stunt work and the training. Way more so than Paul Rudd," Reed deadpanned to The Hollywood Reporter at Monday's premiere at the TCL Chinese Theatre. "She's in there and really wants to get it right. Every aspect of that character. It was important to her, 'I want to sweat. A lot of those female heroes they fight and they look great and glam, I want to sweat. I want to have my hair in a ponytail because that's what I would do.'"
As it so happens, Lilly wasn't the only female member of the cast who took the stunt work seriously. John-Kamen was also dedicated to performing her own stunts, embracing the "adrenaline rush" that it gave her. And as far as whatever stunt work – if any – that Pfeiffer will bring to the table as former Wasp Janet Van Dyne, that remains to be seen, but it's clear that the women of Ant-Man & The Wasp are bringing their A-game, even more so than the men.
Though Lilly will no doubt bring plenty of physical expertise to the Wasp role, it's fair to assume that her emotional beats relating to her mother may hold more significant weight in the end. While the first Ant-Man focused on the father/daughter relationship between Rudd and his daughter Cassie (played by Abby Ryder Fortson), this sequel will likely shift gears and focus on the mother/daughter relationship between Hope and Janet. Whether they end up fighting side-by-side (or against each other) remains to be seen.
Source: THR
The post Ant-Man 2: Evangeline Lilly Worked Harder Than Paul Rudd On Stunts appeared first on ScreenRant