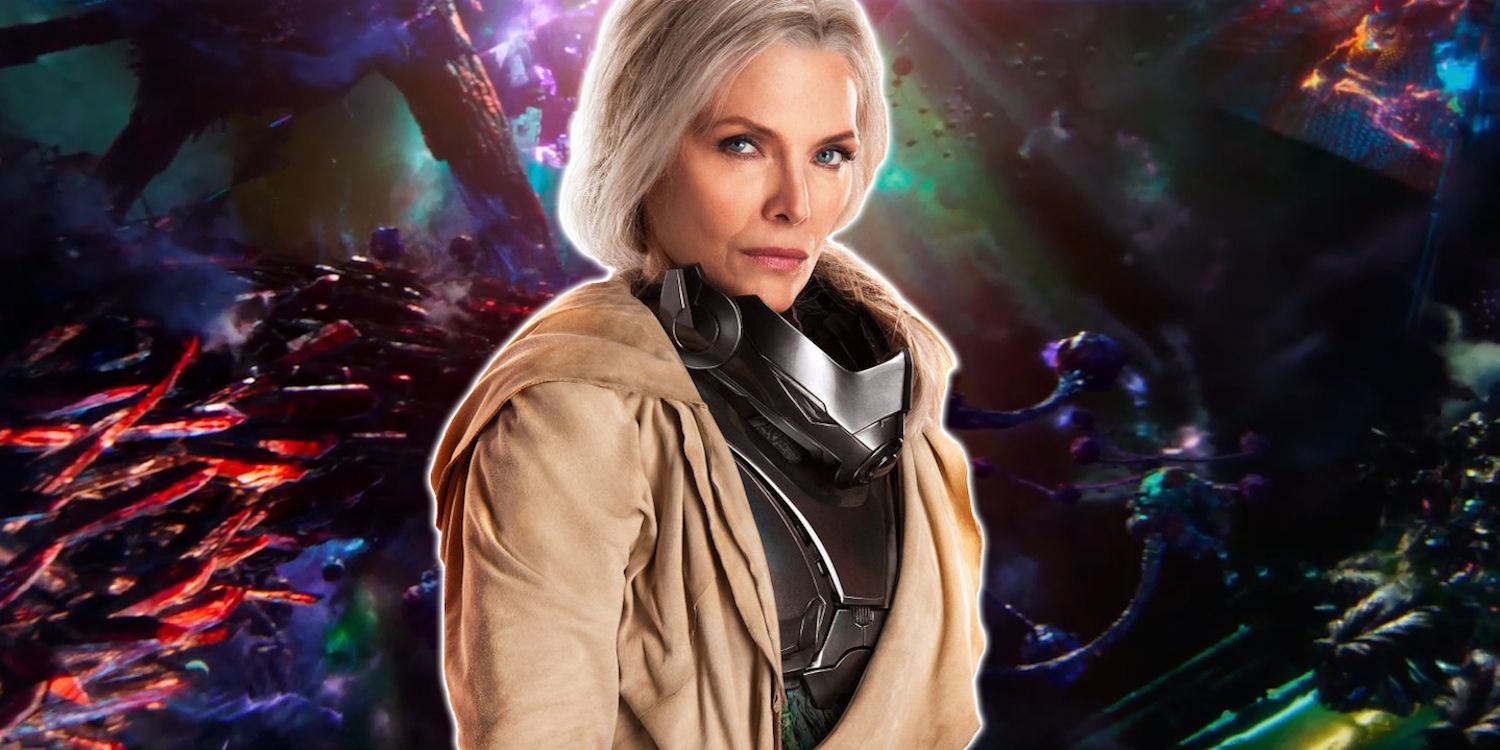 Ant-Man & The Wasp concept art provides a look at an early design of Janet van Dyne's (Michelle Pfeiffer) Quantum Realm suit. Marvel Studios wrapped up their 10th anniversary year by going (literally and figuratively) small with the release of Peyton Reed's sequel to 2015's original Ant-Man film. Paul Rudd's Scott Lang returned with a brand new mission, but this time, he got a partner as Evangeline Lily's Hope van Dyne suits up as the latest incarnation of the Wasp.
Much of the plot of Ant-Man & the Wasp revolved around the rescuing of Janet Van Dyne, the Pym matriarch and original Wasp, who was trapped in the Quantum Realm for years after going subatomic to stop a nuclear missile. Hank (Michael Douglas) and Hope didn't think that there was ever a chance that she can be brought back from the alternate dimension, but all that changed when Scott successfully grew back to his normal size after going subatomic in the first movie. With that in mind, the father and daughter relentlessly worked to extract Janet from the Quantum Realm which they fortunately accomplished.
Related: Rotten Tomatoes Gives The Smallest Award To Ant-Man & The Wasp
Coming from Marvel Studios concept artist Jackson Sze is concept art for Janet's survival suit in the Quantum Realm. The concept behind the design highlights how "she would have modified her suit with materials she found in her alien environment" in order to stay alive in the alternate dimension. Check out the image below which was posted on the creator's official Instagram account:  
Sze's design has the same concept behind the suit that Pfeiffer eventually donned in Ant-Man & The Wasp, with all the additional features. That makes sense, considering that she had to improvise in order to survive the foreign environment that she's trapped in. The difference, however, is that, while the early concept art still highlights her original Wasp suit, the one that ended up in the film barely revealed her battle armor, especially with the bulky cape and without her helmet. While Sze's initial design looks cool as well, the more battered and significantly altered version that ended on the big screen fit the narrative better as it emphasized Janet's three-decade-long entrapment in the Quantum Realm.
With Janet, as well as the rest of the Pyms' current situation, it's uncertain when fans will get to see more of the original Wasp again, especially since there are still a lot of lingering questions with regard to her time in the Quantum Realm. Folks at Marvel Studios insist that there are no plans for Ant-Man 3 just yet, but it's safe to say that chances are that it will happen. If anything, Sebastian Stan, who plays Bucky Barnes/White Wolf in the MCU previously let it slip that he filmed a scene with Pfeiffer and Douglas which could very well be for Avengers 4.
Source: Jackson Sze/Instagram