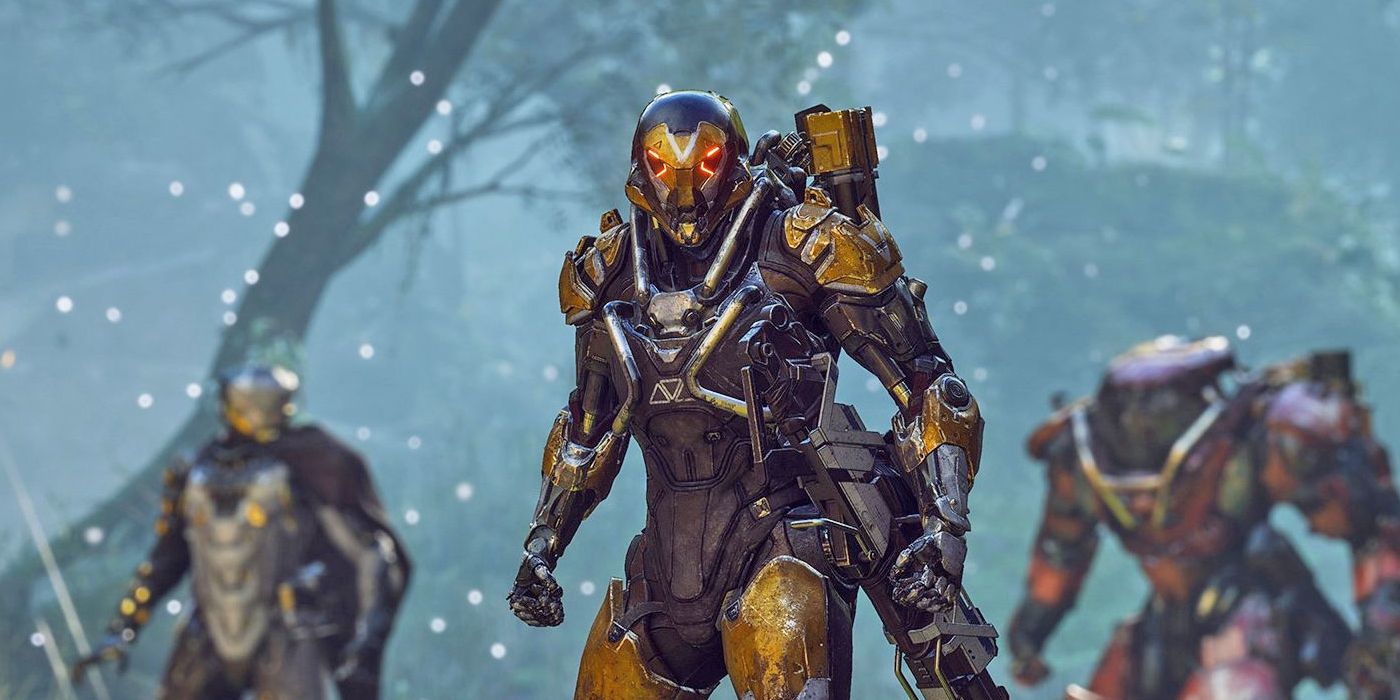 Although the issue of cross-play has become a major talking point in video games of late, it appears as though BioWare's Anthem is going to be steering clear of it by not allowing cross-platform play between PC and console. Recently, several games have tried to push a seamless cross-play experience for players, but push-back from Sony in particular has led to such attempts being unsuccessful. Although Minecraft is now available to play between Xbox One and Switch, for instance, PS4 players are left out, and it's the same for such other massive games as Fortnite.
Some may have suspected that Anthem would have been another example of how cross-play could work, and perhaps a chance for Sony to finally rescind its anti-consumer protocol. After all, the game's big showing at E3 2018 revealed a wealth of gameplay and story details, among them some further examples of exactly how the squad-based gameplay is going to tie into a larger narrative. Being part of that with friends on all platforms would have been a big win.
Related: Anthem Gameplay Impressions: It's Actually a Fun Game
However, as it stands Anthem is not going to include this functionality – at least at launch. BioWare executive producer Mark Darrah has been answering plenty of fan questions on Twitter over the last few days, and when the question of cross-play came up, he advised a would-be PC player that currently it's not on the cards. This does not mean that it won't arrive at a later date, but it's not something to put down as a potential selling point.
That's not the only area that Darrah was willing to answer questions on, either. The executive producer was also asked about new builds for the Javelin exo suits down the line, leading to a response that there are no plans for post-launch DLC yet. However, given that Anthem is going after the games-as-service model, expect this to change after the game releases.
All in all, Anthem is looking an intriguing project. It's something new from BioWare, a developer traditionally known for single-player RPGs with a large emphasis on story, and hands-on gameplay with the title at E3 was certainly impressive. Whether that follows through in the final game remains to be seen, but with the game one of many to release on February 22, 2019, Anthem will certainly want to pull something impressive out of the bag.
Nonetheless, the news that the game will not support cross-play will be disappointing for some. More and more, games are allowing players to play with friends regardless of platform, and certainly those who wanted to play between PC and console will be let down by this. After all, although PS4 to Xbox One still seems a no go area, there's nothing holding back PC to console cross-platform for Anthem.
Source: Mark Darrah
The post Anthem: BioWare Has No Plans For Cross-Play Or Post-Launch DLC appeared first on ScreenRant