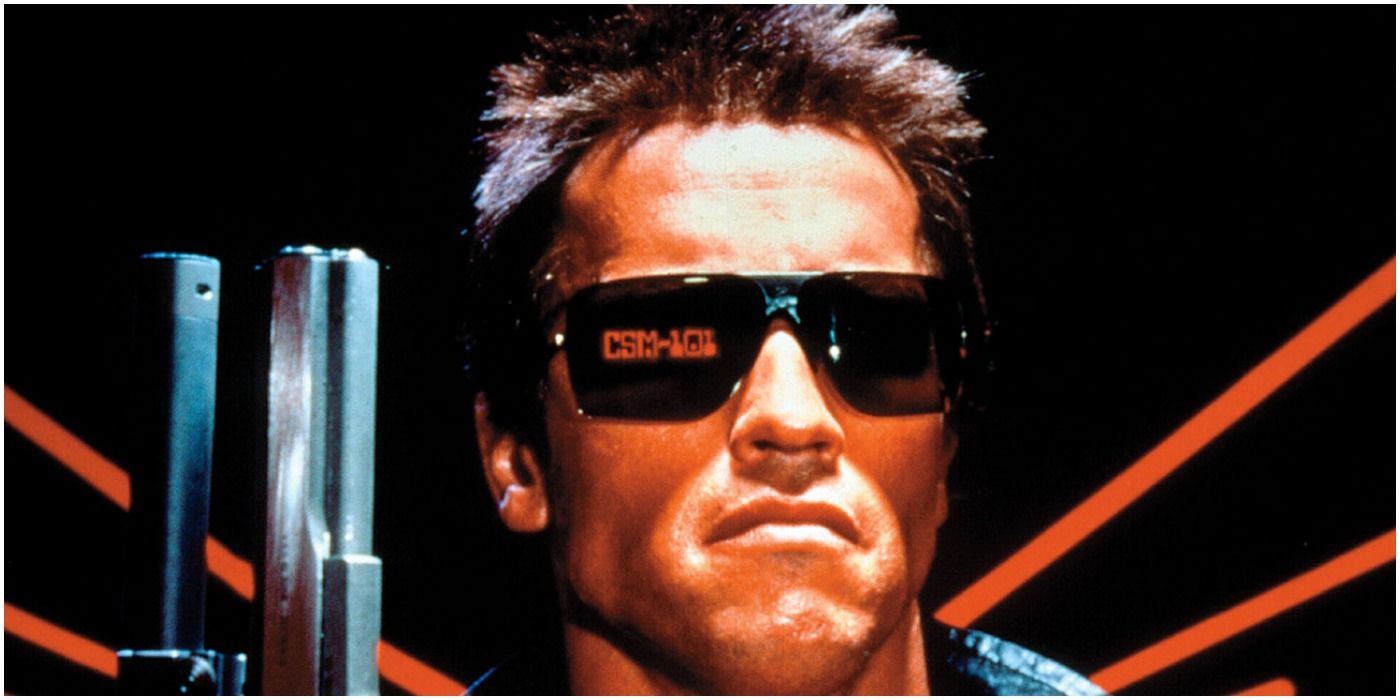 In a tweet, original Terminator Arnold Schwarzenegger shows himself helping prepare new Terminator Gabriel Luna for his potentially career-making role in Terminator 6. In the upcoming movie, Schwarzenegger and fellow original Terminator star Linda Hamilton will pass the torch to a new generation of characters as James Cameron tries to launch a reboot trilogy. A recent first look photo from Terminator 6 showed Hamilton alongside new stars Natalia Reyes and Mackenzie Davis.
Plot details on Terminator 6 are being kept largely under wraps, but it has been revealed that the new movie takes place in Mexico City and centers on Natalia Reyes' Dani Ramos as she finds herself being hunted by Luna's Terminator. Mackenzie Davis plays a character named Grace, described as a soldier-assassin, who may herself be a cyborg sent from the future. Deadpool director Tim Miller helms the reboot, which will ignore the events of Terminator 3, Salvation and Genisys.
Related: Every Terminator 6 Update You Need To Know
In a new photo posted to Twitter, Arnold Schwarzenegger helps in passing the torch by acting as mentor to Luna, his successor in the Terminator universe. The image shows Schwarzenegger, who recently underwent emergency heart surgery, putting the much younger Luna through his paces in the gym. Being a former Mr. Universe and member of George H.W. Bush's President's Council on Physical Fitness and Sports, Schwarzenegger knows all about what it takes to get pumped up, and he's clearly happy to impart his knowledge to Luna. See the tweet below:
Schwarzenegger's connection to the Terminator franchise goes all the way back to the first movie, released in 1984, in which he played a relentless robot assassin sent back in time to murder Sarah Connor (Hamilton) to prevent her from giving birth to the savior of the future. Then, 1991's blockbuster Teminator 2 saw Schwarzenegger once again playing the T-800, this time programmed to protect John and Sarah Connor from a new Terminator made of liquid metal. Terminator 3 then tipped over into schlock territory as Schwarzenegger was pitted against a female Terminator. Schwarzenegger skipped Terminator Salvation but returned for the hopelessly convoluted Terminator Genisys, which attempted unsuccessfully to reboot the faltering franchise.
Returning producer Cameron hopes that Terminator 6 will succeed in breathing new life into the franchise after over three decades and five movies. Schwarzenegger of course is no longer a young man, but the new movie hopes to make a virtue of the star's age by incorporating that fact into the story. Meanwhile, Luna has a great opportunity ahead of him as the reboot's new Terminator. Schwarzenegger was catapulted to worldwide fame when he starred in the original Terminator. Will Luna's career receive the same boost? That remains to be seen. But at least he has a good mentor in Schwarzenegger, who will no doubt be unrelenting in making sure the young actor gets into top shape for Terminator 6.
Source: Arnold Schwarzenegger/Twitter