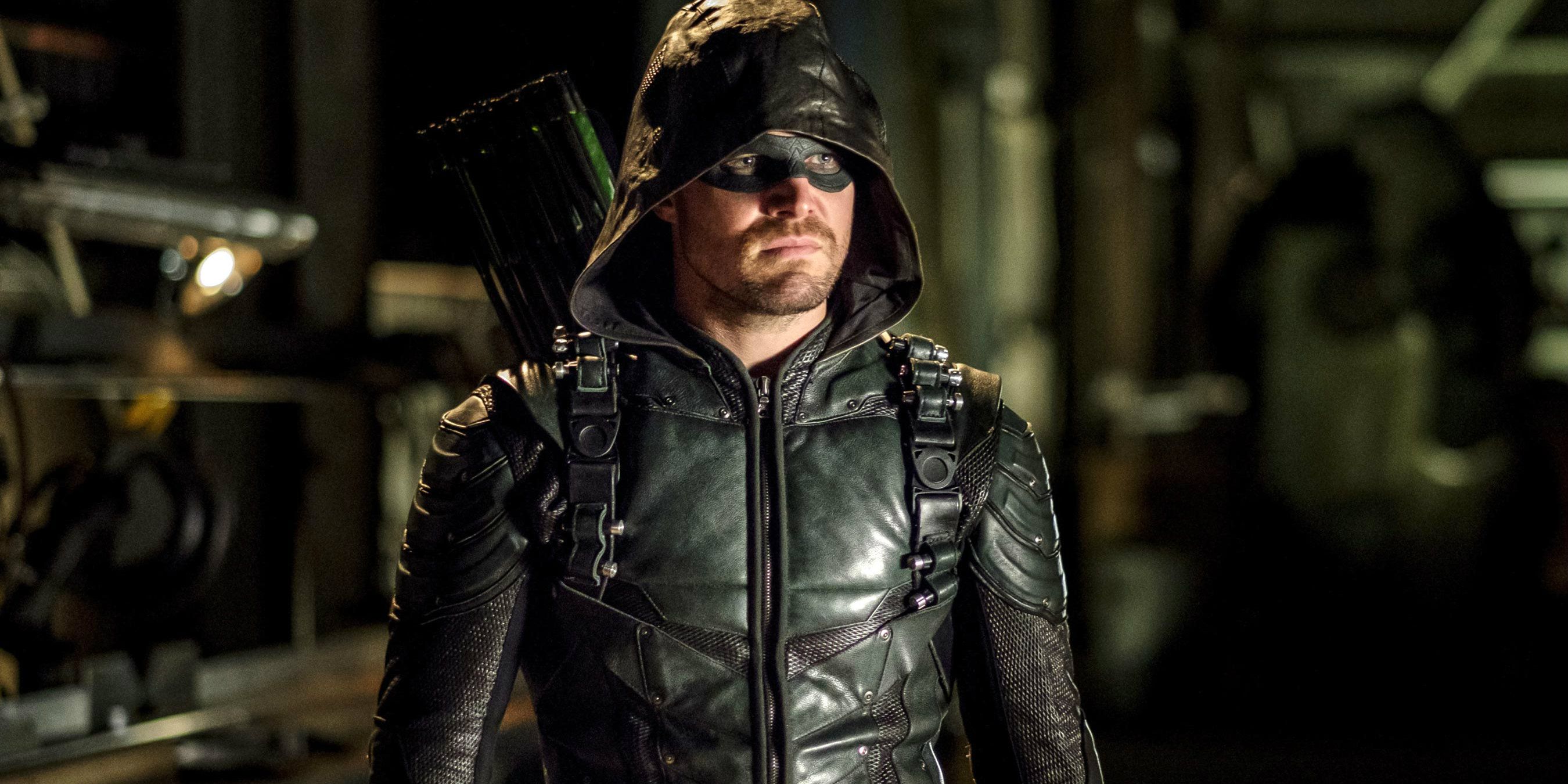 The official synopsis for season 7 of The CW's Arrow suggests that the series will adapt the plot of a canceled Green Arrow film while pitting Oliver against a brand new enemy. Arrow season 6 ended in a shocking cliffhanger that saw Oliver reveal his secret identity as the Green Arrow before being sent to a supermax prison.
At the beginning of season 6, viewers were led to believe that the leader of the hactivist organization, Cayden James (Michael Emerson), was the show's next big bad. However, halfway through the season it was revealed that James was merely a red herring. The real mastermind behind Oliver's troubles was low level drug dealer Ricardo Diaz (Kirk Acevedo), who was loosely inspired by DC martial arts super hero Richard Dragon. After manipulating James, Diaz used the money James extorted from Oliver to take control of Star City.
In announcing Arrow's panel for next month's San Diego Comic Con 2018, Warner Bros. Television released the official synopsis for Arrow season 7, giving fans a glimpse of what's to come:
"There has been no shortage of close calls for Oliver Queen when it comes to protecting his Super Hero identity, but in the season six finale, he was finally backed into a corner and forced to reveal himself to the world as the Green Arrow. Now, Oliver will come face-to-face with many of the criminals he placed behind bars, as he makes a new home for himself at Slabside Maximum Security Prison. Oliver will find himself vulnerable in a way unlike ever before when a mysterious new enemy begins to unravel his work as Green Arrow, challenging him to redeem his name or risk losing everything."
According to the synopsis, season 7 will feature some of Oliver's old enemies who we can expect will be looking to take revenge on the person who sent them to prison. It's unclear if Oliver will be dealing with specific enemies from past seasons, or criminals who were subdued off-screen. Though Oliver may have his hands full with enemies from his past, the real threat of the season appears to be something new. The synopsis reveals that a "mysterious new enemy" will begin to "unravel his work as the Green Arrow." Oliver will either have to "redeem his name" or "risk losing everything."
It could be that the villain of season 7 is someone who Oliver won't meet in prison. Instead, it may be a character who will wreak havoc on Star City, which would certainly put them at odds with what's left of Team Arrow. If so, this new villain could be what forces Oliver to escape from the supermax. Oliver's escape from the supermax was actually the plot for a Green Arrow film written by Man of Steel writer and Syfy's Krypton producer David S. Goyer. The film would have told the story of Green Arrow getting arrested for a crime he didn't commit and getting locked up in a super max with criminals he had previously locked up. To escape, Green Arrow would have no choice but to team up with his enemies. The movie never moved forward, but maybe fans will finally get to see the film's story brought to life–in the form of Arrow's new season.
Arrow season 7 premieres on The CW on Monday, October 15.
Source: WBTV
The post Arrow Season 7 Adapting DC's Cancelled Prison Movie Supermax? appeared first on ScreenRant