Avengers 4 fan art features an emotional farewell between Pepper Potts (Gwyneth  Paltrow) and Tony Stark aka. Iron Man (Robert Downey Jr.). The pioneering couple of the MCU, Pepper and Tony have gone through a lot over the years. Following their break-up and eventual reconciliation and engagement, the two were in the middle of wedding preparations when Thanos' galactic genocide happened. Unfortunately, with the way things are after Avengers: Infinity War, the two might not even have the chance to walk down the aisle.
Reshoots for Avengers 4 are currently underway with post-production scheduled to last until next year. Marvel Studios remains mum about the project and with official marketing still a couple of months away from starting, fans shouldn't expect the reveal of the movie's title until then. That said, it's not a secret that Avengers 4 will mark the end of some of the beloved MCU heroes, particularly Phase 1 key players. Difficult as it may be to think about saying goodbye to those characters, fans are already preparing for the worst as they visualize how things might end for their favorites.
Related: Avengers 4: Popular Pepper Potts Rescue Armor Theory Isn't True
Digital artist BossLogic imagines a heartbreaking goodbye between Tony and Pepper in Avengers 4. The image is chock full of subtle references to the Iron Man trilogy, with Pepper wearing the same blue evening gown she wore in the gala where she and her then-boss danced in the first film. The background, on the other hand, is Tony's workshop in his old Los Angeles house as seen in Iron Man 3. However, the main takeaway from the artwork is Pepper being pregnant, implying that Tony might leave behind a kid if he bites the bullet in next year's Avengers movie. Check out the image below: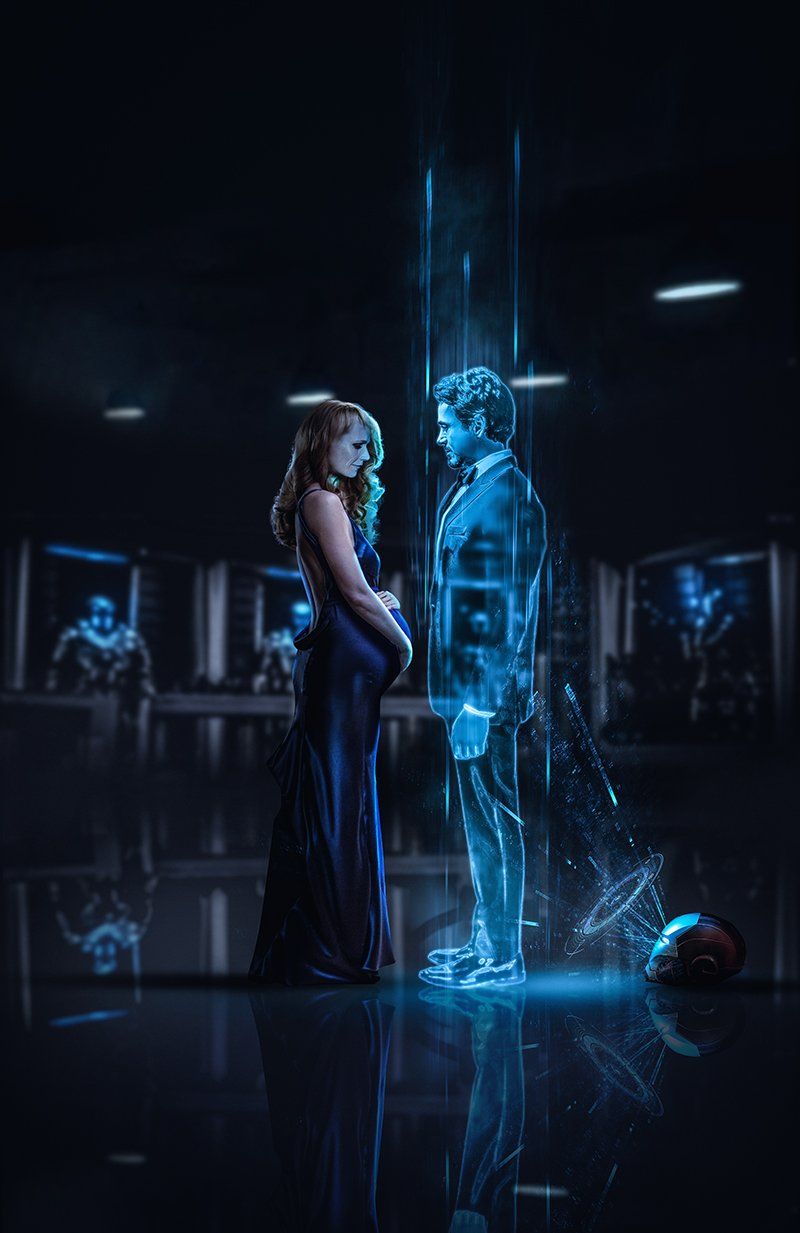 Many fans were led to believe that Pepper and Tony may be expecting thanks to the to couple's conversation before all hell broke loose in Infinity War due to Thanos' arrival. During the sequence, Tony was recalling a dream about having a baby, and despite his fiancee's insistence that they're not expecting, the genius, billionaire seemed still attached to the possibility of having a kid. While directors Joe and Anthony Russo confirmed that Tony's dream isn't exactly a vision, they teased that it may mean something down the line with regard to his personal narrative.
With the way things were left after Thanos' galactic genocide, chances are that producing an offspring will be the last thing on Tony's mind. If anything, the horrible realization that he's living out his worst nightmare will more likely further motivate him to find a way to restore the universe to the way it's supposed to be. Iron Man 3 provided a peek into how neurotic he can be when he feels threatened or helpless. Add the fact that his protege, Peter Parker, died on his watch  and it's almost certain he will stop at nothing take down the Mad Titan, even if it means sacrificing his own life.
At this point, everyone's wondering how Iron Man's journey will finally end. Nothing's confirmed yet, but it makes sense narratively to cap off the 22-film arc that the franchise has been treading for a decade now by wrapping up the story of the hero that started it all. And although Marvel Studios continues to groom new characters and actors that could eventually take his place as the face of the franchise, the MCU would definitely look very different without Iron Man or RDJ in it.
Source: BossLogic/Twitter