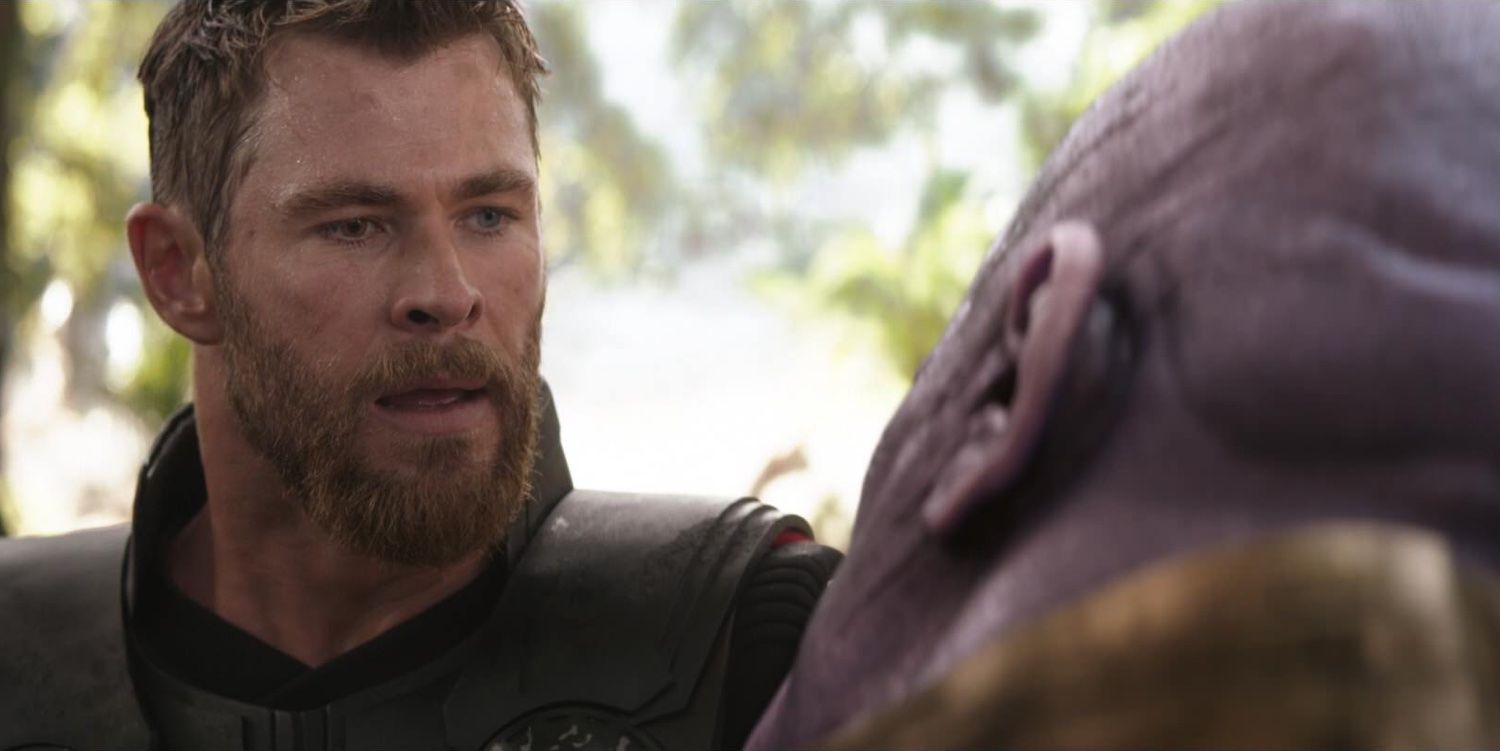 Chris Hemsworth trolls Teen Choice Awards viewers with Avengers 4 spoilers. Following the shocking conclusion of Infinity War, fans are waiting with great anticipation to see how the massive cliffhanger is resolved. Not only is next summer's film set to end the fight against Thanos, it will also serve as the culmination of everything that has transpired in the MCU to date. And with the contracts of Phase 1 stars set to expire soon, the fates of certain characters are very much up in the air.
Marvel Studios has played things pretty close to the chest when it comes to Infinity War and Avengers 4, even launching the #ThanosDemandsYourSilence campaign to prevent the spread of spoilers. Still, viewers are always eager to learn more about the highly-anticipated film, and it's something the good folks at Marvel are well aware of. In fact, they're keen to have a bit of fun with it all.
Related: How Avengers 4 Can Resolve Age of Ultron's Dreams
Soon-to-be Disney subsidiary Fox posted a clip from the Teen Choice Awards on Twitter, featuring Hemsworth (who won Movie Actor: Sci-Fi for Thor: Ragnarok) video calling Choicey to express his gratitude. As a token of his appreciation, Hemsworth says he's going to share Avengers 4 spoilers, but the connection humorously is interrupted whenever the actor is about to reveal a plot point. Watch it for yourself in the space below:
Obviously, this was a comedic skit created specifically for the telecast, but it probably won't be much longer until fans learn some actual details about the film. Kevin Feige said the Avengers 4 title will be announced by the end of the year, shortly before marketing commences. It also wouldn't be out of the question to expect some kind of teaser trailer in the next few months, offering a glimpse at how the Infinity War survivors are going to deal with their current situation. After all, the initial trailer for Infinity War came out in November 2017, making the fall a reasonable timeline for the first look at Avengers 4. Marvel will also need to rev up advertising for Captain Marvel around that time, but Avengers 4 will of course be their top priority.
While Hemsworth didn't reveal anything too noteworthy, that doesn't mean none of his co-stars won't. Marvel has a bit of a problem when it comes to actors spilling spoilers on social media and in interviews. Tom Holland is the most prominent offender, but the likes of Mark Ruffalo and Laurence Fishburne have tried to give Holland a run for his money recently. With so many people involved with the epic film, it'll be hard for Marvel to keep tabs on everybody, so they'll just have to hope all the surprises are preserved until Avengers 4 makes its long-awaited debut.
Source: Fox