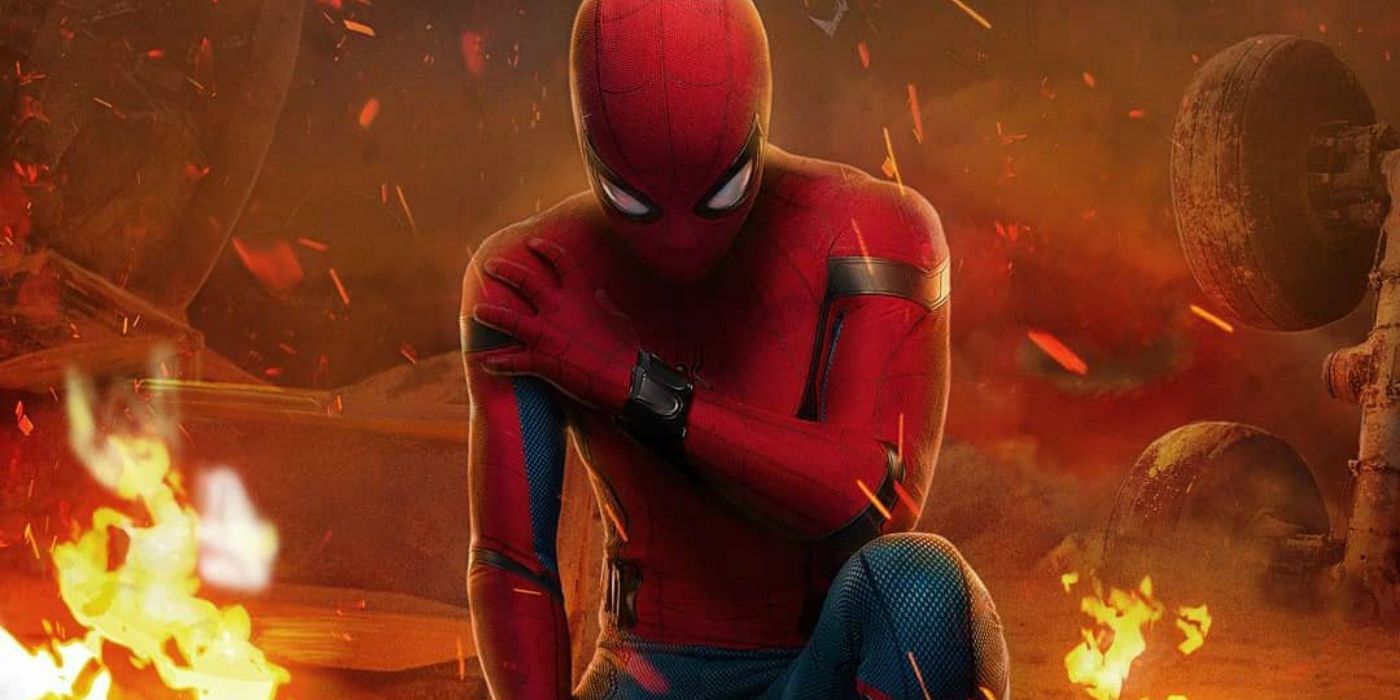 Fan art for Spider-Man: Far From Home has appeared online showing what the film's poster might look like. Though he was last seen being wiped from existence by Thanos in Avengers: Infinity War, it's no secret that Peter Parker/Spider-Man will somehow make a return just in time for his own standalone sequel. When Tom Holland revealed the sequel's title, there was speculation that it could have been a prank, with the young star potentially poking fun at his reputation for revealing spoilers. However, it was later confirmed by Marvel Studios president Kevin Feige, who expanded upon the reveal with some hints as to Far From Home's multiple meanings.
Described as a "globe trotting adventure", the highly-anticipated continuation will see Peter Parker alive and well in the summer, mere minutes after the conclusion of the still-untitled Avengers 4, and heading abroad for a summer vacation with his friends. It goes without saying that it won't all be smooth-sailing and sunbathing for the young wall-crawler. But, barring a real-life twist that reveals a huge ruse on the part of everybody at Marvel Studios, everything seems imply it will be strictly an Earth-bound adventure.
That hasn't stopped digital artist BossLogic from setting the story even further afield. Seen where audiences last left him, on Thanos's homeworld of Titan, this version of Spider-Man finds himself stranded. He is not alone, however, as he's slowly but surely being consumed by the all-too-familiar Venom symbiote while longing to return home, no doubt bringing the future nemesis along for the journey. Check out the image below:
It's an image that will surely please many around the world. Though the infamous black parasite first appeared in 1984, the character of Venom himself didn't emerge until later in that same decade. Achieving immense popularity almost immediately, and being consistently ranked as one of the greatest comic-book villains, fans have been eager to see the sometimes villain/sometimes anti-hero adapted definitively for the big-screen ever since. He was brought to life once before, in the concluding chapter to Sam Raimi's trilogy, Spider-Man 3, albeit reluctantly on the part of the director. Portrayed by Topher Grace, the character proved unpopular with critics and audiences alike.
The wait for another stab at the character has been a long one, but it will finally happen later this year in Ruben Fleischer's Venom movie, which serves as Sony Pictures's attempt to finally bring to life their long-gestating plans of a Spider-Verse, with such characters as Black Cat and even Silk said to have their own films in development. Portrayed by Tom Hardy, who will be starring alongside such A-List talent as Michelle Williams and Riz Ahmed, fans are already offering a warmer, more optimistic reception to this incarnation. It's a response that only grew more pronounced following the release of the first full trailer of the film, which glimpses as a much more comic-accurate representation of the character.
Whether he will fold officially into the MCU or merely remain MCU-adjacent, with Holland's Peter Parker rumored to cameo and serve as a potential bridge between the two tenuously connected universes, remains to be seen. Though, if Holland had his way, Venom would crossover to square off against his web-slinger sooner rather than… never.
Source: BossLogic/Twitter
The post Awesome Spider-Man: Far From Home Fan Art Imagines Venom Crossover appeared first on ScreenRant