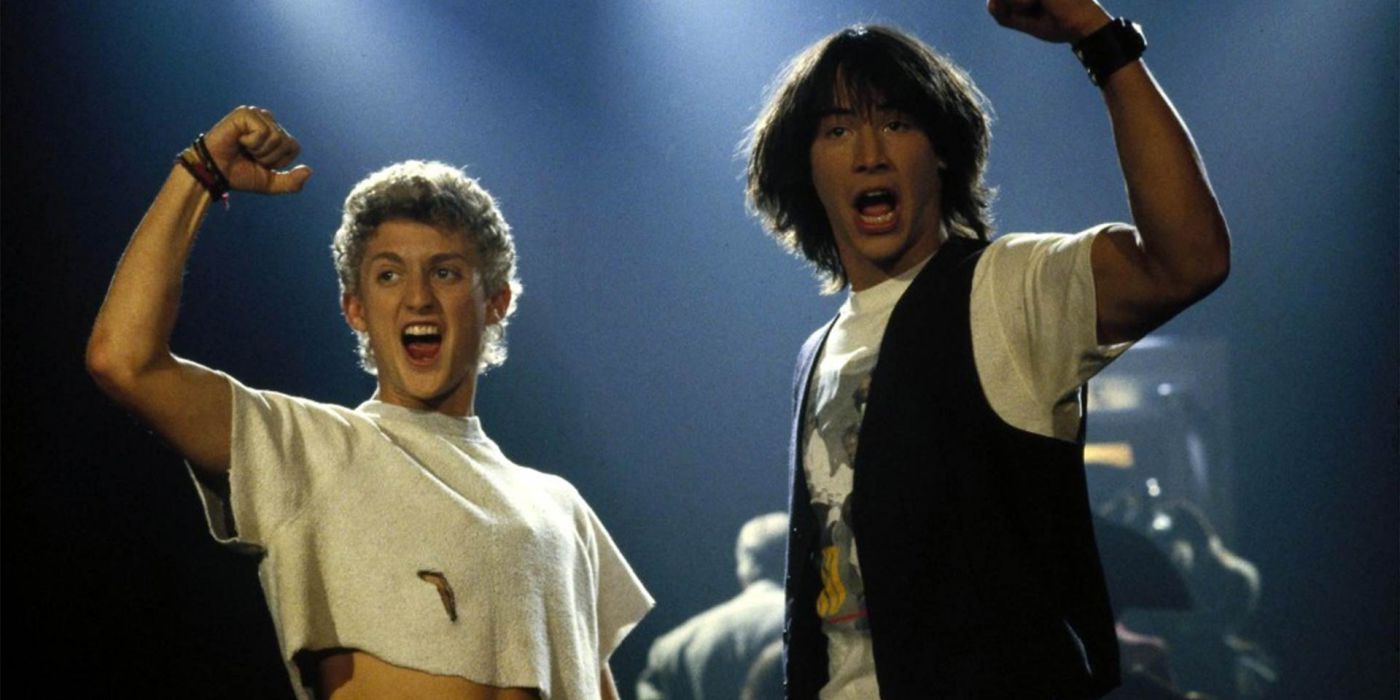 Bill and Ted 3 might get its long awaited release this Christmas, says the film's executive producer, Steven Soderbergh. It's been 30 years since the world was introduced to Bill and Ted's Excellent Adventure, a time traveling stoner comedy starring Keanu Reeves and Alex Winter as the titular duo. The film was popular enough to spawn a second film, Bill and Ted's Bogus Journey in 1991, and talk of a third film was long-running, to say the least.
When word spread that Bill and Ted 3 would begin filming in January of 2019, the much-anticipated sequel appeared to be a certainty. Not long after this, though, fans felt their hope fade just a little when Keanu Reeves stated that although there was nothing creatively wrong with Bill and Ted Face the Music, there were still significant "hurdles" to clear before the third film could become a reality.
Related: Bill and Ted 3 Would Bring Back William Sadler as Death
Thankfully, those hurdles seem to have been surpassed, as CNET has reported that during the Slamdance Film Festival, Bill and Ted Face the Music executive producer, Steven Soderbergh, stated that the film could be released by Christmas 2019. Soderbergh followed up this wonderful piece of information by teasing, "That'd be a good Christmas present." The famed Oscar-winning Traffic director also described the film as "hilarious" and that it was "a love gig" for all involved, before joking that no one was getting paid.
Bill and Ted Face the Music will see both Keanu Reeves and Alex Winter return to their beloved roles, along with a script by the original writers Chris Matheson and Ed Solomon. At present, what's known about the film's plot is that it picks up with Bill and Ted enmeshed in the daily life of middle-aged family men. The fame and fortune of rock star life has yet to hit their band, Wyld Stallyns. This ongoing lack of success manages to create a tear in time, which then sends the pair off on an all new time-traveling adventure to set things right once more.
It's long been rumored that the script has been complete since 2011. If that's true, and with Reeves previously assuring fans that creatively the film was in good hands, it seems like the film's script has been secure for quite some time. Fans should feel encouraged by this, as all too often, many fans of long-awaited sequels are left feeling less than pleased when the final effort is delivered. It's a testament to how much faith Reeves has had in this project over the years and the fact that someone in Soderbergh's position seems quite happy with Bill and Ted Face the Music, that despite a lengthy wait, things appear to finally be going smoothly for this cherished cult series.
Source: CNET