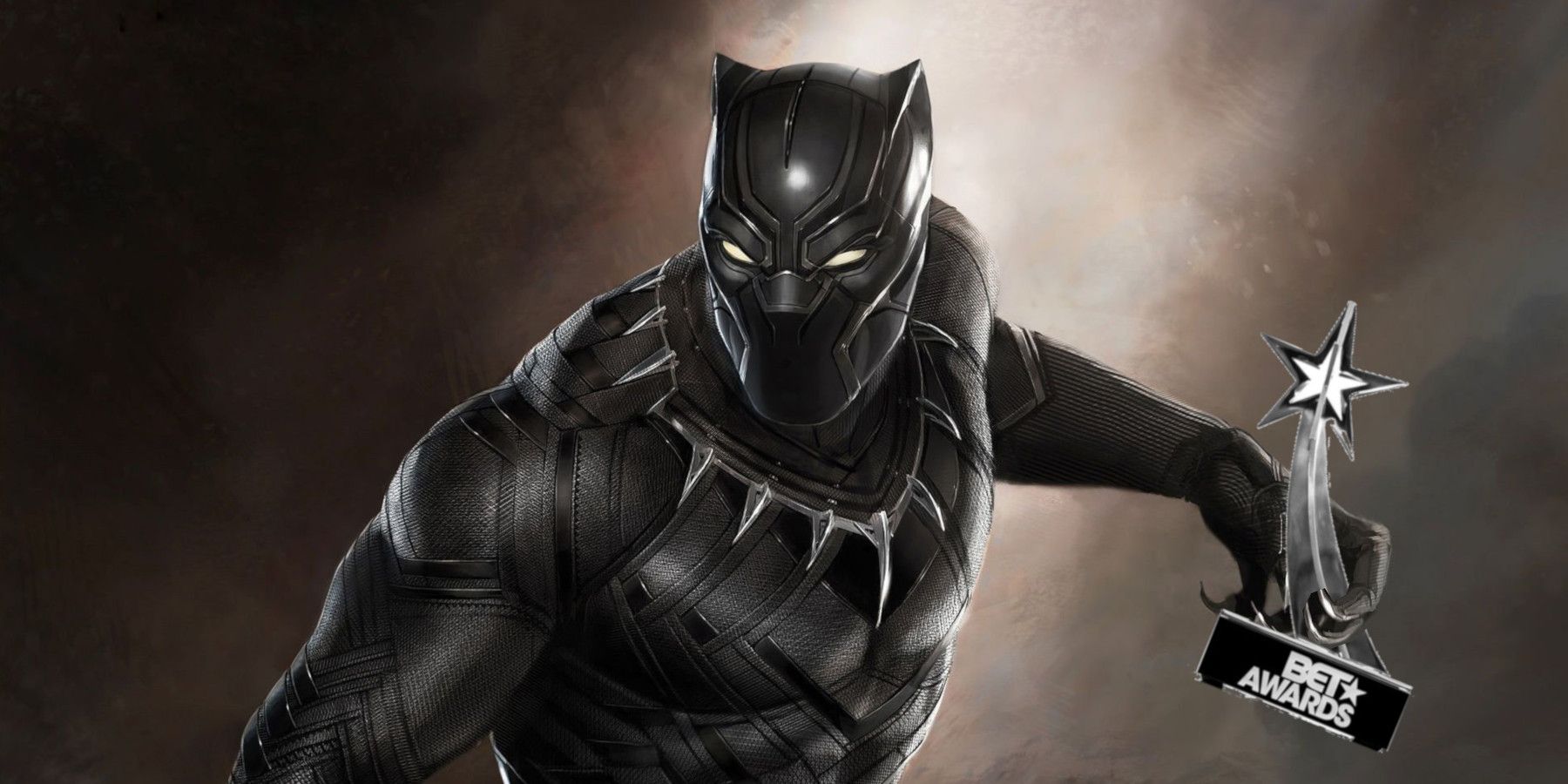 Black Panther took home the Best Movie and Best Actor (for Chadwick Boseman's portrayal as T'Challa) trophies at the BET Awards 2018, making it a big night for Marvel's phenomenal blockbuster.
These wins at the BET Awards 2018 mark the latest in a long list of accolades for the hit film. Previously, Black Panther won four awards, including Best Picture, at the 2018 MTV Movie & TV Awards. It won four awards at The 2018 Golden Trailer Awards, including the top honor of Best In Show. It has also been nominated for 14 awards at the 2018 Saturn Awards, which are held annually by the USA Academy of Science Fiction, Fantasy & Horror Films.
Related: Disney Already Planning Black Panther Oscar Campaign
Variety reported upon the awards, posting the winners' names online as they were announced. Unlike most awards shows, which typically close the evening with the announcement of Best Picture or Best Movie, the BET Awards 2018 announced Black Panther's win before Boseman's.
These victories seem likely to fuel further speculation regarding Black Panther's chances as a serious contender for the 2019 Oscars. Hollywood traditionally looks down upon superhero films when it comes to handing out awards, but exceptions have been made in the past. Heath Ledger famously won the Oscar for Best Supporting Actor for his performance in The Dark Knight as The Joker. Despite being a critical flop and not beloved by comic book readers, Suicide Squad still won an Oscar for Best Makeup and Hairstyling. And though it ultimately lost to Call Me By Your Name, Logan still made history as the first superhero movie to be nominated for the Oscar for Best Adapted Screenplay.
There are several reasons why Black Panther is expected to go the distance and offer Marvel Studios' their first chance at winning an Oscar, on top of all the other records the film has set so far. Chief among them is the reputation of filmmaker Ryan Coogler, who directed the movie and co-wrote its script. Coogler has won 34 different film and critics awards in his career, including the prestigious Prix de l'Avenir d'Un Certain Regard at the 2013 Cannes Film Festival and the awards for both Outstanding Directing in a Motion Picture and Outstanding Writing in a Motion Picture at the 2015 NAACP Image Awards, for his work on Creed. It remains to be seen if Coogler will get his first Oscar nomination (and a win) for Black Panther, but hopes are high.
Source: Variety
The post Black Panther Takes Home Best Movie & Best Actor at BET Awards 2018 appeared first on ScreenRant