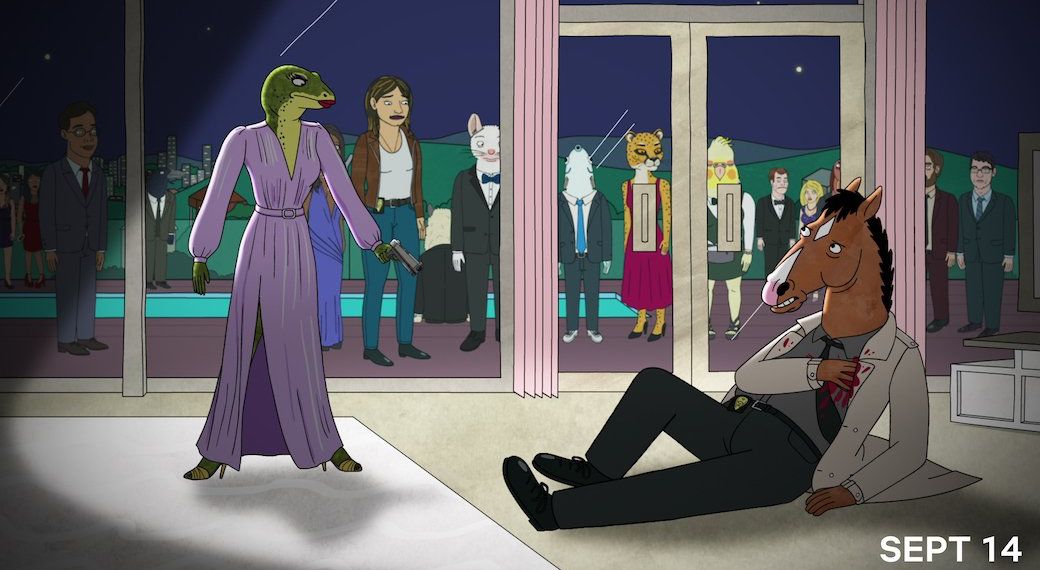 Social media can be a powerful tool, one that, when used properly, leads to all sorts of outcomes of varying degrees of importance, like, say, learning the premiere date of BoJack Horseman season 5. In a clever bit of social media marketing, Netflix used the endlessly irritable BoJack Horseman account to announce that season 5 of the critically acclaimed adult animated series will hit the streaming service in September. 
The announcement was made a well-planned effort between the official accounts for BoJack and Netflix, with another user, whose question as to when the series would return ended up serving as the catalyst for the official statement. The exchange between @abbyrougish and @BoJackHorseman makes it almost impossible not to read the words in Will Arnett's voice, which certainly adds some flavor to what might otherwise have been another bland press release from Netflix. 
If you dig down past the initial exchange, you'll see that Netflix jumps in for a well-timed rebuke of the account's handling of the situation, and a mild threat to "revoke" its Twitter privileges. Check out the exchange/announcement below:
In addition to getting audiences excited about September, Netflix followed up the news with an official release that also included a brand new image from season 5 that will fire up the engines on the internet speculation machine, which had been cooling since the Westworld finale on Sunday. BoJack Horseman isn't normally so cryptic in its marketing, so it will be interesting to see what's actually happening in the surprisingly bloody image. 
It's worth noting that BoJack is the only regular character in the image, and that although he's clutching his bloody chest after presumably having been shot by the reptile woman in front of some astonished onlookers, he's also wearing a badge on his belt and is dressed like a TV detective. So unless BoJack Horseman season 5 sees its title character attempt a dramatic career change, chances are BoJack landed a role on a cop show or movie. Then again, given the show's penchant for fantastical sequences, this could also be a dream of some sort. 
At any rate, it's fun to have something to pick over while waiting for the first season 5 trailer and more as we creep toward September. If you recall, season 4 ended in a relatively good place for BoJack and his newfound sisters Hollyhock, which certainly gives the series some interesting new avenues to explore. 
BoJack Horseman season 5 will stream on Netflix on Friday, September 14. 
Source: Netflix 
The post BoJack Horseman Season 5 Premiere Date Announced In Very BoJack-Like Fashion appeared first on ScreenRant