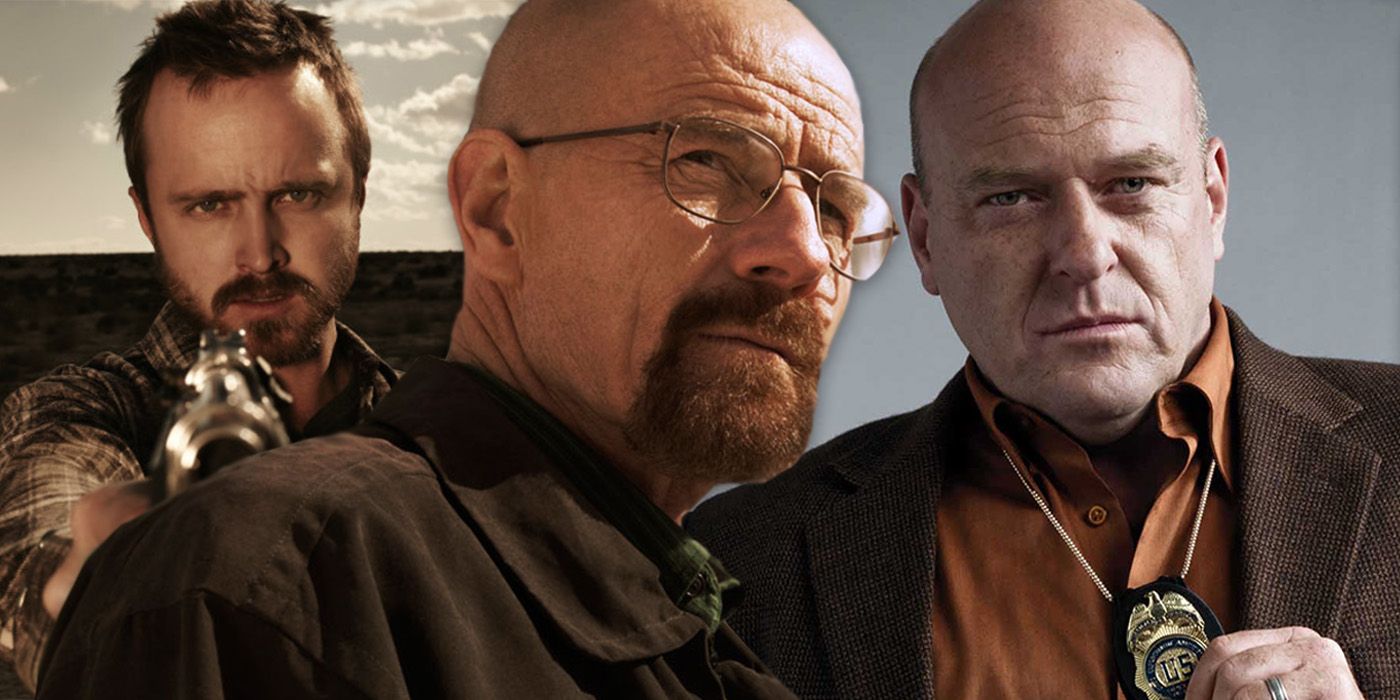 AMC is hosting a 10th anniversary panel for Breaking Bad at next month's San Diego Comic-Con. It may be hard to believe for fans of the unforgettable, landmark drama that it's already been a decade since it first aired. But it speaks to the lasting imprint that the show left on viewers and on television as a whole. Breaking Bad lasted five seasons and 62 episodes on the air, but it rarely wasted a moment in consistently captivating audiences all the way to Walter White's bitter end.
Now, it's time for one of the most celebrated shows in TV history to celebrate a major milestone. The cast has already reunited for the newest issue of EW, which also honored Breaking Bad for the 10th anniversary of its debut year in 2008, when it first aired on January 20. It's about to get an even bigger celebration at San Diego Comic-Con next month.
Related: 15 Times Breaking Bad Had Us Yelling At Our TVs
Deadline reports AMC will hold a Breaking Bad 10th anniversary panel in Hall H at SDCC on Thursday, July 19. Creator Vince Gilligan will join main cast members Bryan Cranston, Aaron Paul, Dean Norris, Anna Gunn, Betsy Brandt, and R.J. Mitte, along with recurring stars Bob Odenkirk, Giancarlo Esposito, and Jonathan Banks at the panel.
The Breaking Bad panel joins a Hall H event for spinoff Better Call Saul earlier that day, which will feature Gilligan, Odenkirk, and Esposito, in addition to fellow cast members Rhea Seehorn, Michael Mando, and Patrick Fabian. Echoing the time Breaking Bad aired its season 5 premiere at the annual entertainment mecca, Better Call Saul will premiere the first episode of season 4 at SDCC as well. This marks the first time Breaking Bad has gone to SDCC since July 2013.
Breaking Bad's indelible mark can be felt in every single episode of Better Call Saul, and it's only going to be greater when season 4 will re-introduce another character from the series that Gilligan says fans are very familiar with already. That inevitably invites speculation of whether there's going to be a surprise appearance from Jesse Pinkman (Paul) or Hank Schrader (Norris) – Gilligan has previously hinted at the prospects of bringing Pinkman back. It's the latest indication of how much intrigue the show can still generate, despite being wrapped up for five years.
It will be interesting to see if Gilligan addresses that mystery character at all during the Breaking Bad panel, or if he lets any more hints slip out. He commented in recent months on why he ended the show after just five seasons at the height of its popularity, which was a pretty simple explanation – he went out while it was still going strong. The anniversary panel, which almost certainly won't be the last, is a reminder of how much he left fans wanting more.
Source: Deadline
The post Breaking Bad Stars Are Reuniting At Comic-Con Next Month appeared first on ScreenRant