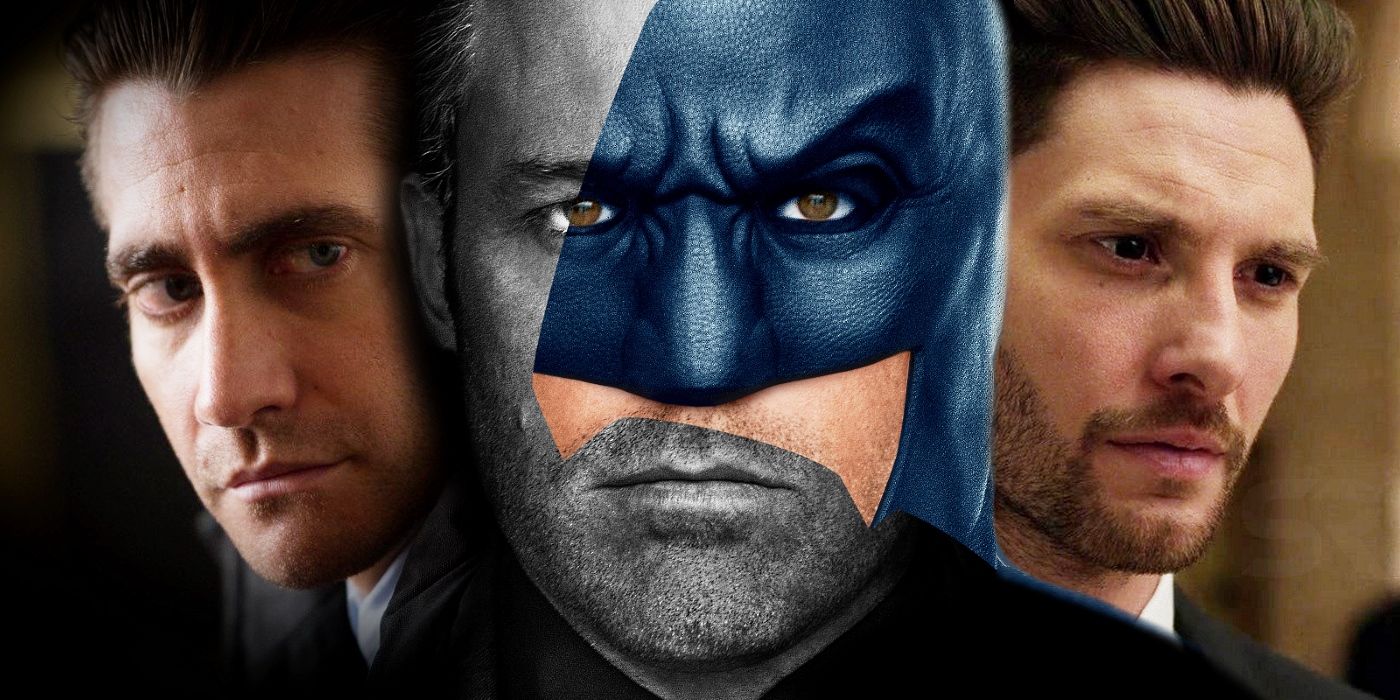 The time has come for Ben Affleck to officially retire his Batman, passing the baton to a new actor. The new version of Bruce Wayne will make his debut in Matt Reeves' upcoming movie, set years earlier in the Dark Knight's career. And with the casting now underway, we have a few actors in mind that we're certain who could play a younger Batman.
We won't be alone, as rumors of Ben Affleck's departure have circled since before Justice League even released. As reports of a new actor starring in The Batman gained steam, either to formally replace Affleck or simply portray a much younger Bruce, frontrunners and rumored contenders began to emerge. Every DC Comics fan is guaranteed to have their favorites out of the rumored shortlist – Armie Hammer's "psychotic" Batman, for instance – but we think some names have slid below the radar. And since Keanu Reeves would rather play Wolverine, we've assembled our list of other actors who could be relied upon to fill Ben Affleck's empty, and slightly younger shoes.
RELATED: What Really Makes a PERFECT Batman Movie?
A quick note on our selections: since director Matt Reeves has said his 'young Batman movie' is set within the DC movie universe, and therefore will be at least implicitly lead to Affleck's older, grizzled Batman, we've tried to find actors that fit that general mold. If the studio chooses to turn The Batman into a full-blown reboot, then the limits will be removed completely. But for now, we've tried to select young(er) actors who could believably grow into the Bruce Wayne seen in Batman v Superman and Justice League after it (sorry, Jon Hamm fans).
6. Ben Barnes
Even though his star was rising since before he played a villainous black-hat on HBO's Westworld, many comic fans may have only discovered Ben Barnes thanks to his role as The Punisher's Billy Russo, opposite star Jon Bernthal. And if a superhero is only as good as as his villain, then Barnes is due as much credit for the Netflix show's reception as its hero. Frankly, we're still not sure how the Narnia series' Prince Caspian played a smooth-talking New Yorker so seamlessly.
Those unconvinced or simply unfamiliar will want to make time for Barnes' recent filmography (on either side of the Atlantic). But in a nutshell, both seasons of The Punisher have demanded Barnes be as convincing as a top-tier Marine, a slick executive, and a deeply broken, darkly vulnerable and traumatized survivor. Basically everything that any director could ever need from a movie version of Bruce Wayne.
5. Nicholas Hoult
By this point its safe to say Nicholas Hoult has proven himself one of the most versatile, if not one of the very best actors of his generation. Whether blockbuster fans know him best as one of the X-Men or one of Mad Max: Fury Road's War Boys, Hoult has more than proven that he can anchor a superhero film–preferably one sure to make full use of his dramatic chops. And since Fox missed the chance to make him their Cyclops, we say a young Bruce Wayne is even better. Sure, Hoult may currently be tied up playing Hank "Beast" McCoy of the movie X-Men, but that is going to be less of a problem in the near future (fora number of reasons).
Even giving Dark Phoenix the benefit of the doubt, and assuming the rumored $200 Million budget proves worth every penny, there's no guarantee that the X-Men will continue in their current incarnation to another film. We would argue an actor like Hoult would be wise to take the starring role as a young Batman even if the X-Men films were bigger than ever. But with potential recasts and reboots likely once Disney attains the rights to the X-Men universe, it's probably best that Hoult weigh his options now. Especially if a pair of contact lenses is all it takes to have fans saying "Beast who?" (see above).
4. Jake Gyllenhaal
It's time to begin weighing the actors who have already been rumored in the conversation of a potential replacement for Ben Affleck, back when his departure was murky, at best. In fact, reports singled out Jake Gyllenhaal as Matt Reeves' Batman, effectively sitting 'on deck' should he be in need of a new Bruce Wayne. And just as interesting, Gyllenhaal didn't explicitly deny Batman talks when asked about the rumors in an interview. Even if other names have been mentioned since, the first word may remain Plan 'A'–and with good reason.
RELATED: Noah Centineo Rumored For Young Batman Shortlist
In a sense, both Gyllenhaal and Affleck dealt with the challenge of being typecast in their younger days for their leading man looks and charms. And both eventually changed that reputation, elevating their names to the realm of Oscar-caliber talent. Now, the only real question mark attached to Jake Gyllenhaal's 'ability' to play Batman is where his role as Mysterio in Spider-Man: Far From Home leaves him.
3. Jamie Dornan
This choice may be too easy, since few actors have proven to be as skilled as the modern Ben Affleck at portraying quiet, intense, dangerous, handsomely brooding protagonists as Jamie Dornan. The Irish actor may be most widely known to American audiences as the infamous 'Christian Grey' of the Fifty Shades movie series, but fans of binge-worthy crime thrillers probably know him as the villainous half of The Fall (a role and series that has earned critical acclaim).
It's impossible to tell which path Warner Bros. and director Matt Reeves will want to take with their next Batman: choose an actor of comparable star power to Affleck to build excitement, or one lesser-known to American fans (or to blockbuster movie audiences) to drive home The Batman as its own version of the character. Dornan has the smarts, the physique, and the darkness needed to deliver a serious Batman drama, so the only question is whether or not that's what the movie will be aiming for.
2. Finn Wittrock
Finn Witrock's name is likely to be familiar to fans of the DCEU's Batman Family, since his name emerged as a rumored contender for the star of DC's mysterious Nightwing movie. That film may have been one of the first officially greenlit entries in DC's growing movie universe, but momentum has stalled following Justice League and DC Films' restructuring. However, Witrock was embraced by many fans as a suitable actor for Dick Grayson, and made it clear he would love to be considered. So if he was good enough to play an older Robin, would a younger Batman fit just as well?
Witrock is guaranteed to be up to the physical challenges of the role, since he has spoken openly about his rigorous training regimen required for his role in Semper Fi, currently in production (alongside the DCEU's Captain Boomerang, actor Jai Courtney). And let's be honest: the fact that he looks like a Mikel Janin drawing of Batman come to life can't hurt his chances.
1. Jack O'Connell
Finally we arrive at the other actor rumored to have been on Matt Reeves' radar, and certainly the more intriguing contender. When the first reports suggested that Jack O'Connell was being eyed for Batman, we're willing to bet many DC fans were surprised (he's not exactly the clean-cut formula turned to for Batman actors in the past, or even Marvel stars these days). But with a performance leading Angelina Jolie's Unbroken, O'Connell erupted into international conversation. And since then, his roles have continued to be as impressive as they are varied. (O'Connell did star as Calisto in 300: Rise of an Empire, for those looking to find some kind of connection to the existing DCEU Zack Snyder created.)
If Matt Reeves is looking to tell a dramatic, intelligent, pull-no-punches detective story, then his interest in O'Connell is easy to understand. In all honesty, his casting may depend on whether Batman is a role O'Connell wants to pursue. But where there's smoke of a potential casting there is often fire. And something tells us he could be talked into it.
—
Be sure to let us know your own picks for the new Batman, and which actors you think could portray the Dark Knight in his earlier years–before the DCEU hardened him into an antihero willing to fight Superman himself.