As much as dance music has fought against the stigma of drug use at events, it remains one of the most prevalent activities associated with clubs and festivals. Molly, MDMA, or ecstasy is the drug most commonly referred to in discussions of drugs and dance music, but alcohol and marijuana are just as prevalent if not more so.
Ticketing website Tick Pick surveyed a group of 1,015 regular concert goers ranging in age from 18-74 about their drug use, leading to interesting statistics on how common various kinds of drugs are at each festival and which events are most closely associated with certain substances.
Note: The results were not subject to statistical testing, and data is reliant purely on self-reporting; more rigorous testing should be done in the future.
Greatest Substance Prevalence by Festival
Alcohol is king. The only other substance that could come close to it at any festival is marijuana. However, it's easy to see a trend in drug use between festivals. SXSW is notoriously low on any drugs other than alcohol and marijuana; users reported using ecstasy, mushrooms, and cocaine as well, but only in far fewer instances.
Predictably, reports of ecstasy use spike at EDM events like Electric Daisy Carnival and Ultra Music Festival. Similarly, Burning Man shows a spike in hallucinogenic substances like mushrooms and LSD.
Hangout Music Festival, of the respondents surveyed, seemed to be the least likely for drug use overall, with only 65.5% of respondents reporting drinking alcohol.
Top Festivals by Substance Prevalence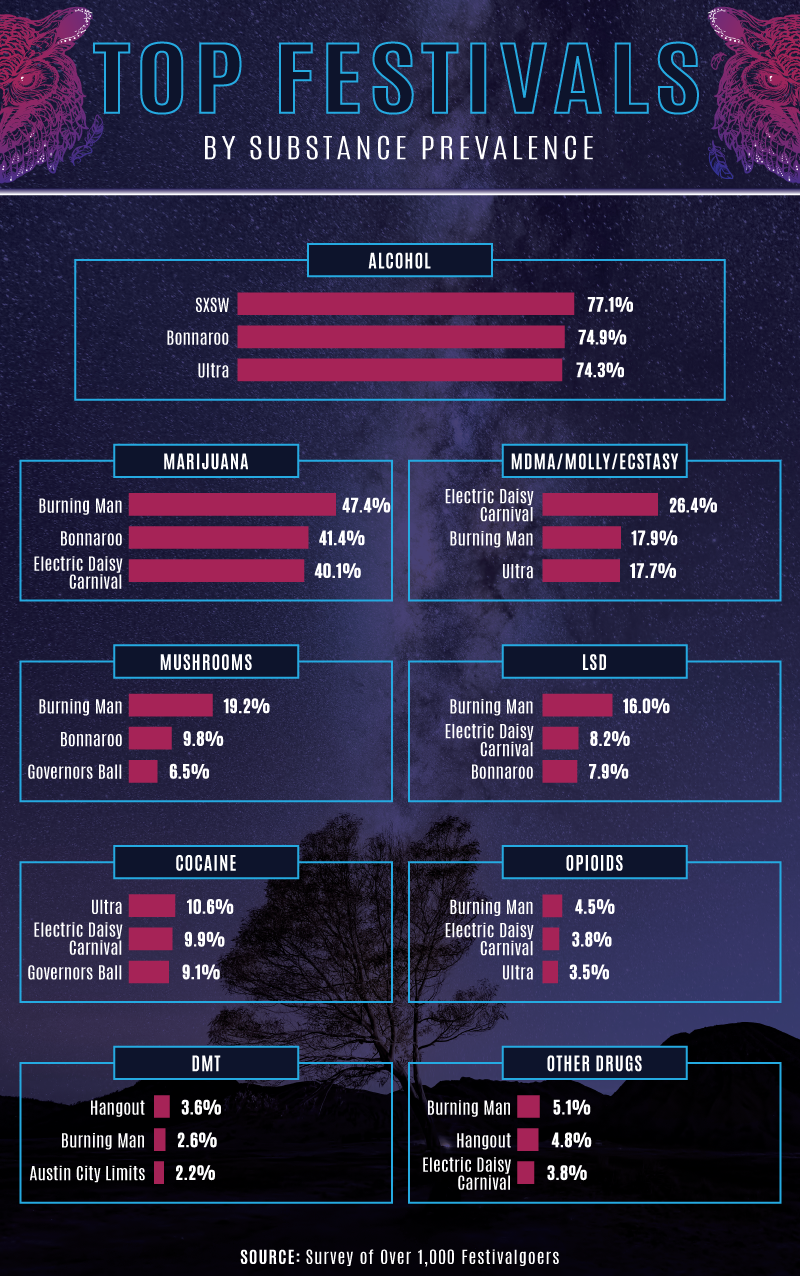 If you're going to a festival specifically for the drugs (which we wouldn't ever think would actually happen, but… who knows?), then you should know where you're most likely to find them. Alcohol is obviously the most common drug, found legally in markets across the country and sold regularly at festivals, but attendees at SXSW seem to really love their liquid courage.
If you're looking for ecstasy or MDMA, it's no surprise that many people responded EDC, Burning Man and Ultra were among the most common places to find it. DMT, surprisingly, was more prevalent at Hangout Fest than at a festival like Burning Man.
As for "other" drugs, possibly referring to research chemicals, Burning Man crept back on top.
Overall, alcohol and marijuana remained the most commonly used substances reported by all respondents. This was followed by MDMA/ecstasy, then mushrooms, LSD, cocaine, opioids, DMT, and then other. Differences between general admission and VIP attendees varied only slightly, though cocaine use more than doubled from VIP attendees.
Read more via Tick Pick here.
This article was first published on Your EDM. Source: Drug Use At Festivals