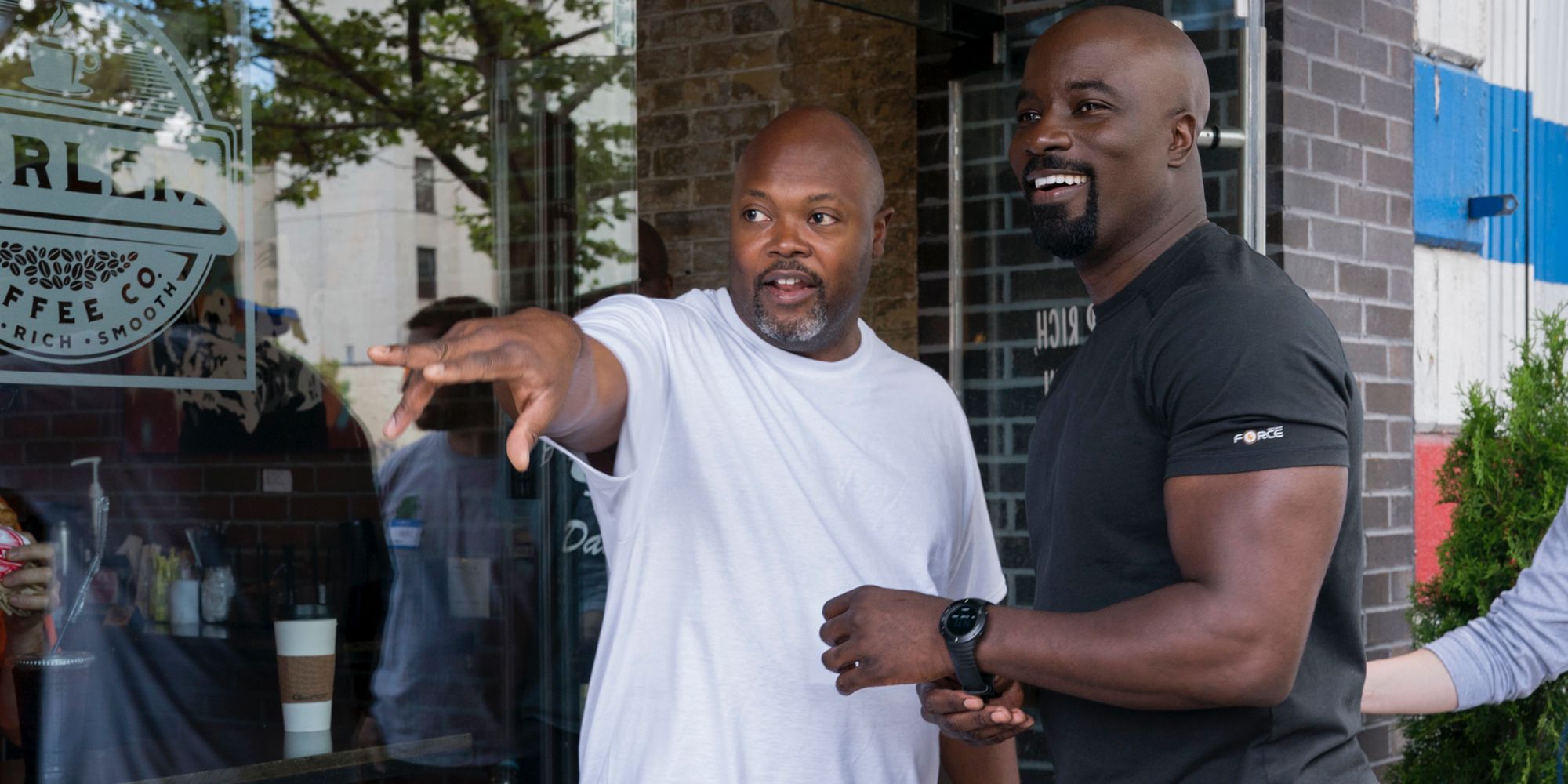 Season 2 of Marvel's Luke Cage is in full swing on Netflix, and the series' showrunner, Cheo Hodari Coker talked about the challenges season 2 has in store for its hero for hire. The writer and producer also discussed the challenges of expanding on season 1, and blending a superhero drama with a sprawling crime story that not only offers up a brand new adversary in Bushmaster (Mustafa Shakir), but also continues to explore the impact Mariah Dillard (Alfre Woodard) and Shades (Theo Rossi) have on the people of Harlem. 
Season 2 also features one of the last onscreen performances by Reg E. Cathey (House of Cards, The Wire), who plays Luke's semi-estranged father. In our discussion about the many themes and ideas running through the season, especially as they pertain to a particular father-son dynamic, Coker spoke at length about working with Cathey and dedicating the season to the actor, who died in February of this year. 
Read our full Luke Cage season 2 interview with Cheo Hodari Coker below: 
In discussing the major themes of the season, Luke Cage season 2 seemed focused on ideas of family and identity and legitimacy. What was interesting about those ideas to you?
"What's great is that we get into the the parallel family dramas. But at the same time in terms of the question that Luke faces, it's a couple. It's my favorite Mike Tyson quote, which is: 'Everyone's got a plan 'til they get hit in the face.' Mike Colter as Luke Cage faces that. At the same time, it's also… I think it's a Japanese proverb: 'Fall seven times, rise eight.' Meaning that you always have to find a way to get back up. And watching Luke go trough that is something that every single champion that is lost that comes back faces. Muhammed Ali is my favorite boxer and the reason that I love Ali is that because he's not undefeated. IT's because of the fact that he risked it all times and lost, but then came back. That's says more to me, the fact that you risked it, instead of somebody who has a record where they're undefeated because it really means they never really fought anybody who could take them. And so, Luke goes through an entire evolution. I really felt the most important thing about season 2 was that, as fascinated as I am in all the sidebars … as fascinating all those things are, we still don't lose sight of the fact the show is called Luke Cage. Luke is in the very beginning and the very end, and ultimately the person who evolves the most the entire season."
The new season feels like a sprawling crime drama that just happens to have a superhero dropped into the center of it. Can you talk a little bit about how you approached telling the story from that perspective, blending those two genres?
"My whole thing is, people always talk about novelistic crime dramas but it doesn't seem that they read novels. Because when you actually read a novel, a novel sprawls. That's why its a novel and not a comic book. So in trying to be novelistic with our comic book show we have moments where it breathes and that happens in these sidebars, where there's, I think, compelling persona drama. No cars aren't being thrown and things aren't being smashed, but emotional lives are being smashed. Because, we as a writing staff were just as excited about that as we were about there being fights between Luke Cage and Bushmaster.

You really want to try to have these moments, internally and externally, and my favorite crime novelists do that all day long, whether it's Richard Price or George Pelecanos or whether it's my favorite, Walter Mosley. They're always able to have a very linear crime plot but then add these bedazzling details of description and mood and scene and these departures, these sidebars. Clockers, as much as it is a very focused crime drama it sprawls. Walter Mosley and Pelecanos are world builders and philosophers on their cities just as much as they are, ultimately, with their characters. That's the thing, you just try to go for it."
One of the things that was interesting was how you balance Luke facing a challenge as a public superhero and the expectation of being a leader in this community at all times. Can you talk a little bit about how that plays into the character's arc and how you are folding him into a Harlem this season?
"The thing about Luke Cage that makes him different is on the surface, when he's a hero for hire, Luke Cage wants to get paid. Luke Cage in the comic books is like 'I'm doing this stuff. It's all well and good, but I gotta make a dollar.' We're not that nakedly ambitious in terms of our Luke Cage applying capitalism to his heroism, but he is very much a public figure and as a result, because he doesn't have a mask we were really trying to show what it would be like to navigate being a superhero and celebrity at the same time — it's kind of a comment on both.

In some ways its not that dissimilar to professional athletes in trying to wear both a public and private image and how people see them out and about they feel like they have a certain level of ownership. It's true when you talk to legendary sports figures who live in towns where sports are everything. If you're a professional athlete in Chicago or New York, you're basically a deity when it comes to going to restaurants and walking down the street. Basketball players talk all the time about playing in New York where you're at the Garden and people are watching you on the court but then the next thing you know you're out and about and you're gonna get shit if you lose. So what is it like to put a superhero in that? One of the funniest moments of the season is after Luke gets his ass kicked in episode four DW who's following him around is hawking the video of him getting his ass kicked. It's a funny moment but it's a real moment because it makes you understand what a journalist really does. DW is also the person who tells him 'Look, if your friends can't tell you what you've done wrong then they're not really your friends in the first place.' "
Can you talk a little about the father-son dynamic and making it such a driving force for the season? Is there an element of Luke finding closure with his past and the series really moving on from his origin story?
"Well, you know, I find that black men in particular have interesting relationships when it comes to their fathers. For many of us, myself included, fathers are distant figures that aren't necessarily involved in our lives on a day-to-day basis, so there's bitterness that comes from that and there're questions that come from that on a very fundamental level of 'What makes a man?' and 'Am I a man?' and 'In being a man, am I a good man, and what does that really mean?' And then you have black men who have very compelling dynamics with their fathers in terms of how they're defined by them. And so not all black male father-son stories are dysfunctional, but when you have one that can fall from dysfunctional into where it was supposed to be in the first place, which is how Luke and his father's relationship evolves this season, it gives you something special. You can talk about the elephant in the room but you not going to see how these men come together. And ultimately, by the end of the arc Luke and his father have reconciled and it helps Luke be in a stable place to get on for the rest of the season."
Shifting gears a little bit, can you talk a little bit about working with Reg E. Cathey in one of his last onscreen performances?
"We dedicated the season to Reg and I loved working with him. He was just so great. One fo the things that was great about Reg was not only how incredibly giving he was as a scene partner. All the actors who worked with him loved him and loved how he elevated their scenes. He was equally generous with his stories and his time and just as a person. One of my favorite memories of doing this job was our very first table read. The first time Reg gave that 'Everyone's talking about Luke Cage' speech, it was absolutely amazing because of the fact that you got to hear him do this and it just galvanized the whole cast and it was that first table read and so much enthusiasm. It not only gave energy through the entire season, but it also was how Reg, when he wasn't acting, every single moment there was humor, you could tell whether or not a joke worked because of that infectious laugh. HE was a joy to work with and because I'd seen him do his thing on Oz and on The Wire and so many movies and television shows, when we had the opportunity to work with him I leapt at the chance and made a friend and I'm so proud of the work that we did together and also so sad because he was a fan of the show, and I think he would have loved his work this season because he's absolutely amazing and I hope that people fully appreciate him."
Let's talk a little bit about Bushmaster. He's not only an threat for Luke in terms of his physical ability but he also represents a challenge to Mariah and her hold on Harlem. What can you tell me about your plan for Bushmaster as such a multifaceted threat?
"Bushmaster was such a great adversary and Mustafa Shakir, just the way that he embodies him in terms of the power of the voice, the stillness, and then at the same time when they do get after it, when he does fight, just how kinetic he was. He just brought a great dynamic and being able to explore his history in making the character Jamaican. It allowed the show to be a Trojan horse in terms of Jamaican culture, history, and politics, in much the same way the show was a window into the complexities of Harlem and being able to combine both and also make a fun superhero story.

This is the thing that we had to answer to both Netflix and Marvel when they kept asking about it. These questions made us really focus. It was like, it's not good enough for Bushmaster to see Luke Cage be the shit and want to challenge him. There has to be a reason. The reason is, he's come to Harlem for his family legacy and for Mariah Stokes. But Luke Cage is at the heart of Harlem and gets in the way. Luke couldn't care less whether these two villains want to kill each other, but because people in Harlem are going to be the collateral damage, he has to step in. And it's in stepping in and getting defeated that forces Luke to figure that (A) he needs to solve the problems within himself in terms of his anger, but also (B) he comes up against the most fundamental decision. It's really the same decision that Colin Powell warned George Bush about when it came to invading Iraq: If you invade this country… you break it you buy it. And that's really the same question that Luke Cage faces. If I'm going to control crime to protect Harlem, what are the effects of that and what how is that going to affect my psyche."
Luke Cage season 2 is available to stream on Netflix. 
The post Cheo Hodari Coker Interview: Marvel's Luke Cage Season 2 appeared first on ScreenRant