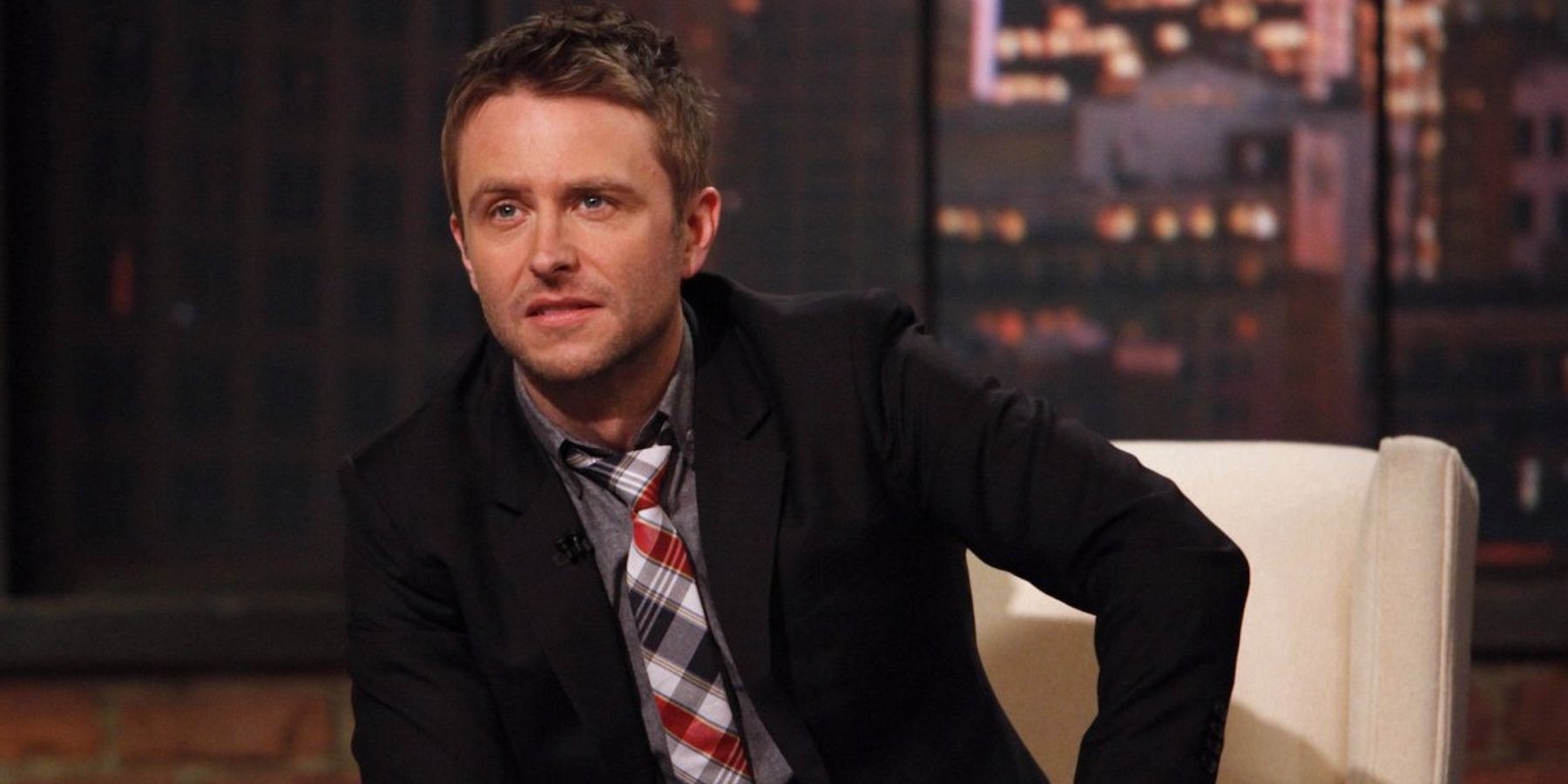 Chris Hardwick won't return to moderate the panel for Warner Bros. and DC Films at San Diego Comic-Con 2018 amid abuse allegations. Last week, Chloe Dykstra detailed the actions of an unnamed ex-boyfriend in a Medium essay, and hints in the piece pointed to her previous relationship with Hardwick. In addition to allegations of emotional abuse and sexual assault, Dykstra also stated her former boyfriend attempted to blacklist her within her industry. Hardwick issued a response to the essay, denying the allegations of sexual assault.
Shortly after the essay was published and readers made the connection to Hardwick, he was scrubbed from the Nerdist site. In the days following, AMC pulled his talk show, Talking With Chris Hardwick, and his appearances at Comic-Con moderating AMC and BBC America panels were cancelled. Currently, NBC is assessing Hardwick's involvement in The Wall. Now, another potential appearance at the annual fan convention has been cancelled, though it was never officially announced.
The Wrap is reporting that a source with knowledge of the situation revealed Warner Bros. will not have Hardwick back to host their Hall H panel at Comic-Con International in San Diego next month. Hardwick previously hosted the Warner Bros. panel in 2014 and 2017. The studio hadn't officially announced a moderator for their panel at this year's event, but according to this report from The Wrap, it won't be Hardwick.
Warner Bros' panel is a highlight of Comic-Con each year, and 2018 will be no different with the studio bringing their DC Comics properties in addition to other big genre fare. The first Aquaman trailer will debut during the panel, as confirmed by director James Wan last week. Plus, there are rumors that the Shazam! teaser trailer will also premiere – at the very least, some early footage will no doubt be screened. And, though Wonder Woman 1984 will likely get center stage at SDCC 2019, Warner Bros. may offer some kind of look at the Wonder Woman sequel during this year's panel.
Beyond DC, Warner Bros. is also releasing Fantastic Beasts: The Crimes of Grindelwald later this year, so some kind of tease or discussion with the cast will likely be part of the panel. Plus, the studio has plenty of other upcoming films that they could tease at the massive fan event, like Mowgli, The LEGO Movie 2: The Second Part and Godzilla: King of Monsters.
With San Diego Comic-Con still a month out, much of Warner Bros. and DC's plans for their panel are unknown. However, as the convention draws closer, we'll know more about what to expect – especially once the official schedule is released – including who will be the moderator now that Hardwick is out.
Source: The Wrap
The post Chris Hardwick Dropped From Moderating Warner Bros/DC Panel At SDCC appeared first on ScreenRant