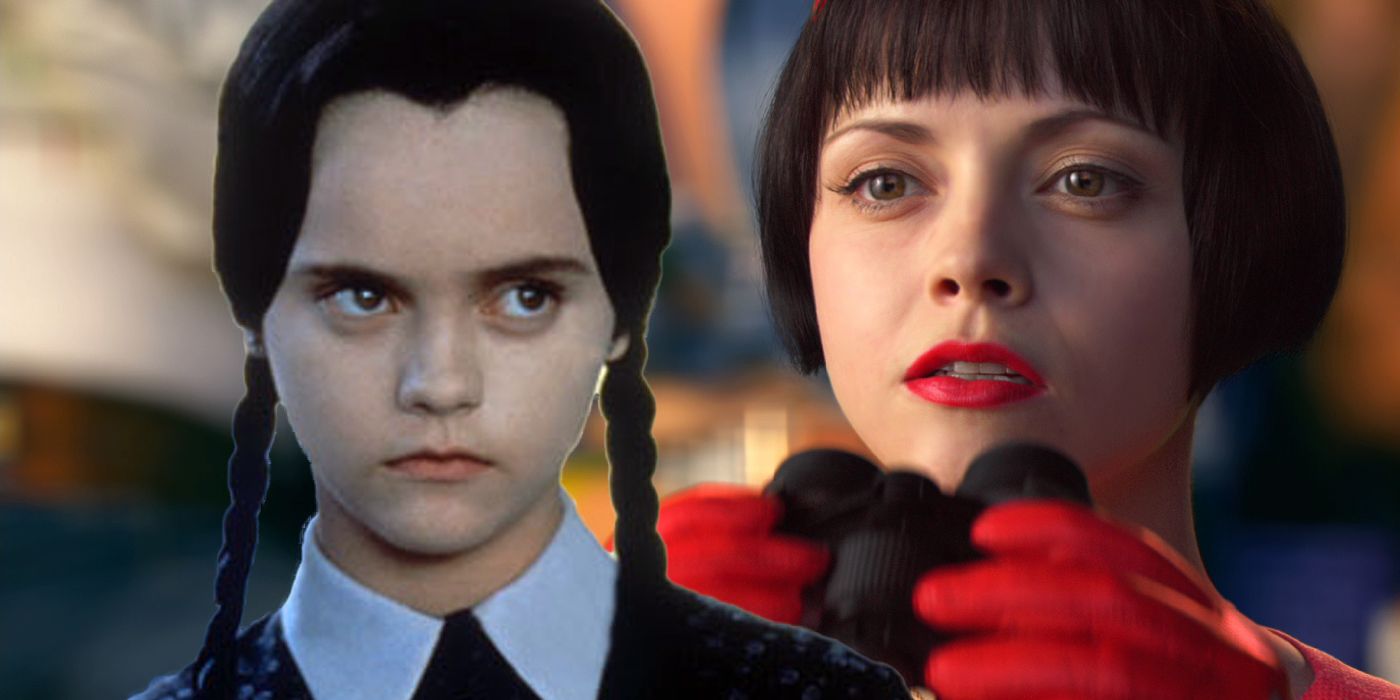 Christina Ricci has expressed interest in returning to the The Addams Family and reprising her role in Speed Racer. The actress has curated a resume of impressive roles starting from the time she was young. One of her best-known childhood performances came as Wednesday Addams. And in 2008, she played Trixie in the Wachowskis' Speed Racer, starring Emile Hirsch. While Ricci has recently been focused on smaller projects in both film and television, she is open to revisiting her past famous work.
As mentioned above, Ricci's career began as a child actress. Her breakout role came in 1991's The Addams Family, and she'd come back for 1993's Addams Family Values. Following the success of the Addams Family films, Ricci would go on to cultivate a successful career in Hollywood. The actress worked with Tim Burton and Johnny Depp in the 1999 film Sleepy Hollow, and received a Golden Globe nomination for her role in The Opposite of Sex the same year. She also starred alongside Charlize Theron in the 2003 Academy Award-winner Monster, and would later earn acclaim for films like Penelope and Speed Racer.
RELATED: Addams Family Animated Movie Starts Production
According to Cinema Blend, Ricci is open to the idea of returning to the world of Addams Family and reprising her role in Speed Racer. When asked about reprising the role of Wednesday or returning to any new Addams Family films as the new Morticia – an idea suggested often by fans online – Ricci enthusiastically responded, "I would totally get back in bed with the Addams Family anytime." While there is no word yet on a live action revamping of the Charles Addams creation, an animated version featuring the voice talent of Charlize Theron and Chloë Grace Moretz will debut in 2019.
Though 2008's Speed Racer didn't earn much critical acclaim – and failed to even make its budget back at the box office – the film has since earned a cult following, including for Ricci's Trixie. When asked if she would return should The Wachowskis decide to make a sequel, Ricci responded, "Yeah, of course. It was a great experience. I loved working with everybody. I love The Wachowskis. I think visually, it's such a fun movie. That part was fun to play." Emile Hirsch, part of the 2008 cast, tweeted in May that there was a script and encouraged fans to get behind the concept of a sequel. While nothing has been confirmed, fans could likely expect to see Ricci as Trixie should the idea come to fruition.
Christina Ricci is a great talent who undeservedly tends to fly under the radar. Still, fans know and love her wide range of work. Her next project has her costarring alongside John Cusack in Distorted, a tech-based conspiracy thriller. If Ricci were to ever return to her iconic Wednesday Addams role though, fans would most certainly flock to the theater to see her. A reprisal of Speed Racer's Trixie seems like a much less safer bet for box office success, but perhaps the Wachowski's loud, colorful vision of that universe would receive a warmer reception in the 2010s than it did in the 2000s. Either way, the fact that Ricci is open to coming back to either role is an intriguing prospect.
MORE: 10 90s Movies That Need A Reboot
Source: Cinema Blend
The post Christina Ricci Interested In Addams Family & Speed Racer Sequels appeared first on ScreenRant