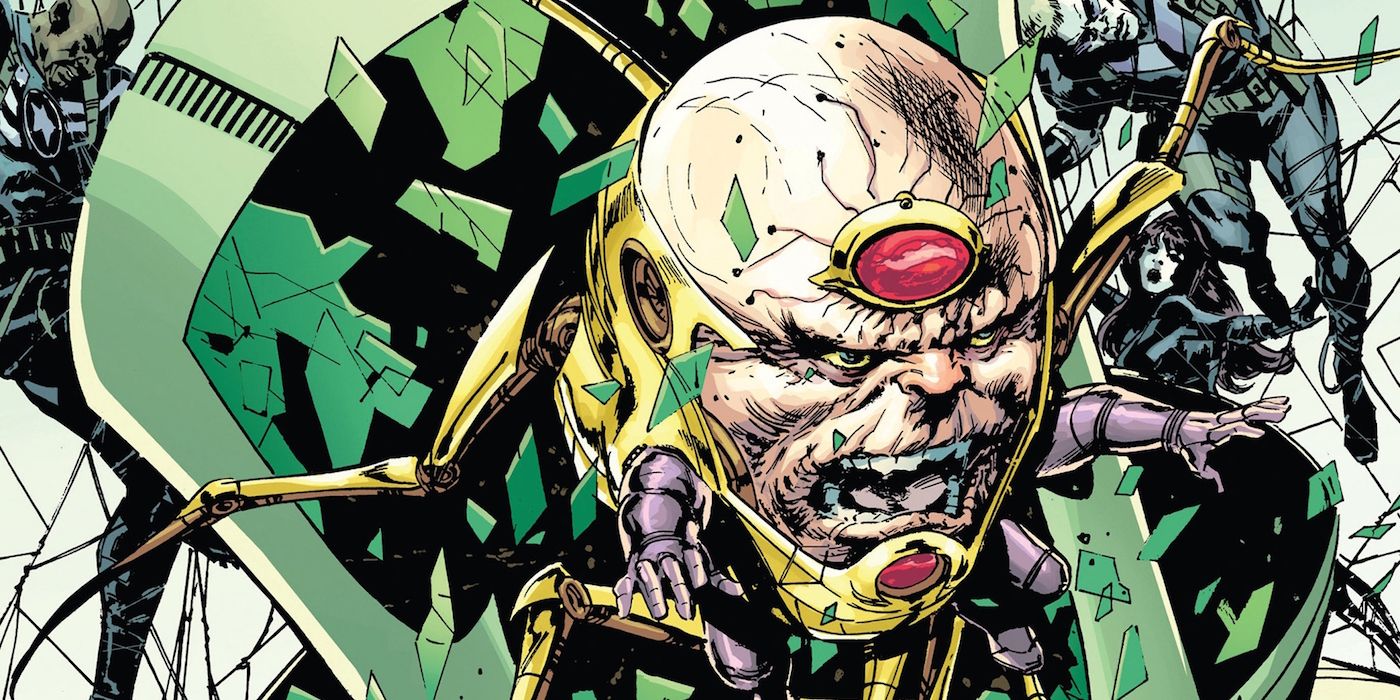 Ant-Man and the Wasp director Peyton Reed says comedian John Hodgman is still campaigning to play MODOK in the Marvel Cinematic Universe. MODOK, an acronym for Mental Organism Designed Only for Killing, is among the strangest supervillains in the Marvel Universe – and he's someone that has been long rumored to appear in the MCU for quite sometime but simply hasn't yet.
Game of Thrones actor Peter Dinklage was originally rumored to play the character in Anthony and Joe Russo's Avengers: Infinity War, but as it turns out, he was playing the dwarf Eitri instead. But still, that hasn't stopped fans (and some actors) from hoping that he will appear in the shared universe down the line, and it looks like the Ant-Man 2 director keeps getting requests from an actor who wants to play the supervillain.
Related: Avengers: Infinity War – Fan Art Reimagines Peter Dinklage as MODOK
In an interview with Heroic Hollywood for Ant-Man and The Wasp, Peyton Reed mentioned that he routinely getting text messages from The Daily Show's John Hodgman about him playing MODOK in the MCU.
"Not only have you mentioned MODOK, but I will occasionally get texts from John Hodgman. He has long wanted to play MODOK. It's his mission in life. He's a huge Marvel Comics fan. John has been sort of lobbying for years 'MODOK! MODOK!'. We always talk about MODOK because he's maybe the most bizzarro character in the Marvel Universe."
There was initially a possibility of MODOK appearing in Captain America: The Winter Soldier – only to be scrapped for Robert Redford's Alexander Pierce – with franchise scribes Christopher Markus and Stephen McFeely having been insistent on the character's involvement in the MCU since 2011, and then nearly helped bring him into Avengers: Infinity War. However, the introduction didn't seem to make sense, as MODOK is simply too unique and complicated to try and explain during the already jam-packed epic. In short, MODOK is the result of a bioengineering experiment to turn technician George Tarleton into a "living computer." The experiment, however, mutated Tarleton, expanding his head to massive proportions and driving him insane while also bestowing superhuman intelligence and psionic powers.
As for Hodgman, he first appeared on The Daily Show in 2005 and has had a wide-ranging career. Some may best know him as the PC in Apple's "Get a Mac" campaign alongside Justin Long, while others will recognize him from roles in Bored to Death, Pitch Perfect 2, and Blindspot. Hodgman has proven time and again that he has fantastic comedic delivery and a sharp wit to match, which certainly seem to lend themselves well to a character like MODOK. While his head currently appears to be of normal size, Marvel would no doubt find a way to accommodate him. Plus, if nothing else, Hodgman has wanted to play MODOK for so long that he's sure to bring a high level of passion to the role, should it ever happen.
Source: Heroic Hollywood
The post Daily Show's John Hodgman Really Wants To Play The MCU's MODOK appeared first on ScreenRant