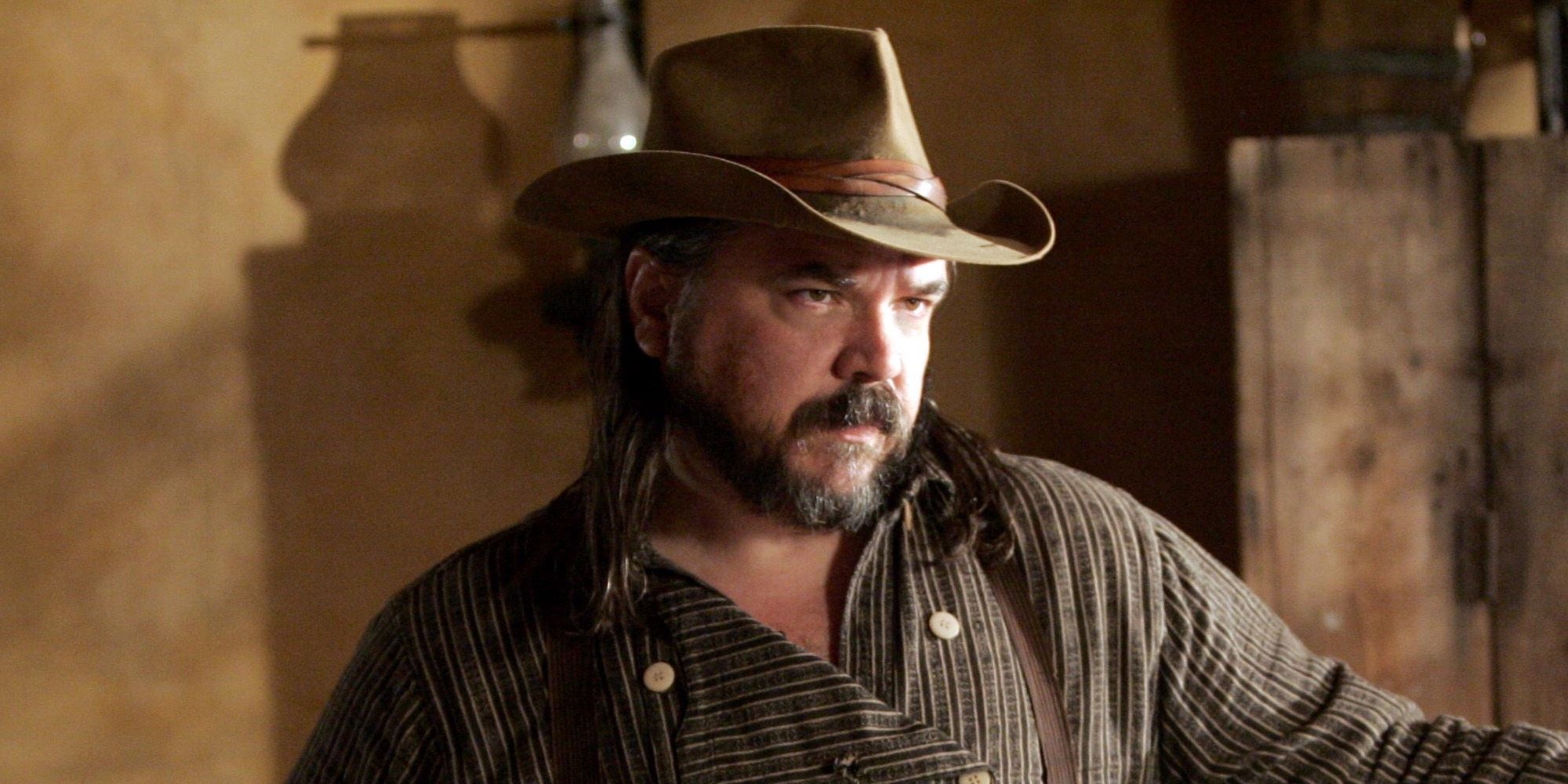 HBO's highly anticipated Deadwood movie is getting closer and closer to a production start in October, with actor W. Earl Brown revealing that he's read the final draft of the script. Ever since the hit series was unceremoniously canceled in 2006 after just three seasons, fans have been waiting for some sort of closure. Deadwood is considered by many to be among the best one-hour dramas in TV history. The wait has been a long and arduous one for fans, but there is now finally light at the end of this tunnel.
Despite widespread critical acclaim, including eight Emmy wins and 28 nominations, fans were shocked when HBO decided to cancel Deadwood after its third season in 2006. Series creator David Milch would ultimately agree to create two two-hour TV movies to wrap up the series, but as the years began to pass, many fans wondered if this would ever see the light of day. In August 2015 there were reports that talks were taking place between HBO and Milch, and in January 2016, HBO confirmed the Deadwood movie is happening, although it seems plans for two two-hour movies were scrapped. While very little is know about the story, it seems Milch may have saved his best for last.
Related: HBO Confirms Talk of Deadwood Wrap-Up Movie
W. Earl Brown took to Twitter to tell his fans that he has read the final draft of the Deadwood movie script, and his first reaction was, "Holy. S–t." He went on to add that his, "emotions ricocheted in every f—ing directing," running the gamut from "melancholy" to "hoots of joy" to "screams of despair." The actor added that he would read the lines for his character, Dan Dority, aloud, comparing Milch's words to a "scrumptious meal," and that the "complexity of its flavors are something to savor." Brown had already sung the praises of Milch's Deadwood script back in May 2017, adding that the structure to this final draft is the same as that previous draft, although the relationships and complexities therein have been, "sharpened to a razor's fine edge," concluding that the script is "gut-wrenching." See Brown's tweets below.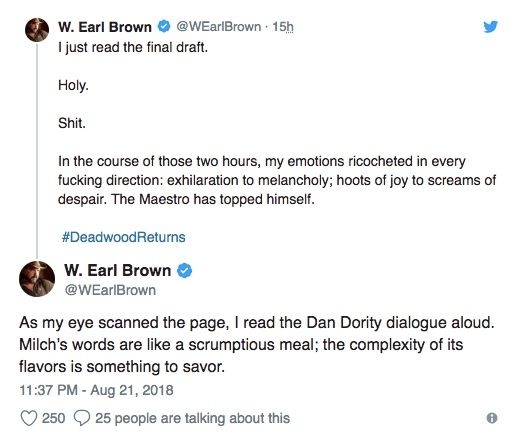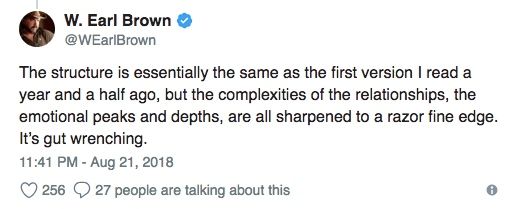 Brown also confirmed the report from last month that HBO was eyeing an October production start, while adding an exact start date of October 5. The actor also responded to a fan's question about which Deadwood cast members would be back, stating that, "Everyone from the main cast who still draws air" will return, with the sole exception of Titus Welliver's Silas Adams, since Welliver is still in the "thick of production" on his hit Amazon series Bosch. One of the main cast members who is sadly no longer "drawing air" is Powers Boothe, who played The Bella Union owner Cy Tolliver. While Brown couldn't get into specifics, he assured a fan that Tolliver's "absence is not ignored."
Just five months ago, even Timothy Olyphant didn't think the Deadwood movie would happen, but now apparently everyone is on board, and now another piece of the puzzle has come into place with Milch's script being complete. Given how much fans have been clamoring for Deadwood closure, this HBO movie could be one of the most anticipated TV events in recent years, perhaps even on par with Showtime's Twin Peaks return last year. While there is no doubt this TV movie should have happened many years ago, it's still better late than never.
Source: W. Earl Brown/Twitter