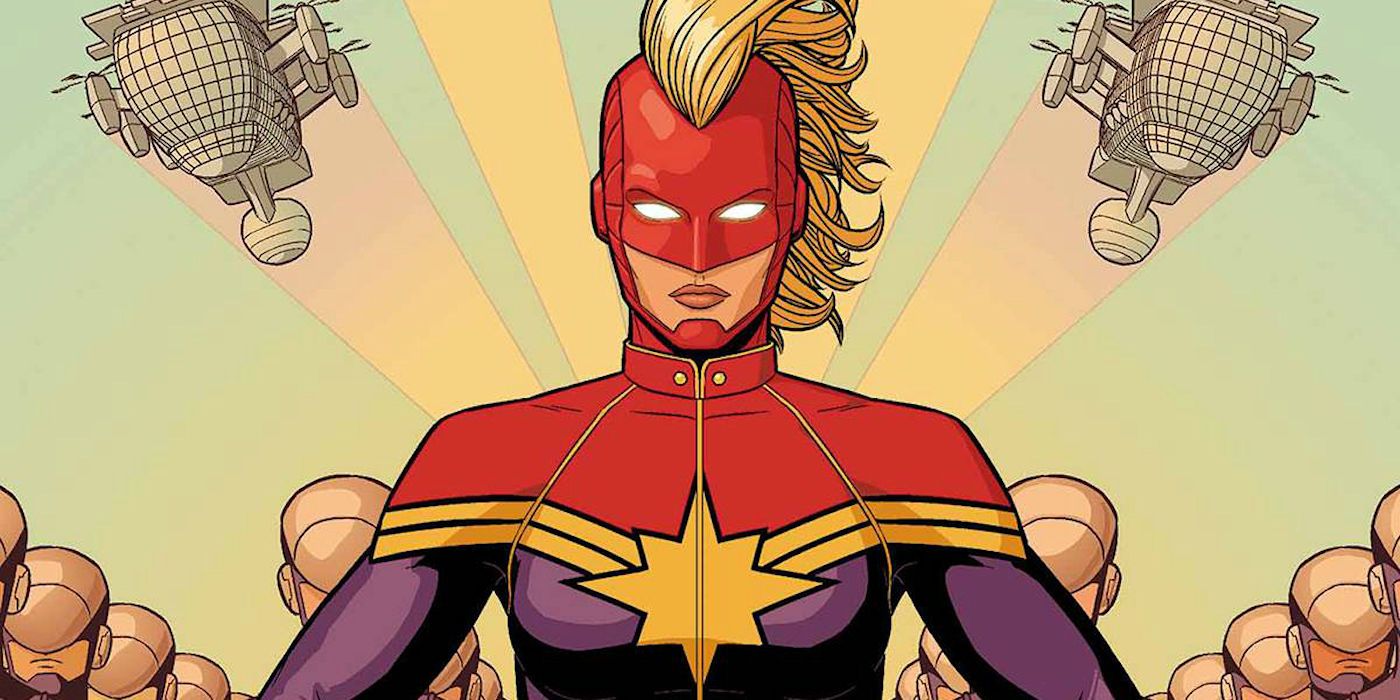 Samuel L. Jackson posted an image of his t-shirt online, which may have just given fans their first glimpse at Brie Larson's helmet in Captain Marvel. So far, Captain Marvel's MCU costume has been something of a closely-guarded secret, despite fans already knowing what she will look like… mostly.
Set photos have shown Larson's Carol Danvers wearing a green outfit, one that's clearly inspired by the Kree uniforms from the comics. But concept art Larson's Danvers – and not to mention the recently leaked promotional material for Avengers 4 – has made it clear she'll ultimately don a far more comic-book-accurate uniform, but one that is still somewhat unique.
Related: Captain Marvel Theory: It's Actually The MCU's Secret Invasion
The most significant leak to date, though, is a post from Samuel L. Jackson on Instagram. Jackson has proudly posted a t-shirt that's apparently been worn by the VFX team, and it looks as though he's got one too. Unlike all the concept art to date, however, this shows Carol Danvers wearing a helmet/mask. Take a look:
In 2012, Marvel Comics relaunched the character of Carol Danvers. Kelly Sue DeConnick came up with the idea of having Carol embrace the mantle of Captain Marvel, and her costume was redesigned – at DeConnick's request – by Jamie McKelvie. McKelvie designed a costume that reflected Carol's military background, while carefully weaving in homages to her traditional looks. One of the highlights was a smart, retractable helmet that Carol wore in space, designed to be reminiscent of Kree helmets. The MCU costumes that have been seen so far are clearly inspired by this relaunch, so it's always seemed likely there'd be a retractable helmet as well.
It's important to note that the costume on Jackson's t-shirt is not one lifted from the comics. It corresponds with the concept art Marvel released last year, and has subtle differences with the comic book version. Note the gap above the star; that's not lifted from any of the comic book designs. So this t-shirt is the first image that shows what Captain Marvel's helmet could look like in the MCU.
Marvel Studios president Kevin Feige recently revealed that the first trailer for Captain Marvel won't release for another few months, so it seems Marvel is still trying to figure out the timing of marketing for Captain Marvel; the film is their first March release, meaning there isn't a precedent for Marvel Studios. It's likely that trailer will be the first time fans actually see the costume in all its glory, and both versions may be revealed – with and without the helmet raised.
Source: Samuel L. Jackson/Instagram
The post Did Samuel L. Jackson Just Reveal Brie Larson's Captain Marvel Helmet? appeared first on ScreenRant