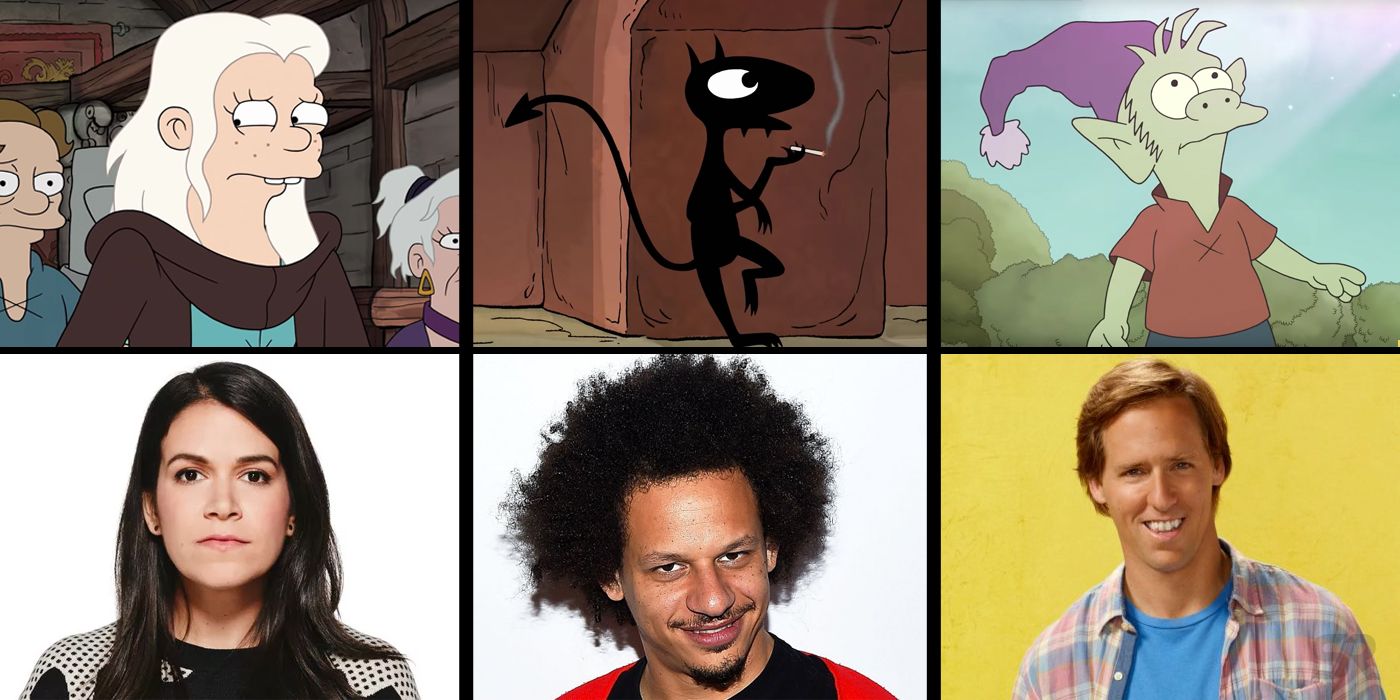 Disenchantment sees Matt Groening come to Netflix, bringing with him an enviable voice cast. The creator of The Simpsons and Futurama, Groening's latest show takes him to a new genre: fantasy. Set in the misnomer realm of Dreamland, it follows rebellious Princess Bean, her personal demon Luci and wide-eyed elf, erm, Elfo in a series of high-fantasy inspired misadventures.
Along with the signature animation style, Groening's cartoons are known for their eclectic casts bringing together some of the best voice actors in the industry. And, while other Netflix animated shows have seen named live-action actors lending their voices to the likes of Bojack Horseman and Big Mouth, Disenchantment mostly uses those familiar with animation. Indeed, fans of Futurama, in particular, will notice a lot of very familiar-sounding characters.
Related: Netflix: 15 TV Shows And Movies You Didn't Know Were Coming In August
Here's a rundown of all the main characters in Disenchantment, who voices them, and where you've probably heard (or seen) them before.
Disenchantment's Main Characters – Bean, Elfo and Luci Voices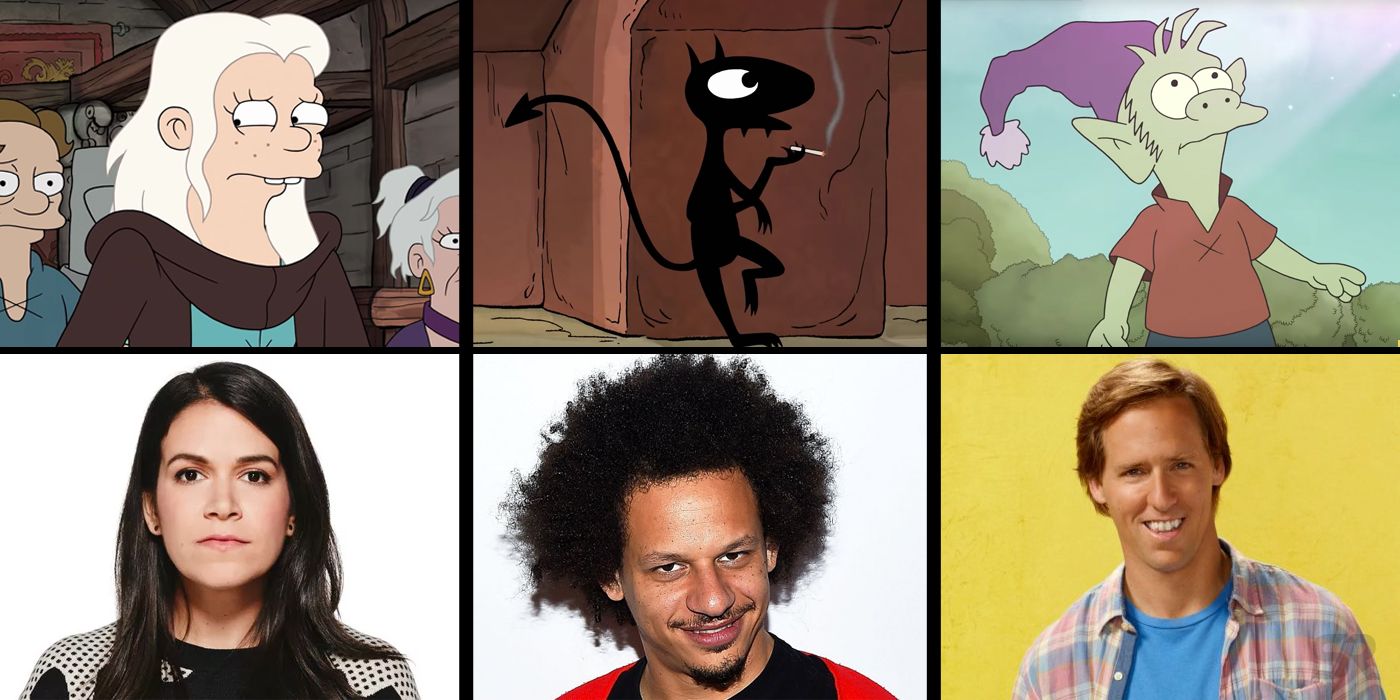 Abbi Jacobson as Bean: Disenchantment's lead character, Princess Tiabeanie is a heavy-drinking, fun-loving princess who longs to escape Dreamland's walls. Bean is voiced by Abbi Jacobson, best known as the creator and star of Broad City, who's previously lent her voice to The Lego Ninjago Movie (red warrior Nya) and Bojack Horseman (Todd's ex-girlfriend, Emily).
Eric André as Luci and Penderfast: Luci's real purpose in Disenchantment isn't known: he's Bean's personal demon, trying to steer her towards the dark for unclear reasons. Luci is voiced by Eric André, eponymous creator of The Eric Andre Show and star of Man Seeking Woman who's also had a recurring role in Don't Trust the B—- in Apartment 23 (as Mark Reynolds) and will voice as new hyena Azizi in The Lion King remake. He also voices Pendergast, Dreamland's head knight.
Nat Faxon as Elfo: A wide-eyed elf who's nevertheless too cynical for his own kind, Elfo is kept around by both his feelings for Bean and King Zøg's need for his blood. Elfo's voice is provided by Nat Faxon, an actor and writer best known for his collaborations with Jim Rash (The Descendants and The Way, Way Back) and starring in a range of comedic films and TV (chief among them Ben and Kate, and Married).
Futurama's Returning Cast in Disenchantment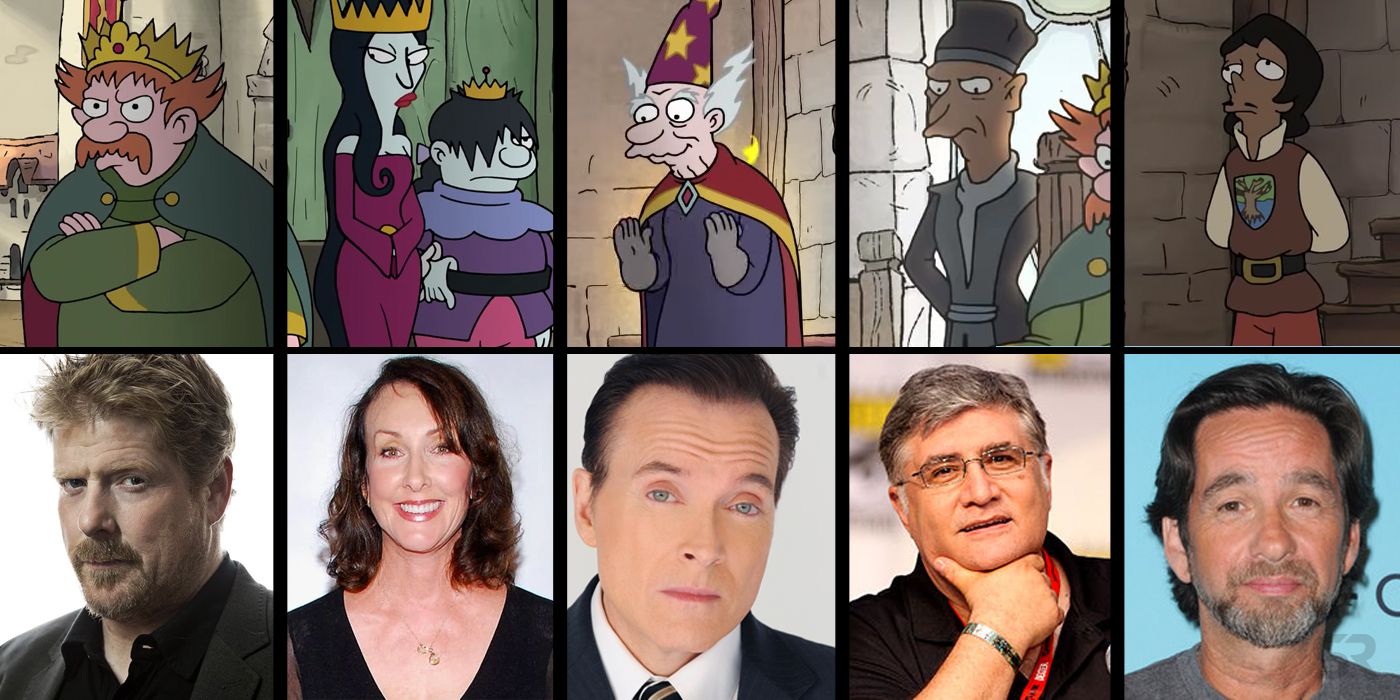 John DiMaggio as King Zøg: Bean's father and rule of Dreamland, King Zøg is voiced by animation legend John DiMaggio. He's best known for Bender (among others) on Futurama, but has hundreds of characters to his name (from Jake in Adventure Time to Marcus Fenix in Gears of War).
Tress MacNeille as Queen Oona, Prince Derek & The Fairy: Zøg's second wife after Bean's deceased mother, Oona is a swamp person voiced by Tress MacNeille, a veteran of The Simpsons (Agnes Skinner, Dolph, and a range of other supporting characters) and Futurama (Mom, Linda, and more), she's also worked in various Warner Bros., Disney and Hanna-Barbera TV animations. MacNeille also voices Zøg and Oona's son, Bean's half-brother and first in line to the throne, Derek (when he speaks) and the show's risque Fairy.
Billy West as Sorcerio, The Jester and Pops the Elf: Zøg's advisor/unskilled-wizard, Sorcerio is voiced by animated legend Billy West: Doug from Doug, Fry, the Professor, Zoidberg and Zapp Branigan from Futurama, Ren and Stimpy, the red M&M and countless takes on classic characters, from Bugs Bunny to Woody Woodpecker. He also plays several other supporting characters, including The Jester and Pops the Elf, Elfo's father.
Maurice LaMarche as Odval: The Prime Minister of Dreamland, Odval is a wry, three-eyed advisor to Zøg played by another famed voice actor, Maurice LaMarche. He won two Emmys for his work on Futurama (where he played Kif Kroker, Calculon, Hedonismbot, Morbo, Lrrr) and also voiced Brain from The Pinky and the Brain, although his biggest claim to fame is the inspiration for the latter: his countless turns as Orson Welles.
David Herman as The Herald and Jerry: The castle's version of a news reporter is played by David Herman. Herman rose to fame as part of MADtv, and has since voiced a wide array of characters in shows like Futurama and Bob's Burgers. He also plays Jerry, the less clued-in assistant to Luci's masters.
Disenchantment's Supporting Cast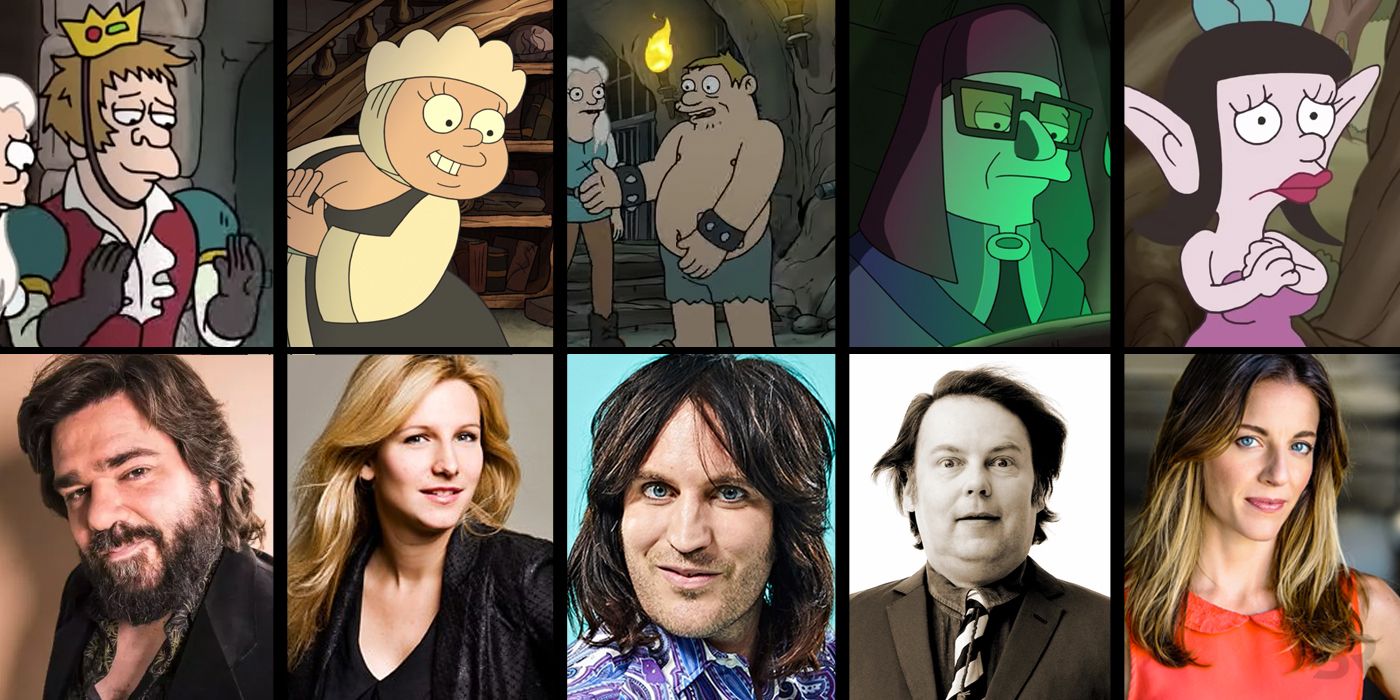 Matt Berry as Prince Merkimer: The unlucky Prince who gets turned into a pig after a cocktail of Elfo's blood, Merkimer is voiced by Matt Berry. A staple of British comedy, Berry's refined accent will be recognizable from The IT Crowd and Toast of London.
Lucy Montgomery as Bunty and Enchantress: The simple-minded, simple-living maid to Bean, Lucy Montgomery voices Bunty. Another British comedy alum, she's cameoed in a wide range of shows, including extended stints on The Armstrong and Miller Show, Bellamy's People of the United Kingdom of Great Britain and Northern Ireland and Tracy Breaks the Internet. She also voices the Enchantress in control of Luci.
Noel Fielding as Stan the Executioner: Bunty's husband and Dreamland's go-to executioner, Stan is voiced by Noel Fielding. Yet another British TV regular, he's one half of The Mighty Boosh and co-starred with Berry in The IT Crowd.
Rich Fulcher as Cloyd: The two eastern sorcerers who sent Luci to Bean for mysterious reasons recur throughout the series. As long with Montgomery's Enchantress, there's Cloyd voiced by Rich Fulcher. Fulcher has worked with Berry and Fielding multiple times in the past on Boosh, Noel Fielding's Luxury Comedy, Snuff Box and Unnatural Acts.
Jeny Batten as Kissy the Elf: Elfo's well-named love interest is voiced by Jeny Batten, an actress whose previous work mainly involves bit parts.