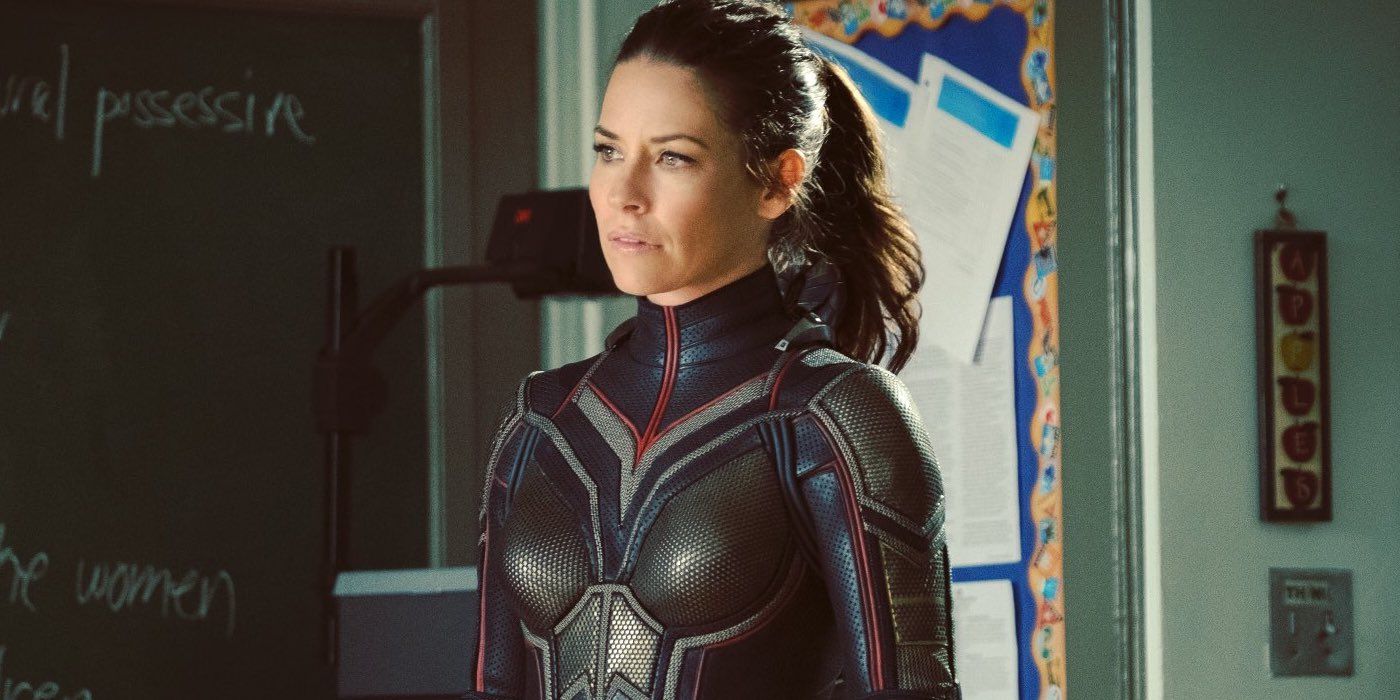 Evangeline Lilly can't wait to play the Wasp again in the Marvel Cinematic Universe now that she's done with Ant-Man & The Wasp. Although she was limited to a supporting role in the original Ant-Man movie, Lilly impressed audiences in the role of Hope Van Dyne, which is only part of the reason she was given a larger role in the sequel.
Lilly's character is the Dr. Hank Pym and Janet Van Dyne, and she is based on the character Hope Pym from the comics. And although Lilly's on-screen version is mostly different than her comic book counterpart, seeing the character on the big screen was something that comic book fans have been waiting to see ever since the first movie released. Hope Van Dyne was shown in Ant-Man to be smart, resourceful, and generally more on-the-ball than either her father or Scott Lang – the thief who took control of the Ant-Man suit. And now, Lilly hopes to continue playing the character in the future.
Related: 25 Things We Learned on the Set of Ant-Man and the Wasp
Lilly spoke about the role in an interview with ComicBook. When asked about Ant-Man & The Wasp, Lilly was enthusiastic about the upcoming movie and spoke about how she would love to bring The Wasp back in future Marvel movies.
"I have been thinking the exact same thing, and now that it's finally done and dusted, now that I've seen the movie and I can kind of, 'Whew,' like, 'I did it. It's over,'" Lilly said. "Now, the immediate question is when do I get to do it again?"
Thus far, Lilly has only been confirmed for the untitled Avengers 4 movie. Obviously, she would be recruited for any further movies based around Ant-Man and The Wasp, but a third movie in that series is not yet on the roster for Phase 4 of the Marvel Cinematic Universe. The only movies officially confirmed for Phase 4 thus far are Spider-Man: Far From Home and Guardians of The Galaxy Vol. 3.
A sequel to Black Panther and a Black Widow solo film are reportedly under consideration for Phase 4, but none of these offer an obvious point of entry for Hope Van Dyne. The most promising prospect, which has drawn comments from Tessa Thompson, Scarlett Johansson and Marvel Studios President Kevin Feige, involves a movie centering on an all-female Marvel team, akin to Marvel Comics' series A-Force. Lilly, for her part, loves the idea, and it would be a natural progression for Hope's character: "Dude, there's talk of an all-ladies MCU movie amongst the MCU ladies. We would love to do that, and I think we should all put as much pressure as possible on [Kevin Feige] to make that happen."
At the moment, there are no plans for an all-female Marvel movie, but Feige did recently say that, one day soon, the MCU will have more female superheroes than male superheroes – and that all starts with next year's Captain Marvel movie. Should that eventually lead to an all-female movie, then at least audiences know that Lilly is down to reprise her role as the Wasp in it.
Source: ComicBook
The post Evangeline Lilly Can't Wait To Play The Wasp Again In Another Marvel Movie appeared first on ScreenRant