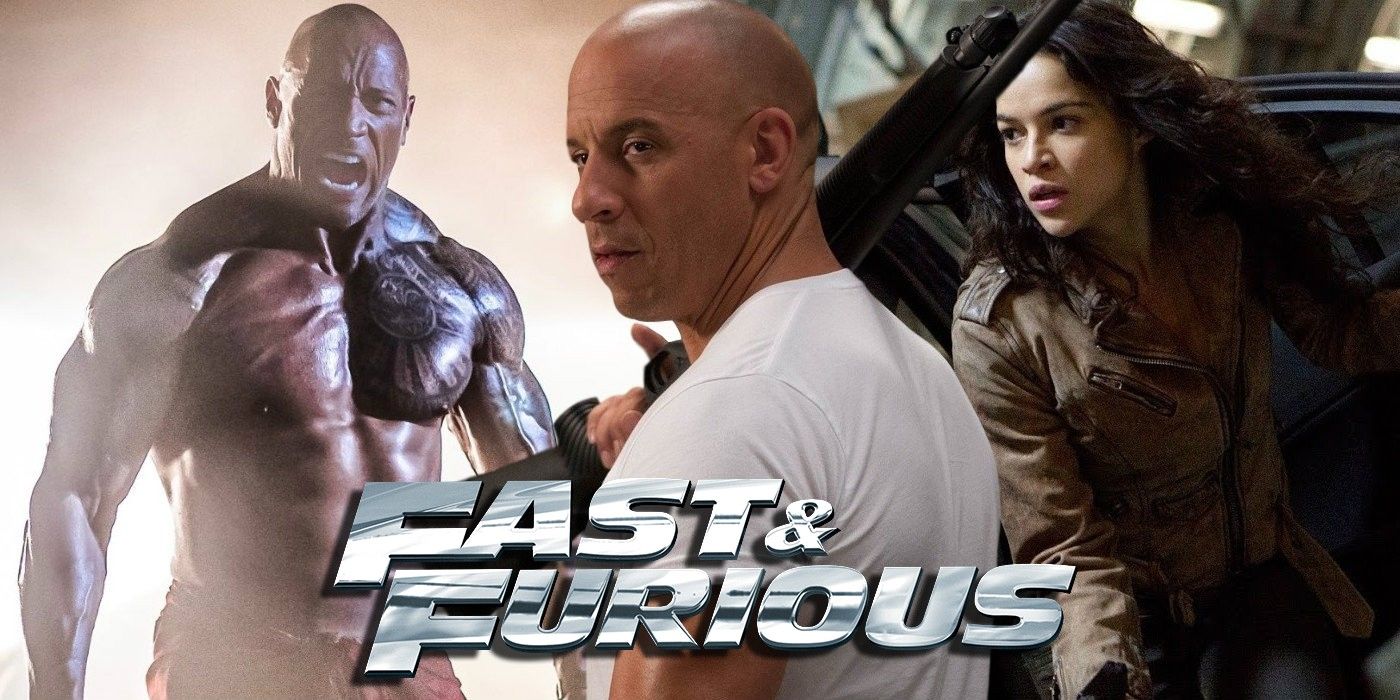 We're running down every Fast & Furious movie sequel and spinoff that's currently in the pipeline. It's fair to say that nobody saw The Fast and the Furious – or, as it's also known, "Point Break, but with illegal street racing" – giving rise to the global juggernaut that is the Fast & Furious franchise, back when the movie hit theaters in 2001. Nor, for that matter, could anyone have predicted how the brand would evolve over time from a neo-noir thriller to an international action-adventure featuring mercenaries for hire, super-hackers, shadowy government organizations and, when the occasion warrants it, actual street racing. Nevertheless, that's exactly what the property has become.
The series isn't done expanding and changing yet, either. Universal will release the first Fast & Furious spinoff – titled Fast & Furious Presents: Hobbs & Shaw – this summer, before the next mainline Fast & Furious movie hits theaters in 2020. Development is already underway on more spinoffs after that, in addition to what may or may not end up being the final installment in the Dominic Toretto story. However, much like the plan is for the Star Wars universe to live on after the Skywalker Saga concludes with this December's Episode IX, the idea is for Fast & Furious to carry on past Vin Diesel's final ride as Dom (for real).
Related: Dwayne Johnson Confirms Hobbs & Shaw Trailer Date
In fact, there are enough Fast & Furious movies in the works right now that fans are probably starting to have a difficult time remembering which one is which. As such, we've put together a handy guide to all the Fast & Furious movie sequels and spinoffs that are officially moving forward at the moment.
Hobbs & Shaw – August 2, 2019
The first of potentially several Fast & Furious spinoffs, Hobbs & Shaw is being directed by David Leitch (Atomic Blonde, Deadpool 2) and written by series writer Chris Morgan. As its title implies, the movie follows ex-government agent Luke Hobbs (Dwayne Johnson) and mercenary Deckard Shaw (Jason Statham) as they begrudgingly join forces to stop a criminal named Brixton (Idris Elba). The pair are accompanied on their adventure by various members of their respective families, including Deckard's sister Hattie (Vanessa Kirby) and all four of Hobbs' brothers (one of whom is played by the WWE's Roman Reigns).
Hobbs & Shaw was inspired by Johnson and Statham's onscreen chemistry in 2017's The Fate of the Furious, and The Rock's desire to leads a spinoff of his own. It's been reported that Fate of the Furious originally included a post-credits scene that set the stage for the spinoff, before Diesel shot the idea down. Johnson and Diesel infamously clashed behind the scenes during production on Fate of the Furious, which is partly why the pair didn't actually shoot any scenes together on the movie. The two are going their separate ways for the time being, but that may change in the future (as we'll discuss later).
Fast & Furious 9 – April 10, 2020
Fast & Furious 9 plot details are under wraps for now, other than (obviously) it picks up the story threads left hanging in Fate of the Furious. The film is being directed by Justin Lin, who called the shots on four Fast & Furious movies straight before he stepped away on Furious Seven and Fate of the Furious. However, because longtime series writer Morgan has been busy writing Hobbs & Shaw, Fast & Furious 9 is instead being written by Daniel Casey, following his breakout on last year's sci-fi action drama Kin. Naturally, Diesel is coming back to play Dom again, with Michelle Rodriguez and Tyrese Gibson also set to reprise as Letty Ortiz and Roman Pearce.
While Johnson has confirmed that he won't appear in Fast & Furious 9, Jordana Brewster is reportedly coming back as Mia Toretto – after she sat out Fate of the Furious – and newer additions to the franchise (like Helen Mirren and Kurt Russell) have expressed a desire to appear in another mainline Fast & Furious film, be it Fast 9 or beyond. Fate of the Furious further introduced Charlize Theron as Cipher and positioned the villain to serve as a recurring threat in future movies to come, including Fast 9. That said, it's possible the character will be saved for an appearance in Fast & Furious 10 (assuming she ever returns at all).
Fast & Furious 10 – April 2, 2021
Back in 2017, Fast & Furious series producer Neal H. Moritz said the plan is to end the franchise with Fast & Furious 10… at least, as far as non-spinoffs are concerned. It's possible the idea is still for Fast 10 to bring Dom's story to a close, while leaving the door open for future adventures with other characters (more on that in a bit). Obviously, a lot could change between now and next year, which is when Fast 10 would actually need to start production to make its 2021 date. Still, by the look of things, Diesel will be done with the series after this one and turn his attention fully to his other franchises (like Bloodshot and xXx).
Diesel, for his part, has already claimed that Lin will see Dom's story through to the end by directing Fast 10 after he wraps post-production on Fast & Furious 9. Meanwhile, Johnson has indicated he's open to appearing in Fast 10, seeing as Hobbs and Dom still have "unfinished business" (as The Rock put it). There are a few other character threads that need to be tied up before Dom finally rides off into the sunset too, including his marriage to Letty and relationship to his young son Brian. Speaking of which: the late Paul Walker's brothers have said they want to see his character, Brian O'Conner, return at some point in the series. If he does, however, it'll almost certainly be to see Dom off in some fashion.
Female-Led Spinoff – Date TBA
The untitled female Fast & Furious spinoff was only just announced by Diesel, but it's apparently been in the pipeline since 2017. Presumably, the project was inspired by comments Rodriguez made at the time of Fate of the Furious' digital release; specifically, that she's willing to step away from the property unless the series' producers "show some love to the women of the franchise". Diesel was quick to announce his support for Rodriguez after that and, by the look of things, helped to get the ball rolling on a spinoff led by various female characters from Fast & Furious movies past (with the assistance of his sister and fellow producer, Samantha Vincent).
Diesel has revealed that writers Lindsey Beer (Sierra Burgess is a Loser), Geneva Robertson-Dworet (Tomb Raider), and Nicole Perlman (Guardians of the Galaxy) were involved in the female Fast & Furious spinoff pitch, though it's not clear yet if all three are working on the script. As for the movie's stars: the possibilities (naturally) include Rodriguez and Brewster, in addition to recurring cast members like Nathalie Emmanuel, Hobbs & Shaw costars Kirby and Eiza González, and possibly even Gal Gadot (despite her character's apparent death in Fast & Furious 6). Not to mention: if Theron doesn't return as Cipher in either Fast & Furious 9 or 10, this could be the ideal place for her to reprise the villain, instead.