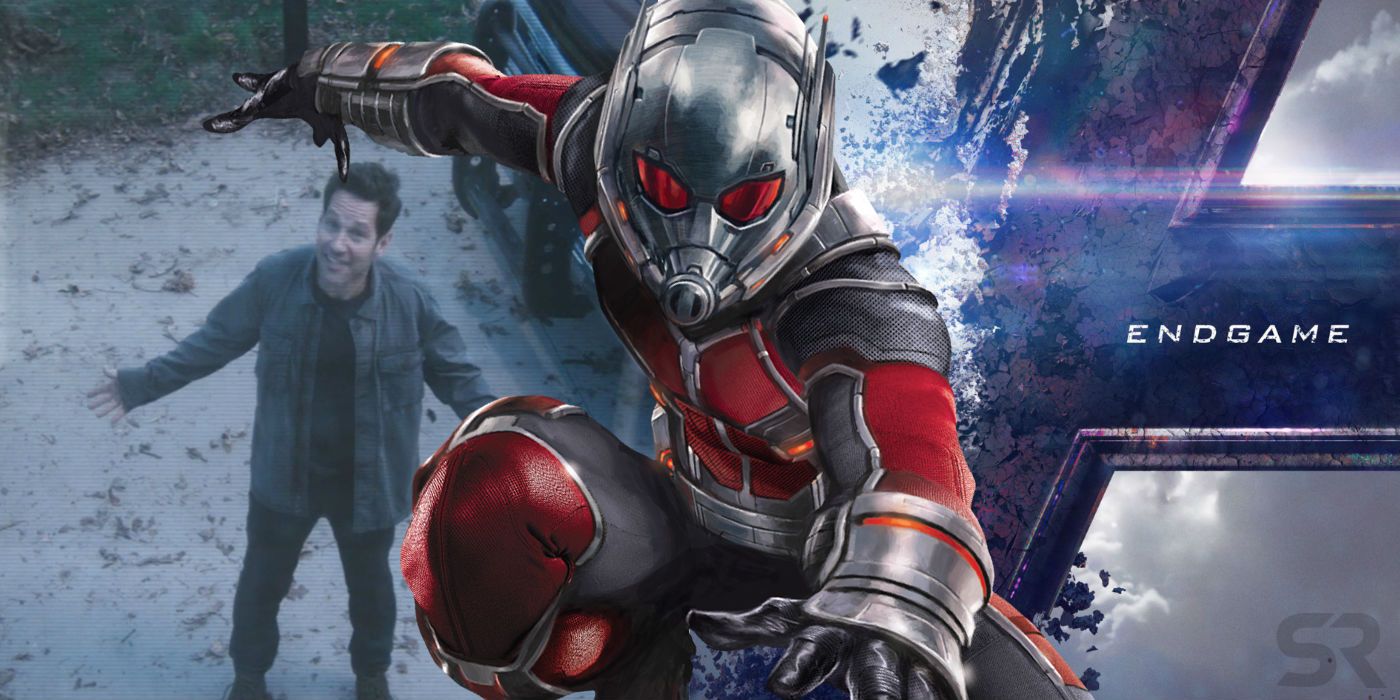 Paul Rudd's Ant-Man is the Marvel Cinematic Universe's tiniest hero, but he's about to have his biggest role yet in Avengers: Endgame. Marvel Studios is preparing to tell the conclusion of the first MCU saga. Ever since Thanos smiled at the end of The Avengers, the series has been building towards the eventual confrontation between the Mad Titan and the Avengers. As Avengers: Infinity War showed, it proved to be a costly showdown for the heroes, as Thanos snapped half of the universe's life away.
The first trailer for Endgame showed how the select heroes who survived "the Decimation" are coping with the losses, and it doesn't look great. Iron Man (Robert Downey Jr.) is close to dying in space and a freshly shaved Captain America (Chris Evans) sheds a tear. The only moment of hope and levity comes when Scott Lang appears at the very end of the trailer. This is the only footage shown of Ant-Man's role in Endgame so far.
Related: When Will The Next Avengers: Endgame Trailer Release?
With a few months still to go before Endgame hits theaters and the limited amount of information officially released about the film, Marvel is successfully keeping plenty of details under wraps. Ant-Man's role especially is currently being closely guarded, but that doesn't mean there aren't several hints of how he'll factor in already existing. Here's everything we know about Ant-Man's role in Avengers: Endgame.
This Page: Ant-Man Escapes From The Quantum Realm
Ant-Man Joins The Avengers Properly In Avengers: Endgame
Audiences first met Scott Lang in 2015's Ant-Man as he was being released from prison. Although he was an unlikely choice, Hank Pym (Michael Douglas) – the original Ant-Man – picked him to take over the mantle moving forward. Scott only briefly interacted with some Avengers in Captain America: Civil War and was not a factor in Infinity War. This was the result of him being on house arrest for acting against the Sokovia Accords, and led him to his own heroic story in Ant-Man and the Wasp. But, as the trailer for Endgame showed, Ant-Man is about to become a much larger part of the equation.
Promotional art for the movie has shown Ant-Man with the rest of the surviving heroes, signifying that he is finally a true member of the Avengers team. While Scott may still be a bit starstruck by his new teammates, Ant-Man becoming a proper Avenger is significant. Ant-Man is a founding member of the Avengers in Marvel Comics, and even though it was Hank Pym on the page and will be Scott Lang for the MCU, this is still a moment comic fans have been waiting for. Ant-Man will have the opportunity to work with Iron Man, Thor, and Hulk just like in Avengers #1 from 1963 and will attempt to save the universe in the process. There's also been set photos of Scott meeting up with Captain America and Black Widow, further teasing how he'll work his way into the team.
Ant-Man Escapes The Quantum Realm in Avengers: Endgame
What makes Ant-Man's addition to the Avengers roster all the more important is the uncertain state audiences last saw him in. During Ant-Man and the Wasp's mid-credits scene, Scott Lang takes another trip to the Quantum Realm to collect healing particles for Ghost (Hannah John-Kamen) and successfully does so. But, when he requests to be pulled back out of the Quanutm Realm, he does not get a response and the audience sees that Hank, Janet van Dyne (Michelle Pfeiffer), and Hope van Dyne (Evangeline Lilly) have all been dusted.
This leaves Ant-Man trapped inside the Quantum Realm, but the trailer for Avengers: Endgame confirmed he will make it out. This has become a major talking point among fans as there appear to be several options for how he could escape. Ant-Man previously escaped the Quantum Realm by using a Pym Particles Disk, and it is possible he could try this again, but it has also been theorized that it could be result of a fail safe of the Quantum Tunnel Hank designed. There's even the possibility that Captain Marvel finds him in there and rescues him. However, the most theorized explanation is that he will escape through time vortexes that are in the Quantum Realm. And, as their name implies, this avenue of escape would then appear to have even larger implications on Endgame's plot and how Scott will factor in.
Ant-Man Is Key To Time Travel in Avengers: Endgame
Ant-Man's appearance in the final scene of Avengers: Endgame's trailer shows Scott standing outside the front gate of Avengers HQ asking for the Avengers' help. Captain America is noticeably confused by this footage and asks if it is old, and it appears to be. Eagle eyed fans have noticed that this video is not live and instead is labeled as archive footage. This is one of many hints in the trailer towards time travel being a major part of Endgame's plot and it would appear that Ant-Man and the Quantum Realm will be the key to making it possible.
Related: Endgame Toys May Confirm Purpose of Avengers' New White Suits
Ant-Man being stuck in the Quantum Realm and the not-so-subtle mention of time vortexes in Ant-Man and the Wasp's mid-credits appear to have completely set up how the Avengers will try to save the universe in Endgame. This will make Ant-Man the key to it all, not only because of his prior knowledge and experience with the Quantum Realm, but also because he has likely already traveled through time to leave this message. Although that single scene is all we've seen of him in Endgame, we have a theory that he's actually featured in the trailer more than Marvel wants you to believe – and that he's just slightly off camera or maybe even digitally erased from the scenes.
Evidence of Ant-Man's importance to Endgame was noticeable during the filming of the movie too. He was previously spotted on a set recreating the Battle of New York from The Avengers. Ant-Man was not part of this fight originally and this isn't a case of him being too small to see either. He was shown with an older Tony Stark and possibly a present day Captain America, along with the Hulk. Through a combination of these leaks and ones from toys, it would appear that Ant-Man explains to the Avengers that they have the ability to travel through time thanks to the Quantum Realm.
An Older Cassie Lang Is In Avengers: Endgame
Scott's story in Avengers: Endgame won't just revolve around saving those that he's lost, but also with those still around, as an older version of his daughter Cassie Lang is rumored to appear. Abby Ryder Fortson has previously played Cassie in the Ant-Man franchise, but now Emma Fuhrmann – who is seven years older than Fortson – is reportedly taking over the role. This could be the result of Endgame's time travel if they go to the future, but it more likely points to the possibility of a time jump taking place. There were no clear signs of a time jump of this magnitude in the first trailer, but that may just mean such a leap forward doesn't happen right away. Kevin Feige said it was "somewhat accurate" that the marketing wouldn't show footage past the first 20 minutes, which could allow for the movie to jump forward in time and then introduce the new Cassie Lang.
However the older Cassie appears in Endgame, it has been widely speculated that the casting of an older version of the character is so she can become a superhero. Cassie expressed this interest in Ant-Man and the Wasp and she goes on to become a size-changing hero of her own, who has gone by Ant-Girl, Stature, Stinger, and more. Cassie's heroic side leads her to becoming a member of the Young Avengers, an idea Feige has confirmed they're planting seeds for.
—
All of this information creates a solid base for what Ant-Man will be doing later this year. As we get closer to the release of Avengers: Endgame, more information on the movie is sure to come and may further reveal details of Ant-Man's role in the team up film. As of right now, it already appears he'll have a large role to play.