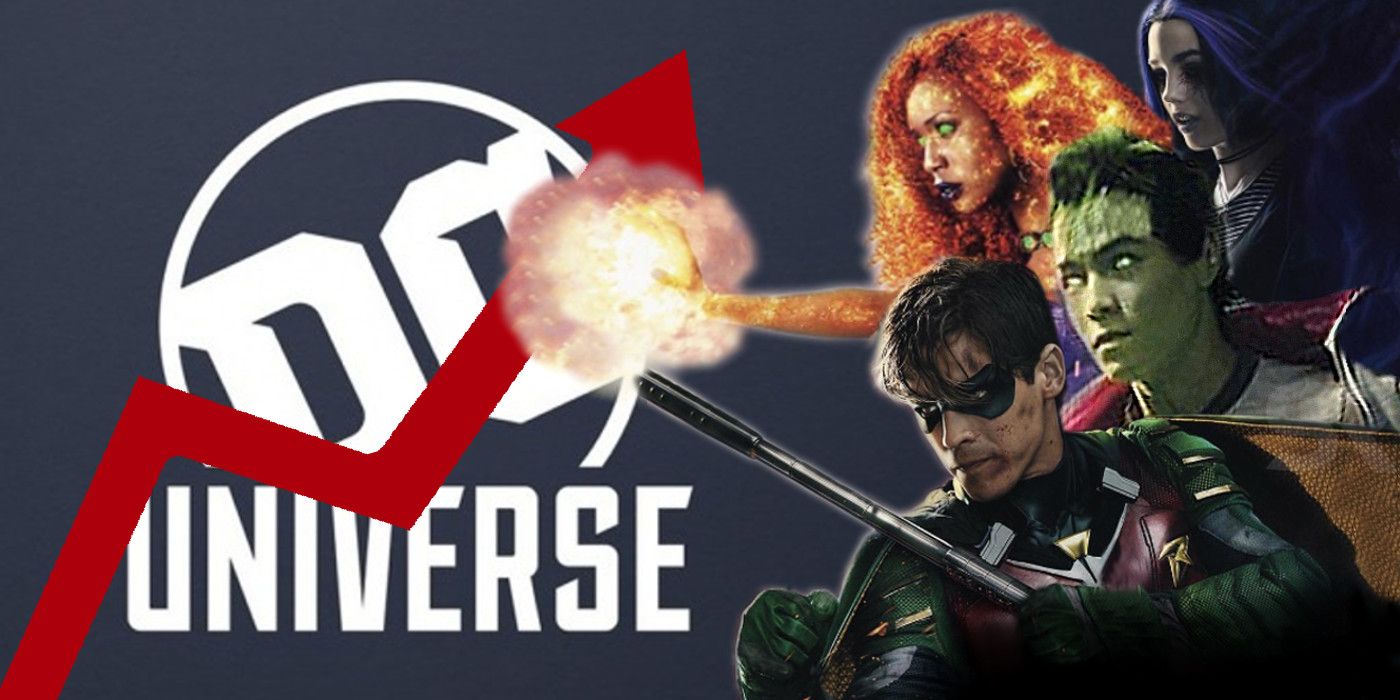 According to data provided exclusively to Screen Rant, DC Universe's Titans TV series became increasingly in-demand as the series went on. Last year, DC launched their new dedicated streaming service, DC Universe. It's an online home for a wealth of DC content, from comics to movies, currently available online in the United States. Like all such sites, DC Universe is supported by a range of original content, with DC aiming to ensure something brand new drops every single week.
Titans was the flagship series, a dark and atmospheric drama starring Brenton Thwaite as Dick Grayson (a.k.a. Robin), Anna Diop as Starfire, Teegan Croft as Raven, and Ryan Potter as Beast Boy. Episodes dropped once a week, with the final episode releasing shortly before Christmas. There's been a positive buzz about the series online, but until now it's been difficult to tell whether or not Titans should be viewed as a success. That's largely because streaming services like DC Universe tend to be pretty secretive about things like viewing figures and subscriber numbers.
Related: All the DC Movies and TV Shows Streaming on DC Universe
Screen Rant has spoken exclusively to Parrot Analytics, a data science company who measure audience demand for TV content by assessing how viewers interact with a brand online; they assess everything from global file-sharing and peer-to-peer traffic to social media activity, and as such believe they are able to provide the most accurate measure of audience demand in this digital age. According to Parrot, Titans was one of the most in-demand superhero TV shows of 2018. In fact, demand increased as the series continued, peaking with the season finale. By mid-December Parrot considered Titans to be in the top 0.03 percent of TV shows, which they officially class as "Amazing." As seen in this data – which runs from November 17 to December 16, shortly before the finale's release – Titans compared very well indeed to similar superhero shows.
This is great news for DC, proving that they were wise to launch their new streaming service with Titans. Interestingly enough, it also supports the surprising decision to drop the original season finale, substituting it with a strange, hallucinatory story in which Dick Grayson went head-to-head with Batman. That may have been an unconventional decision in terms of the show's narrative, but it does seem to have been a smart move from a marketing point of view.
Parrot believes Titans has a global appeal, with particular interest in three of the ten largest global consumer markets – the United States, China, and Japan. That said, there's also significant demand for the series in both Brazil and the United Kingdom. If shows like Titans turn out to be standard fare for the DC Universe streaming service, then DC may be wise to prioritize these territories for international rollout. For the present, DC has signed a deal that means these original series will be released internationally via Netflix; Titans is now available worldwide, and it will be exciting to look at January's data from Parrot Analytics.