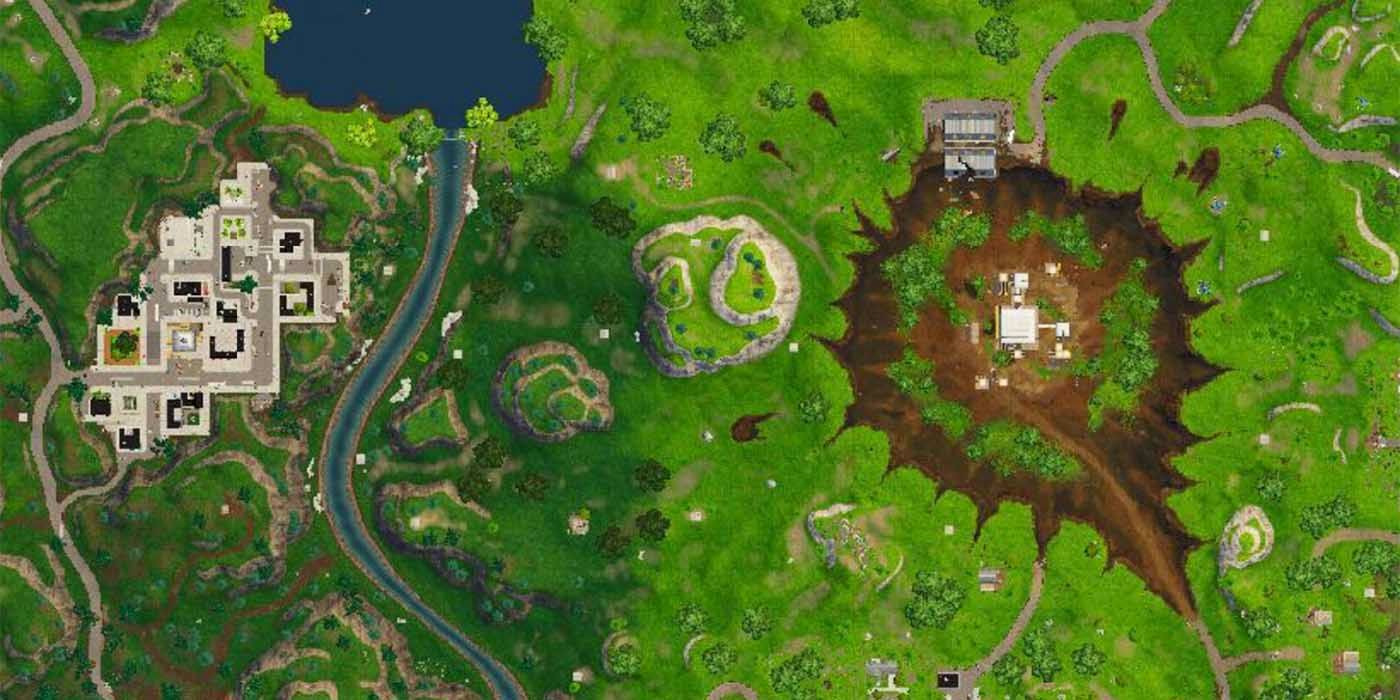 It looks like all change for battle royale behemoth Fortnite as an upcoming map update leaks online. Players can expect the recent flurry of activity to continue as Epic Games winds towards the end of Season 4 and heads into an even bigger fifth season.
Fortnite may be in a bitter legal row with PlayerUnknown's Battlegrounds, but it hasn't stopped Epic Games from ruling the roost of battle royale games and bringing more and more gamers on board by the day. Part of Fortnite's biggest pull is its constant ability to reinvent itself. with in-game events and teasing what is to come next season. Season 4 brought in superhero skins and new locations like Dusty Divot, but the next update promises to push the envelope even further.
Related: Sony Is Being Anti-Consumer With Cross-Play Because of 'Money'
With Fortnite being a veritable goldmine for data mining, Reddit user UppyGSY has collected together the latest leaks after they first appeared on IGN's interactive map. Importantly, the various craters around the map have slowly begun to be filled and life is slowly returning to normal after the cataclysmic comet strikes of Season 4. Dusty Divot has undergone the biggest change and is showcasing a new structure.
Elsewhere, the missile is missing from the villain lair near Snobby Shores, sparking rumors that it has either retracted into the silo or someone has launched it. Where the rocket ends up remains to be seen, but similar to comets raining down on the map, a missile could become an in-game timed event to help wipe out the other 99 players or could take out another famous landmark. Speaking of landmarks, the space occupied by Titled Towers is a hive of regeneration and may be returned to its former glory pre-comet.
Finally, the incoming convoy of trucks is yet again on the move and can currently be found by Greasy Grove. This ties in with the theory that the trucks have picked up the hop rocks that were once in Dusty Divot and are taking them to the villain lair for some nefarious scheme. These leaks are only shown from above, so fans don't have a full picture of what's going on at ground level just yet. Either way, Epic Games doesn't take kindly to leaks, so expect some slapped wrists on this one.
Over on the more realistic PUBG, the introduction of the Sanhok map should be a big lure to fans old and new, but can it compete with Fornite? Season 4 of Fortnite continued the colorful carnage and a strange theme of space. With Season 5 just around the corner and a rocket now possibly up in the sky, Fornite might literally be blasting off to find a new place for 100 players to whittle themselves down to just one winner. With update 4.5 expected today (June 26), there isn't long to wait until Fortnite players can go head-to-head in a brand new world.
The post Fornite's Upcoming Map Changes Leaked appeared first on ScreenRant