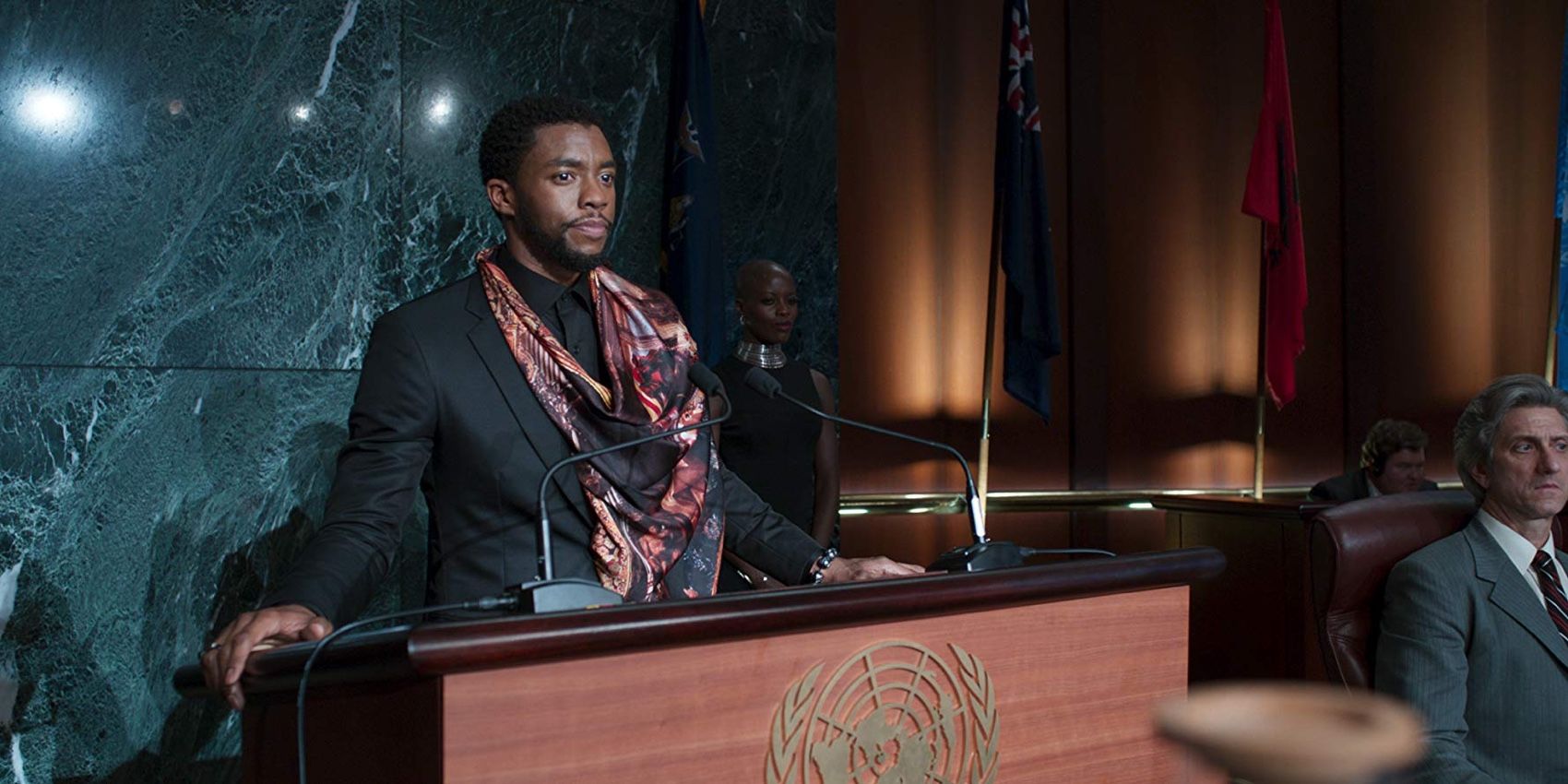 Black Panther will return to AMC theaters for a special limited engagement beginning Friday, February 1. Originally released almost a year ago, Ryan Coogler's entry in the Marvel Cinematic Universe immediately became one of the defining titles of 2018. Transcending its status as a "comic book movie," Black Panther was noted for its rich social and political themes, which helped it resonate with audiences around the globe. In addition to going on a record-shattering box office run, the film was noteworthy for being one of the year's top awards contenders.
Earlier this month, Black Panther made history by becoming the first superhero film to be nominated for Best Picture at the Academy Awards. It also recently earned the Screen Actors Guild Award for Best Cast, in addition to several other accolades. Understandably, fans continue to celebrate its incredible accomplishments, and now they will have an opportunity to catch it on the big screen once more.
Related: Black Panther Should Become The MCU's New Nick Fury
Today, Disney announced Black Panther will play at 250 AMC locations nationwide from February 1 – 7 to celebrate Black History Month. Tickets will be free for all interested in attending. Each day, there will be two screenings of the film. People can visit weticketit.com/blackpanther to see if the movie is showing in their area. As part of the event, Disney donated $1.5 million to the United Negro College Fund.
Obviously, a plethora of people have seen Black Panther by now, but there should still be some interest in its return to the multiplex. Tentpoles like this are meant to be seen on the biggest screen possible, immersing viewers in their incredible spectacle. Coogler did a fantastic job realizing the world of Wakanda via breathtaking visuals and scenery, so fans will likely jump at the chance to appreciate the craftsmanship again (especially since it's at no cost to them). But this is really about Disney continuing to make a difference in the world following Black Panther's success. Last year, they donated $1 million to the Boys & Girls Club of America for new STEM centers. Marvel movies will always be escapism primarily, but it's nice to see the studio using their blockbuster as a platform to promote education and make a positive impact on lives.
Black Panther set a very high bar for its in-development sequel to clear, but Coogler (who's returning to write and direct) is more than up for the challenge. Speaking about the expectations, he implied his approach will be the same as it always is as he finds the "meaning" behind the story and crafts another film he's passionate about. To date, the young director hasn't steered viewers wrong, with the trio of Fruitvale Station, Creed, and Black Panther all earning widespread critical praise. Odds are, he'll have another hit on his hands with his next Marvel venture.
Source: Disney