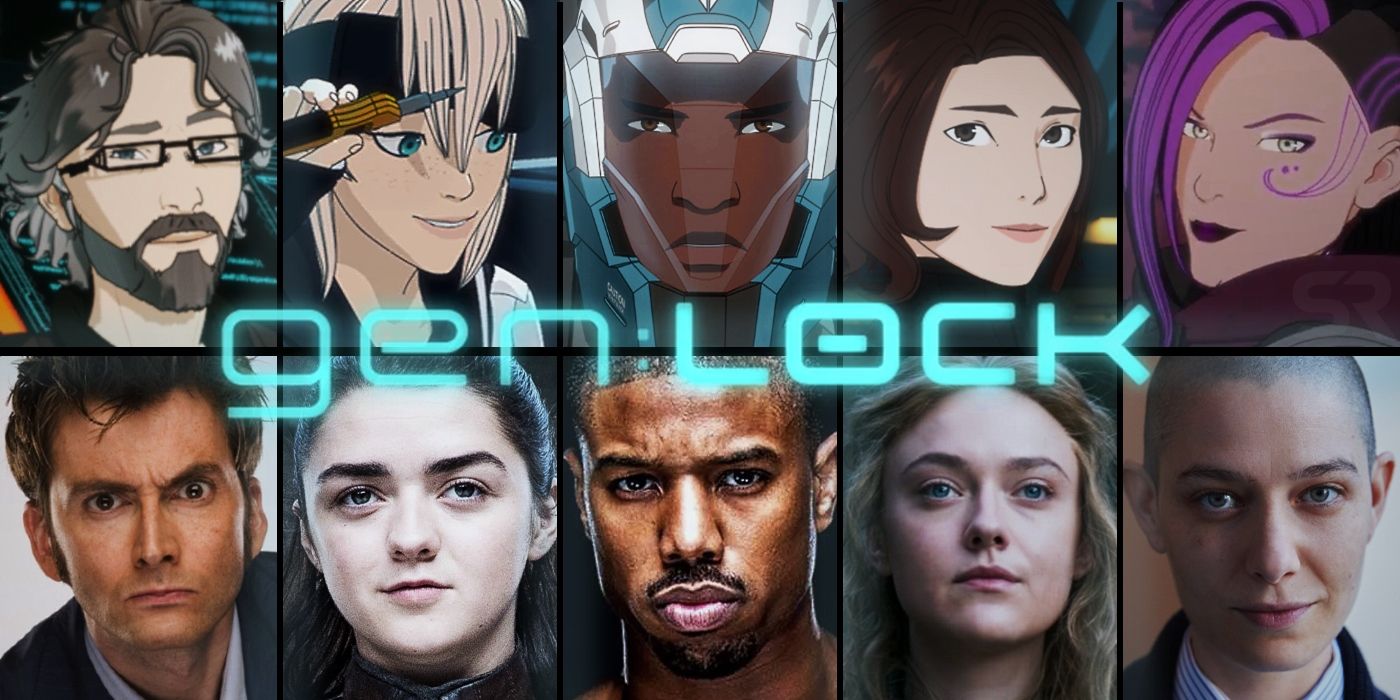 The impending release of the original animated series Gen:Lock has generated intense excitement with Rooster Teeth's reveal of its star-studded cast. Following the massive success of RWBY, Rooster Teeth has developed Gen:Lock as a big budget science-fiction tribute to mecha movies and anime. Specifically, Gen:Lock takes cues from the likes of Pacific Rim and Neon Genesis Evangelion.
Gen:Lock takes place fifty years in the future in a world greatly changed by technology. As an authoritarian conquering force closes in on the remnants of the free world, desperate defenders turn toward untested neuroscience. A small group of pilots assembles for the last ditch Gen:Lock program, an operation to stand against the oncoming forces of evil with brains directly linked to massive mechanical warriors.
Related: What To Expect From She-Ra and the Princesses of Power Season 2
Gen:Lock should earn attention on the premise alone. However the intriguing narrative scenario combines with some of the biggest names in both Hollywood and the animation world to make the series a must-watch.
Meet Gen:Lock's Main Pilots – Julian, Cammie, Yasamin, Kazu, Valentina, Rob
Michael B. Jordan as Julian Chase: Gen:Lock's lead character and head of the Gen:Lock pilot squadron, Julian Chase is a former fighter pilot for the Vanguard, one of the predominant military factions in the world of the show. Hailing from Brooklyn, New York, Chase possesses many of the qualities that make for a good leader, but those are all thrown into disarray when he faces a personal tragedy. Julian Chase is voiced by Michael B. Jordan, recognizable for his roles in Creed's Adonis Creed and Black Panther's Killmonger.
Maisie Williams as Cameron "Cammie" MacCloud: Cammie MacCloud stands as the youngest member of the Gen:Lock team. Despite her age, she's a hacker of considerable skill and also the most foul-mouthed member of the team. Game of Thrones fan favorite Maisie Williams sports a delightful Scottish accent while portraying Cammie.
Golshifteh Farahani as Yasamin Madrani: The second pilot recruited to the Gen:Lock program, Yasamin Madrani finds a purpose as a mecha pilot. The Iranian seems to have a shady past of a military nature that she conceals from her fellow pilots. Golshifteh Farahani lends her voice to bring Yasamin to life. Farahani has starred alongside Adam Driver in the 2016 film Paterson and played Shansa in Pirates of the Caribbean: Dead Men Tell No Tales.
Kōichi Yamadera as Kazu Iida: Kazu Iida stands as the rebel of the Gen:Lock group. He enjoys smoking, playing guitar, and disrespecting authority. The Japanese recruit was previously demoted for repeated disciplinary infractions. Kōichi Yamadera, best known for his role as Spike Spiegel on Cowboy Bebop and Beerus on Dragon Ball Super, will take on the role of Kazu Iida, an exciting prospect for any fan even cursory familiar with anime.
Asia Kate Dillon as Valentina "Val" Romanyszyn: Val Romanyszyn worked as a covert agent in Ukraine until she thought that the fighting was over. However, she found herself recruited to Gen:Lock to become one of its elite mecha pilots. She is voiced by Asia Kate Dillon, the non-binary actor who portrays Brandy Epps in Orange Is the New Black.
Blaine Gibson as Rob Sinclair: The squeaky clean former American ranger who joined the Gen:Lock program. Not many details about his character are currently known. He has been played by Blaine Gibson, who also portrayed Brawnz Ni in Rooster Teeth's own RWBY.
Related: What To Expect From The Dragon Prince Season 2
Gen:Lock's Supporting Cast & Characters
Dakota Fanning as Miranda Worth: A hardened Vanguard soldier, Miranda Worth serves as a fellow mecha pilot in Gen:Lock. As well as being a valuable member of the team, Miranda finds herself developing feelings for Julian Chase. Dakota Fanning, star of films like Coraline and recurring character Sara Howard on The Alienist, takes on the role of Miranda Worth.
David Tennant as Dr. Rufus Weller: The creator of the neuroscience miracle that allows for human brains to pilot colossal mechs into combat, Dr Rufus Weller is… odd. The eccentric scientist seems to have an almost suicidal disregard for danger if it means the survival of the Gen:Lock program, even though he disagrees with the militarization of Gen:Lock. Bringing the good doctor to life are the considerable talents of David Tennant. Tennant is best known for his roles as the 10th Doctor on Doctor Who and Killgrave in the first season of Marvel's Jessica Jones series.
Monica Rial as Col. Raquel Marin: Colonel Raquel Marin serves as the no-nonsense Puerto Rican recruiter for the Gen:Lock program. She's a very stern and serious soldier who also cares deeply about those under her command. Experienced voice actress Monica Rial, who has been the voice of Bulma from Dragon Ball Z Kai onward, Tanya Degurechaff in The Saga of Tanya the Evil, and Tsuyu "Froppy" Asui in My Hero Academia.
Related: Dragon Ball Super: Broly Ending Explained
Gray Haddock as Unit Leader Leon: Not much is known about Leon. He serves as the leader of Vanguard's involvement in the Gen:Lock project. Gray Haddock himself, the head of Rooster Teeth's animation and veteran voice actor known for his roles in Rooster Teeth projects and as the voice of Sanosuke Sagara in Rurouni Kenishin.
Lindsay Jones as Razzle: One of the more background characters of the Gen:Lock program. She works as a Vanguard soldier supporting the pilots. The lead voice actress of RWBY's Ruby Rose, Lindsay Jones, will be tackling the role.
Miles Luna as Miguel "Migas" Garza: From the southern region of Texas, Migas works as the engineer for Gen:Lock, keeping the base and mechs running smoothly. The mechanic is seen playing video games and frequently goofs around to ease tension and lift spirits. The nickname Migas apparently has an embarrassing origin to be revealed eventually. Miles Luna voices Miguel Garza on the show. Luna is the head writer of both Red vs. Blue and RWBY as well as the voice of Felix and Jaune Arc, respectively.
Gen:Lock releases on January 26, 2019 through Rooster Teeth.