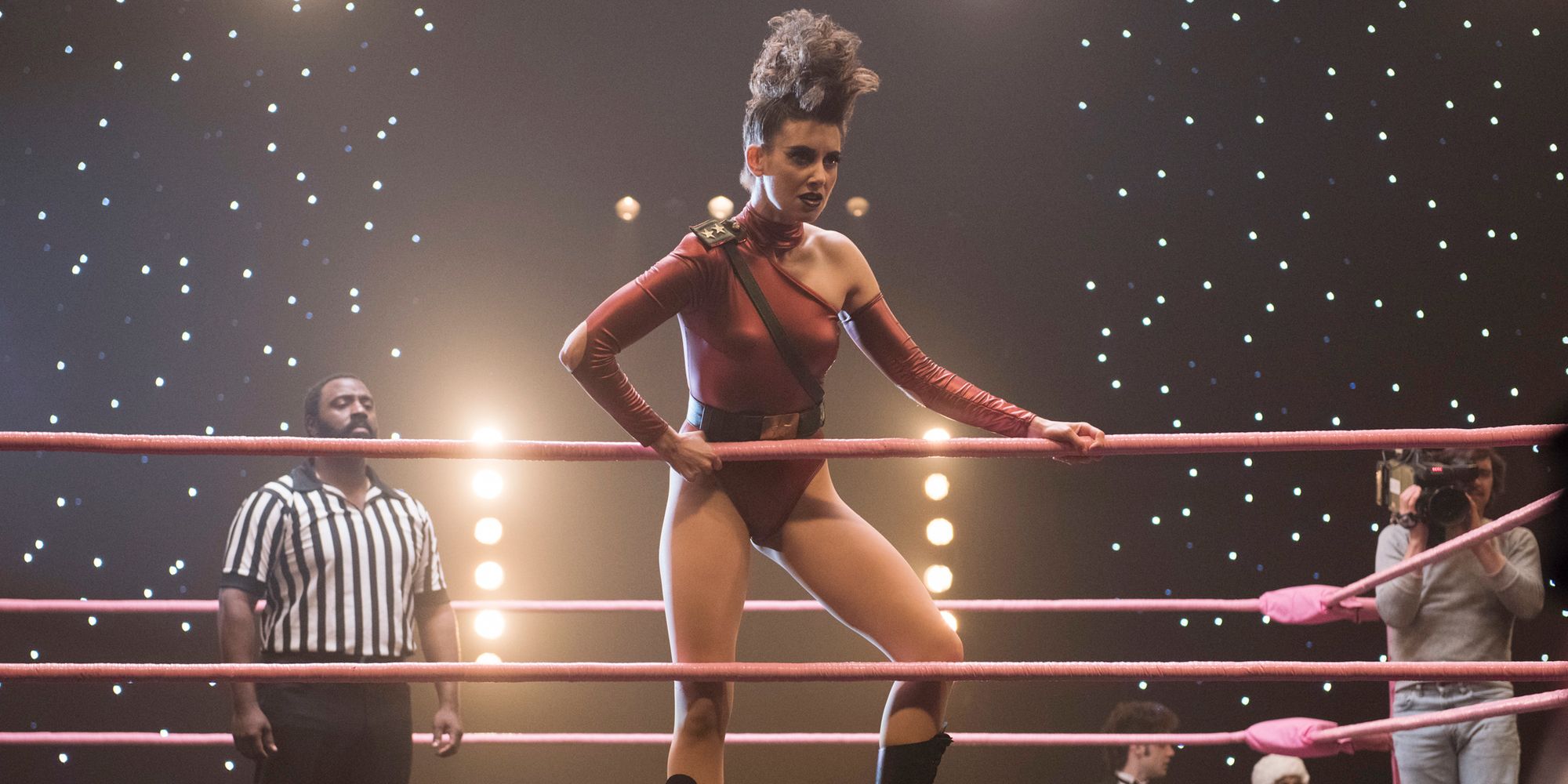 GLOW season 2 continues the Gorgeous Ladies of Wrestling's quest to put on a successful all-female pro-wrestling TV show. The series continues to center on Ruth Wilder and her best frenemy Debbie Eagan, the two main stars leading an eclectic troupe of performers. They sort out their various personal issues and face new romantic challenges as their TV series itself is faced with cancelation – unless they can put on a show that can woo new potential buyers and save GLOW.
With a such a huge cast of characters, it can be challenging to keep everyone sorted. With that in mind, here's a handy guide to who's who in GLOW season 2:
THE GLOW GIRLS
Alison Brie as Ruth Wilder. A struggling actress, Ruth plays the evil Russian character Zoya the Destroya, and she adopts a second character of Zoya's 'good' twin sister Olga. Brie won legions of fans playing Annie on Community and as Trudy Campbell on Mad Men.
Betty Gilpin as Debbie Egan. Troubled former soap opera actress Debbie plays the All-American heroine Liberty Belle. As she goes through a divorce, Debbie assumes a producer role for GLOW, but her friendship with Ruth takes a violent turn.
Kia Stevens as Tammé Dawson. The real life pro-wrestler known as Awesome Kong plays an over-the-top villain named Welfare Queen, but she's also a loving mother hiding her pro-wrestling career from her college-age son.
Sydelle Noel as Cherry Bang. An ex-stuntwoman, Cherry leaves GLOW for a new TV series but finds the life of being a lead actress too challenging; meanwhile her wrestling character Junkchain is given to a new castmember.
Britney Young as Carmen Wade. The younger sister of pro-wrestlers, Carmen trains her fellow GLOW girls while also portraying a good girl named Maccu Piccu.
Kate Nash as Rhonda Richardson. The real-life pop star portrays the brainy Britannica but fends off an adoring male fan who literally wants her hand in marriage.
Jackie Tohn as Melanie Rosen. Also known as the bad girl character Melrose, Melanie is frustrated that fame as a GLOW girl hasn't translated to male admirers beating down her door.
Britt Baron as Justine Biagi. The 16 year old daughter of GLOW's director Sam Sylvia, Justine is now finding living with her abrasive father isn't all she hoped it would be.
Gayle Rankin as Sheila The She-Wolf. Sheila is the strangest GLOW girl and that in turn draws the strangest fans, including male cosplayers.
Sunita Mani as Arthie Premkumar. Arthie hates her racist Beirut the Mad Bomber gimmick and desperately wants to change it.
Ellen Wong as Jenny Chey. Jenny doubles as the seamstress who makes the GLOW girls' costumes and plays the character Fortune Cookie.
Rebecca Johnson as Dawn Rivecca and Kimmy Gatewood as Stacey Beswick are GLOW's hairstylists who also portray the elderly tag team the Beatdown Biddies. They create new, Mad Max-style gimmicks for themselves, Nuke and Ozone.
Marianna Palka as Reggie Walsh. Reggie plays Vicky the Viking, who is unceremoniously fired by Sam in a fit of rage.
Shakira Barrera as Yolanda Rivas. An ex-stripper who joins the season 2 cast and becomes the new Junkchain.
GLOW'S PRODUCERS AND OTHER CHARACTERS
Marc Maron as Sam Sylvia. Maron, a famed comedian, plays Sam, GLOW's incendiary director. Sam has his hands full trying to keep his show from being canceled while trying to be a dad to Justine and growing more attracted to Ruth.
Chris Lowell as Sebastian "Bash" Howard. The millionaire producer doubles as GLOW's announcer and has to find a way to get the show syndicated.
Bashir Salahuddin as Keith Bang. Cherry's loving husband also doubles as GLOW's referee.
Victor Quinaz as Russell Barroso. GLOW's camera man takes a romantic interest in Ruth, to Sam's chagrin.
Rich Sommer as Mark Eagan. Mark is Debbie's ex-husband who shares joint custody of their son.
Annabella Sciorra as Rosalie Biagi. Rosalie is Justine's mother, who comes to bring her daughter back to Sacramento.
Horatio Sanz as Ray. A strip-club owner, Ray suggests a way to save GLOW from cancelation.
GLOW season 2 is streaming now on Netflix.
The post GLOW Season 2 Cast and Character Guide appeared first on ScreenRant