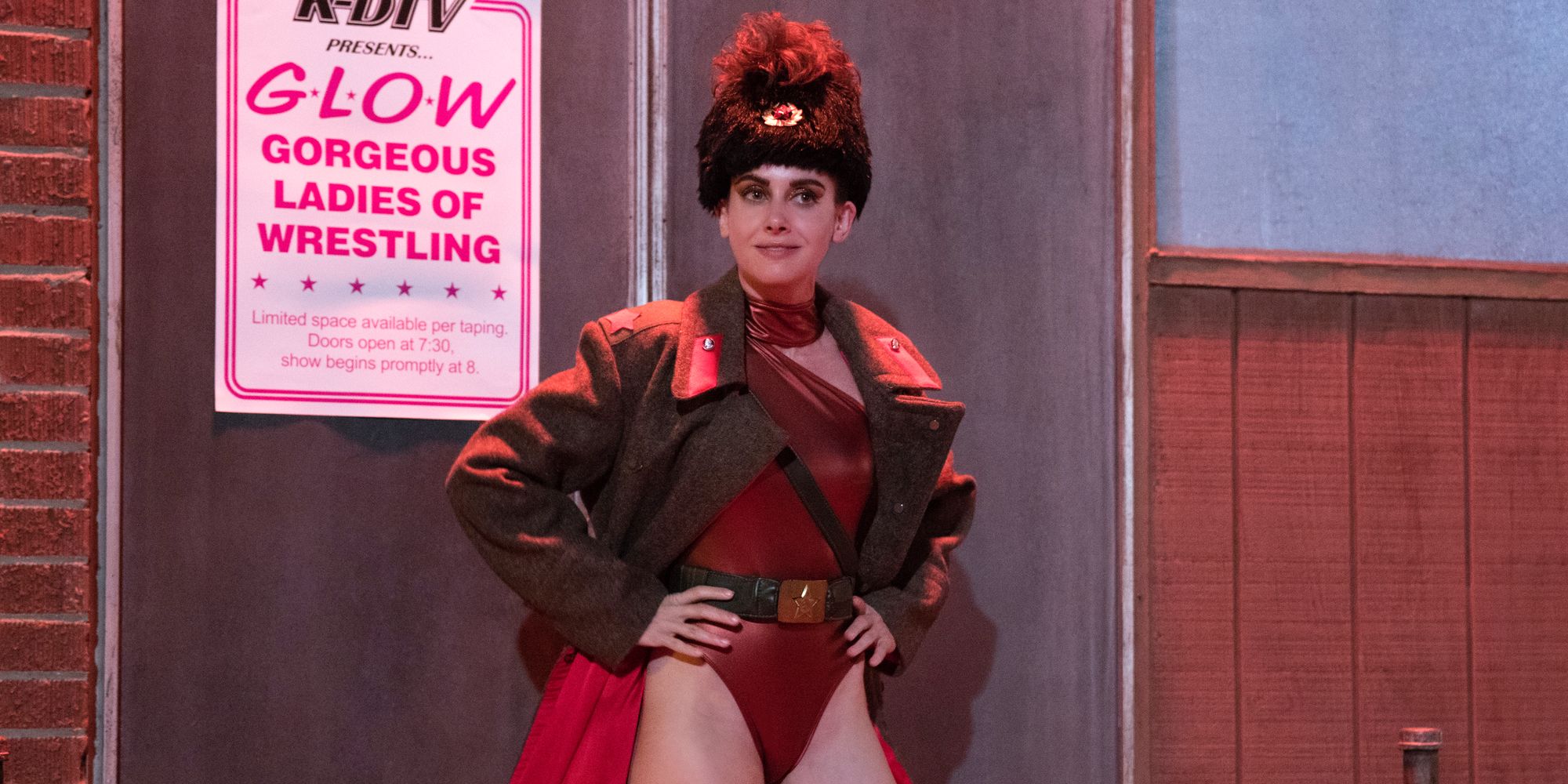 Warning: SPOILERS ahead for GLOW Season 2
–
In GLOW season 2, the Gorgeous Ladies of Wrestling must wrestle their hearts out and put on an unforgettable show to keep from being canceled. This leads to a set up for season 3 that will spark excitement for longtime fans of the original GLOW from the 1980s. In short, the GLOW girls are headed to Las Vegas – the birthplace and home base of the real-life GLOW!
Netflix's hit series picks up from where season 1 left off: after a short hiatus, the ragtag troupe of pro wrestlers come back for a new season and are urged to become better in the ring. They put their bodies on the line to improve the quality of their matches, only to learn that their series is in on the verge of cancelation. Meanwhile, the GLOW girls themselves deal with various personal issues – especially the two stars of the series, Ruth Wilder (Alison Brie) and Debbie Egan (Betty Gilpin), whose volatile friendship comes to a head violently in the ring.
In the end, season 2 introduced a huge change to GLOW and to the lives of their heroic group of performers and producers. Here's how GLOW season 2 upended the show to bring the series to Las Vegas in season 3:
HOW GLOW SEASON 2 SET UPS SEASON 3
Upon returning from hiatus and trying to raise their game to put on more believable wrestling matches, the GLOW girls suffer a huge setback. The show's sponsor, Patio Town, pulls their support because Debbie/Liberty Belle broke their patio furniture in her championship rematch with Tammé/Welfare Queen (Kia Stevens). Even more damaging, despite their small but loyal fanbase of regulars who attend their TV tapings, KD-TV, the local network that owns the series, relegated GLOW to 2 am on Saturday nights – a timeslot that means certain death. GLOW's solution is to work harder and put on even zanier shows, but their efforts to boost ratings were in vain.
Bash (Chris Lowell), GLOW's enthusiastic millionaire backer, and Debbie, now a producer, try to finagle new sponsorships to take GLOW national through syndication. But it was Sam (Marc Maron), GLOW's acerbic director, who inadvertently made the pivotal contact that saved his show: while he and Ruth chaperoned the school dance of his daughter Justine (Britt Baron), Sam met Ray (Horatio Sanz), the owner of a chain of local strip clubs. Ray accepted Sam's invitation to watch the GLOW series finale, which featured the real-life wedding of Rhonda/Brittania (Kate Nash), who needed to actually marry an American to get a green card and not be sent back home to the UK. Bash and Debbie invited potential new sponsors to the show as well, but they were all shocked to learn that because of the contracts they signed, KD-TV owns the rights to all of their characters and prevented them from selling GLOW to another network. GLOW as a TV series is over.
However, Ray loved the show and saved GLOW. Instead of a TV series, Ray offered them a slot at one of his clubs in Las Vegas, which needed a live headlining act – something he felt GLOW would be perfect for. Instead of the ratty warehouse that they remodeled to look like the ballroom of a fancy hotel, GLOW will now present their show in a huge space with room for 1,100 screaming fans, and they would earn $25,000 as Vegas headliners. GLOW may no longer be a TV series, but they're moving on up. What's more, the Riviera Hotel and Casino in Vegas is where the 1980s GLOW was filmed, so it means Netflix's GLOW is 'coming home' in season 3.
The post GLOW Season 3 Will Deliver The GLOW Fans Know appeared first on ScreenRant