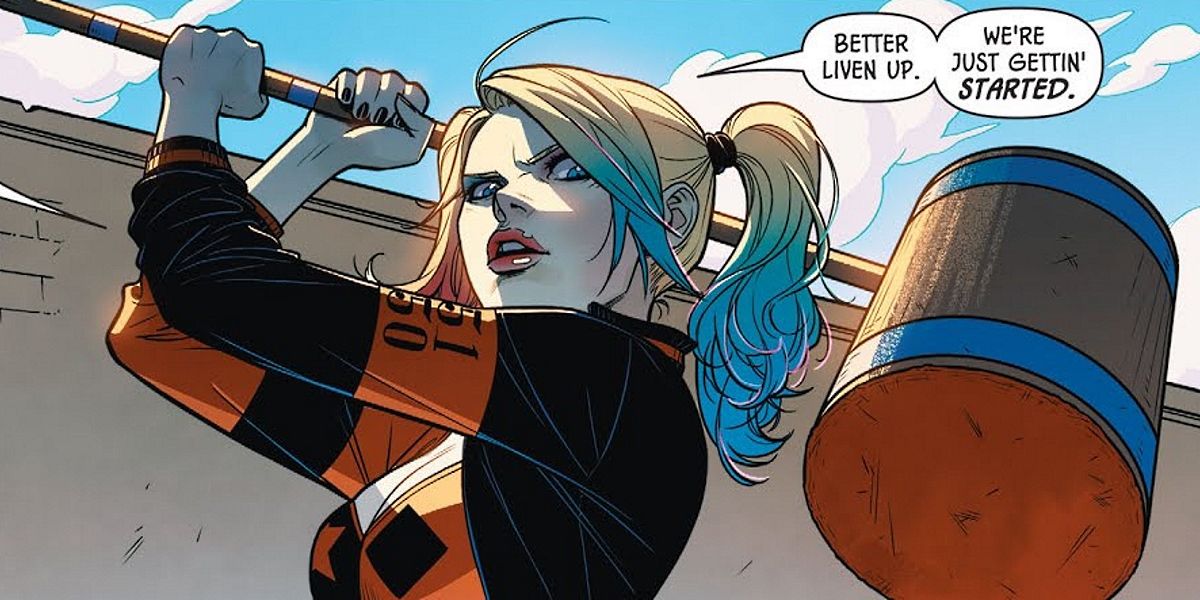 Harley Quinn is finally putting the Joker behind her, and making herself the star of a revenge fairy tale in the process. That kind of heightened blending of genres, violence, and tragic romance is pretty standard for the average Harley story, but the new Harley Quinn Vs. The Joker comic does it all with a purpose: to show Joker what it feels like to be victimized.
Speaking with Tim Seeley, writer of this issue along with all others in DC's Batman: Prelude to the Wedding miniseries, the painful past Harley and Joker share was a major topic of conversation. While the DC Rebirth has put most of their unhealthy, abusive relationship behind her, the coming wedding of Batman and Catwoman forces Harley to save others from Joker's twisted idea of love.
Don't let the giant tank of pudding fool you: Harley really is out to punish her former lover, as only she can.
RELATED: Batman Chooses [Spoiler] as His Best Man
Many Batman fans may have marked their calendars only for the wedding of Bruce Wayne and Selina Kyle, but the reactions of the characters close to them – Dick Grayson, Jason Todd, Barbara Gordon, and Damian Wayne – have added to the event in Prelude to the Wedding. But the final issue is all Harley Quinn's, who may be an unlikely defender of Batman and Catwoman's love.
Seeley explains why this story isn't "about" the wedding itself, or even the bride and groom – this fight has been a long time coming for Harleen Quinzel. The idea she had of a perfect, happily ever after with Joker has long faded… but Bruce and Selina's hasn't:
The idea we present in this is that she sees in Batman and Catwoman something she never got. And what maybe in her idealized vision, she thought she had with Joker at some point this kind of tragic romance. I think she looks at what Catwoman has with Batman and sees something that turned out well and beautiful and perfect, and it really bothers her to think that someone would try to destroy that. Versus the Joker, who I think she's taught a lesson to, and he hasn't learned it yet. So that's why she comes after him, too. She's the last thing to stop him before he gets to Batman.
As Seeley points out, the Harley alive in DC's current comics is a far cry from the version made famous in Batman: The Animated Series or even the recent Suicide Squad movie. Where that heroine has long been defined by her toxic bond to Joker, the comics have repeatedly evolved with her character. Part of that comes with the need to give Harley a story of her own, but the looming history is hard to wipe away completely.
Harley Quinn Vs. The Joker doesn't try to, either. From the first page of the comic, the power is in Harley's court, subjecting Joker to a set of death traps designed to educate him. But don't worry, Harley fans, there's no going back no matter how much Joker may realize his past mistakes:
I think when you turn Harley into a hero, and you make her the protagonist, then it's about how she was strong enough to get away from all this… but it's also her kryptonite. So you have to play around with how these things can be used against her. Not how it defines her in any way, but how she has to deal with this conflict.

We're aware of how toxic, and unromantic, and un-idealized their relationship was. Nobody should want to have that in our story. So that's why I play it as, in a lot of ways, a revenge story. she's coming after him to punish him for the things he's done. And we play it like a sort of kinky, violent, Korean revenge story. Your tormented heroine gets back at the tormentor, and you get to see that cathartic abuse of the bad guy.
Unsurprisingly to those who know her, stepping into a mix of Disney Princess and Korean revenge story is just what Harley is best at. Which makes Harley Quinn Vs. The Joker a book no fans should miss.
Batman: Prelude to the Wedding – Harley Quinn Vs. the Joker is available now from DC Comics.
The post Harley Quinn vs. Joker is DC's 'Korean Revenge' Fairy Tale appeared first on ScreenRant