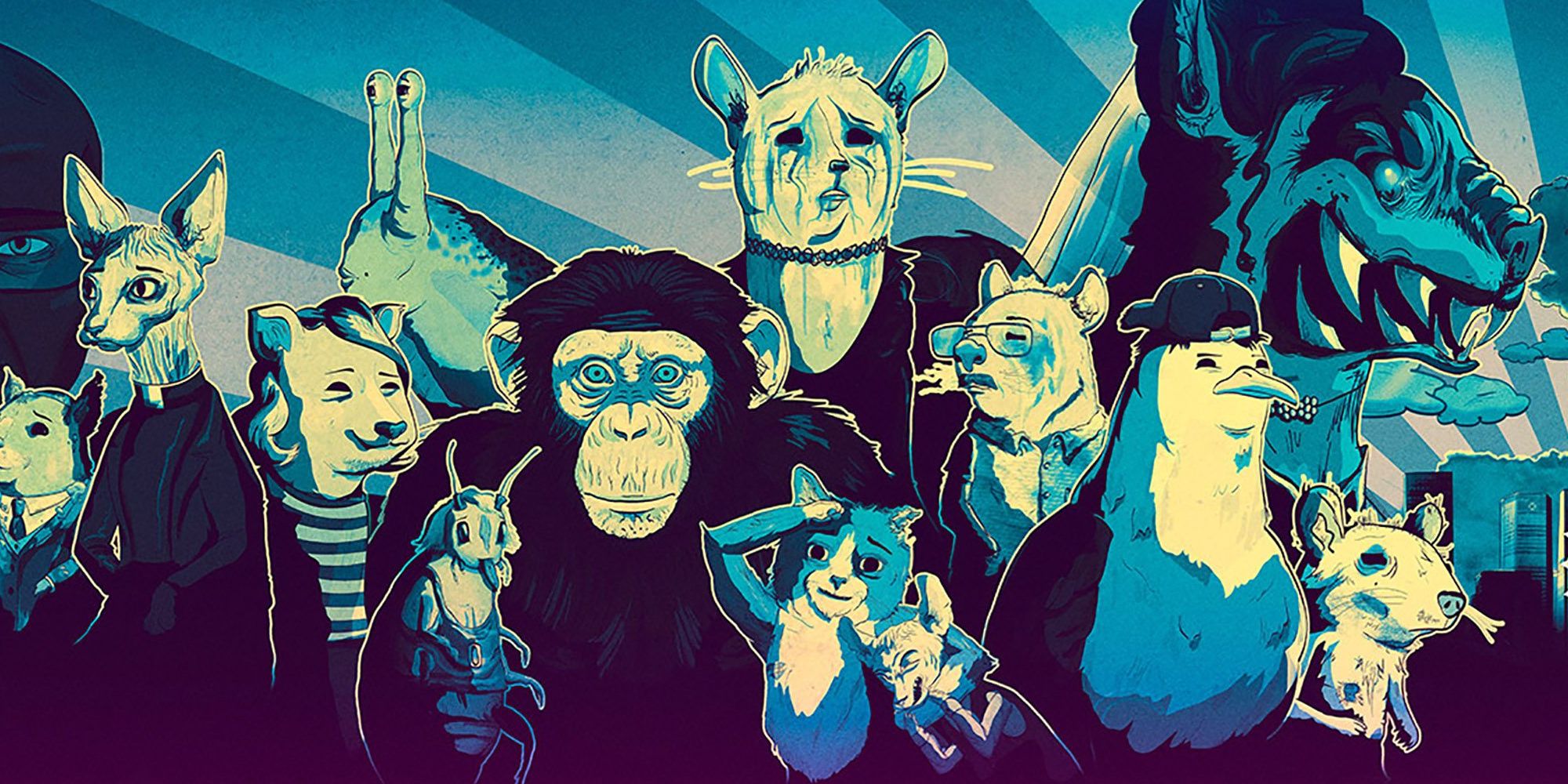 Perhaps the most idiosyncratic of HBO's original programs, the animated series Animals is headed into its third season, and will bring its immense voice cast into a post-apocalyptic future when it gets there. The show, which is essentially comprised of a series of animated vignettes in which critters of all sorts gather in and around New York City hails from creators Phil Matarese and Mike Luciano, and comes from Duplass Brothers Productions. It's about as offbeat as HBO gets, and it's set to become even more bizarre in season 3.
As a series that started out with the most basic of premises — talking animated animals — Animals has turned into a reliably funny series that gets as much mileage out of guessing which star is the voice of what animal as it does the comically banal circumstances most of its segments revolve around. Whether it's a neurotic bedbug, the whirlwind romance of some rats at a house party, or some creature battling the sort of existential questions only humans normally have to deal with, the series' unconventional segments typically end up in unexpected places. 
Season 3 is going to an even more unexpected place, as it's set to bring the chatty creatures into an apocalyptic future. That's right, Animals is headed into an NYC that's no longer populated with humans (somebody call Lindelof, this sounds like it has The Leftovers crossover potential!). That means the animals are given free reign to do with as they please in the emptied out husks of the city's crumbling infrastructure. What the animals choose to do is pretty much par for the course with this series, but it still manages to be funny and to offer up an enormous cast lending their voices (and themselves, as season 3 will incorporate live-action segments, too) to the animated critters. For example, season 3 will feature:
"Awkwafina, Bob Balaban, Tom Bergeron, Kate Berlant, Bonnie 'Prince' Billy, Neil Casey, Marcia Clark, Dinosaur, Jr., Steve Dildarian, Edie Falco, Jon Gabrus, David Harbour, Jared Harris, Mary Holland, Jameela Jamil, Marianne Jean-Baptiste, Jane Kaczmarek, Lucy Liu, Carol Kane, Johnny Knoxville, Lauren Lapkus, John Leguizamo, Donna Lewis, Natasha Lyonne, Anthony Mackie, Tatiana Maslany, Demi Moore, Moby, Tracy Morgan, John Mulaney, Princess Nokia, Aperna Nancherla, Tom Noonan, Soledad O'Brien, Cheri Oteri, Randall Park, Mel Rodriguez, Spencer Rothbell, Paul Rust, Amanda Seales, Michael Sheen, Aisha Tyler, Jacob Tremblay, Joe Wengert and many more."
As hands down one of HBO's weirdest series, Animals is worth checking out if you haven't already. If you're in the market for an eccentric series you can watch at your leisure, without having to worry too much about multiple timelines or whether a character is a robot or not, Animals might be for you. 
Animals season 3 premieres Friday, August 3 @11:30pm on HBO.
The post HBO's Animals Season 3 Takes Its Huge Cast Into A Post-Apocalyptic Future appeared first on ScreenRant