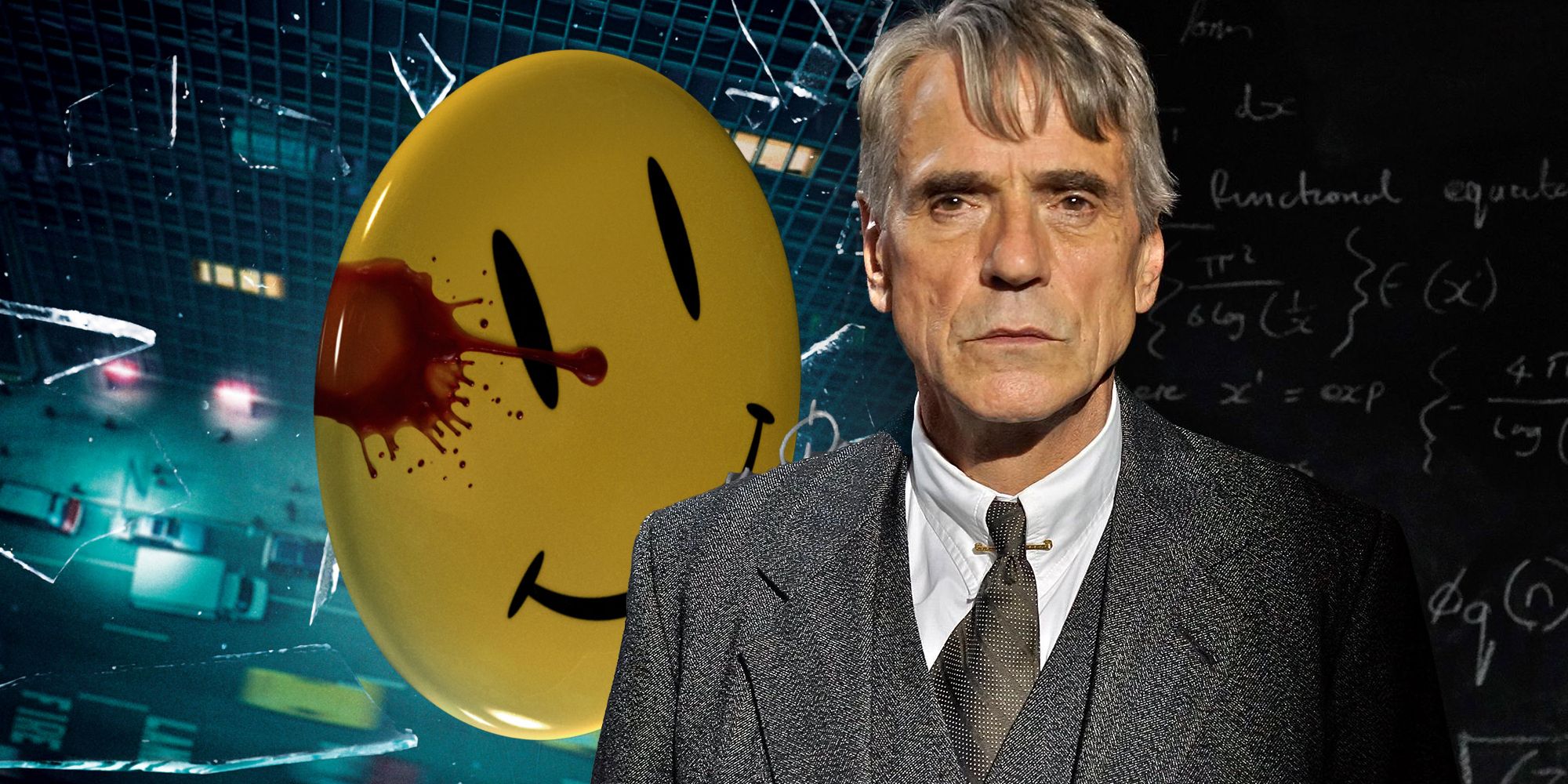 HBO's upcoming Watchmen series from Damon Lindelof adds yet another recognizable face to its cast by bringing on Jeremy Irons in what is being described as a lead role. So far, the series counts Louis Gossett Jr., Regina King, Don Johnson, and Tim Blake Nelson among its stars, though which character each actor is playing is so far unconfirmed, despite a presumed casting breakdown having leaked.
The question of who these characters are and how they fit into the Watchmen universe is one of the biggest regarding the new show and Lindelof's plans for it. As explained by his extensive and very Lindelof-like online statement, the series isn't another adaptation of the 12-issue comic series by Alan Moore and Dave Gibbons, but rather something else. For one thing, the series apparently takes place in the present day of the alternate universe that Watchmen existed in, which could have some interesting ramifications for the series' storyline, depending on how it plans to incorporate not only the themes explored by Moore's work, but also some of the major twists and turns seen in the original story.
That makes the casting of Irons, which was first reported by Deadline, all the more interesting. Like Gossett Jr. and Johnson, Irons is of a certain age, which lines up with some of the details seen in the casting breakdown. Of the possible characters mentioned, there's "Red Scare," who is a Russian mafioso with an affinity for track suits, and "Old Man," a character who is described as "a former cop who is still an imposing figure despite his age." Though it's far from certain that Irons is playing either one of these characters, or that the casting call is in fact legitimate, Irons recently did his best Russian accent in Red Sparrow, and he could easily play a retired cop with a penchant for intimidating people, badge or no badge.
Regardless of who Irons is playing, his presence brings additional star power to an impressive cast. Though he's been involved in critically maligned films like Batman V Superman and Justice League, as well as the video game adaptation Assassin's Creed, opposite Michael Fassbender, he's also been seen in the likes of Ben Wheatley's High Rise and The Man Who Knew Infinity. Moreover, Watchmen will be a return to television for the Academy Award winning actor, whose last series role was as Rodrigo Borgia on Showtime's papal drama, The Borgias. 
Although there is still a great deal of mystery surrounding the series, there's no real indication that Lindelof's Watchmen is intended to be another puzzle box show, a la Westworld or his own television phenomenon, Lost. At this point, it doesn't really matter, as the series seems like an engaging confluence of material, creator (especially coming off The Leftovers), and cast that should, at the very least, produce some interesting results. 
Watchmen does not yet have an official premiere date. 
Source: Deadline
The post HBO's Watchmen TV Series Casts Jeremy Irons In A Lead Role appeared first on ScreenRant