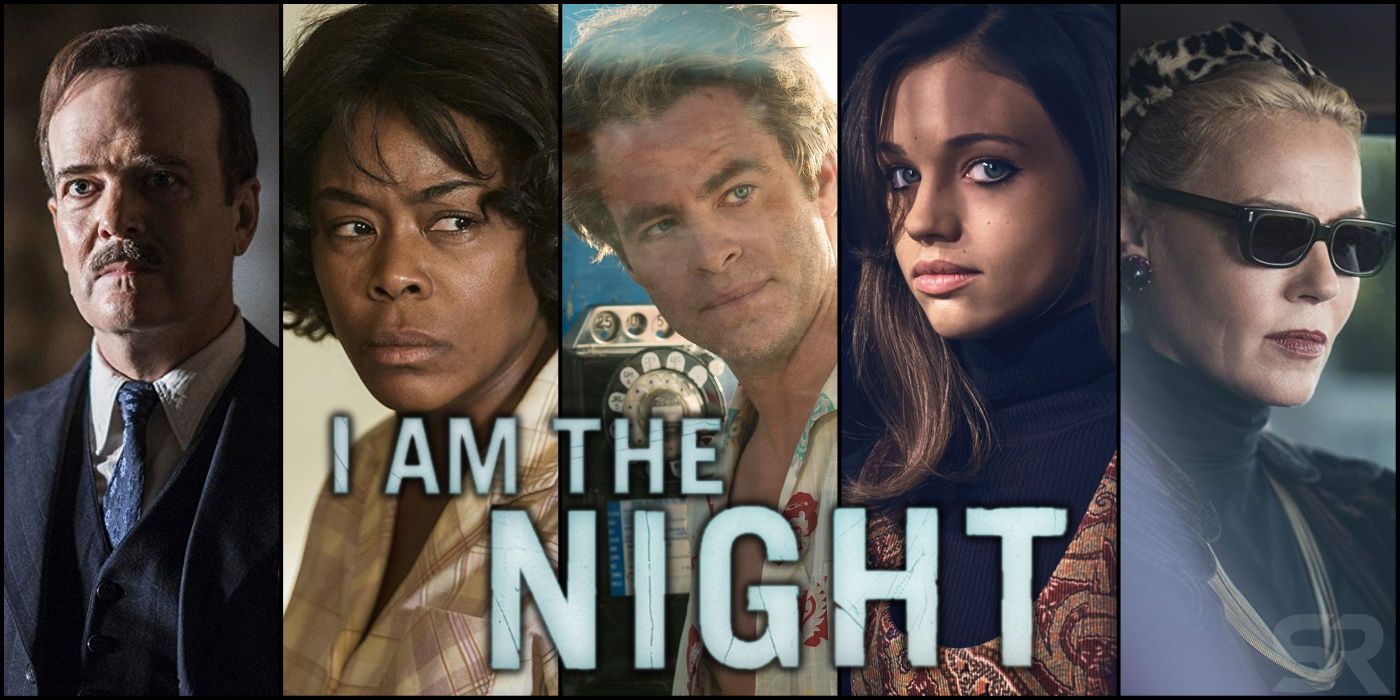 TNT's I Am the Night limited series, which is executive produced by Patty Jenkins (Wonder Woman 1984), is chock-full of top-tier cast members and unique characters. I Am the Night was written by Jenkins' husband, Sam Sheridan (Warrior), and is based on the memoir One Day She'll Darken by Fauna Hodel, a longtime friend of Jenkins.
Set in 1965, I Am the Night centers on 16-year-old Fauna, who grew up in Sparks, NV, believing she was mixed-race. When she discovers that she was adopted, Fauna sets out to learn the truth about her mother after receiving an invitation to Los Angeles from her mysterious grandfather, George Hill Hodel. Meanwhile, Jay Singletary, a down-on-his-luck reporter, reopens the investigation into the infamous 1947 Black Dahlia murder, which leads him into a dangerous labyrinth. When he crosses paths with Fauna, Jay realizes he and this lost teenager could be searching for the same answers.
Related: I Am the Night's Full Trailer
A six-episode noir drama steeped in Hollywood's most famous unsolved murder, the Black Dahlia, I Am the Night was pitched to Chris Pine by Jenkins when they were shooting Wonder Woman together. The actor was intrigued by Fauna Hodel's true-life tale and not only came aboard to star in the series, but to also serve as executive producer. Here's who else makes up the cast of TNT's prestigious limited series event, I Am the Night:
I Am the Night's Cast and Characters
Chris Pine as Jay Singletary – Singletary is a disgraced LA-based journalist and former Korean War veteran who crosses paths with Fauna Hodel as he investigates her grandfather, George. Pine is perhaps best known for playing Captain Kirk in the Star Trek films and as Steve Trevor in Wonder Woman.
India Eisley as Fauna Hodel – Fauna grows up believing she's bi-racial but when she begins investigating the truth about her mother, she is drawn into a web of danger. Eisley is the daughter of Romeo & Juliet actress Olivia Hussey and has starred in Underworld: Awakening and The Secret Life of an American Teenager.
Jefferson Mays as George Hill Hodel – Fauna's grandfather, Hodel is a prominent, powerful, and dangerous LA-based physician who was a suspect in the Black Dahlia murder. Mays has appeared in The Americans and The Ballad of Buster Scruggs.
Connie Nielsen as Corinna Hodel – Corinna is George Hodel's second wife; now divorced, she still keeps his many dark secrets. Neilsen has starred in Gladiator and played Queen Hippolyta in Wonder Woman and Justice League.
Golden Brooks as Jimmy Lee – Jimmy Lee raised Fauna from infancy but is emotionally abusive towards her adopted daughter. Brooks has starred in Blunt Talk and The Darkest Minds.
Leland Orser as Peter Sullivan – Sullivan is Jay Singletary's editor and mentor. Orser has starred in the Taken films and in Berlin Station.
Dylan Smith as Sepp – Sepp is George Hodel's right-hand man and styles himself as his protege. Smith has starred in Into the Badlands and The Maze Runner: The Death Cure.
Justin Cornwell as Terrence Shye – Terrence is a friend of the Lee family and takes a romantic interest in Fauna. Cornwell starred in the Training Day TV series and Empire.
Jay Paulson as Ohls – Ohls is an LA detective who served in Korea with Jay Singletary. Paulson has been seen in Mad Men and Turn: Washington's Spies.
Yul Vasquez as Detective Billis – Billis is a crooked LA detective known for his brutal tactics. Vasquez has starred in Midnight, Texas and Narcos: Mexico.
Shoniqua Shandai as Tina – Tina is Fauna's cousin who warns her about investigating her white family. Shandai voices Sunstone in Steven Universe and has appeared in Sierra Burgess Is A Loser.
I Am The Night airs Mondays, starting January 28, on TNT.