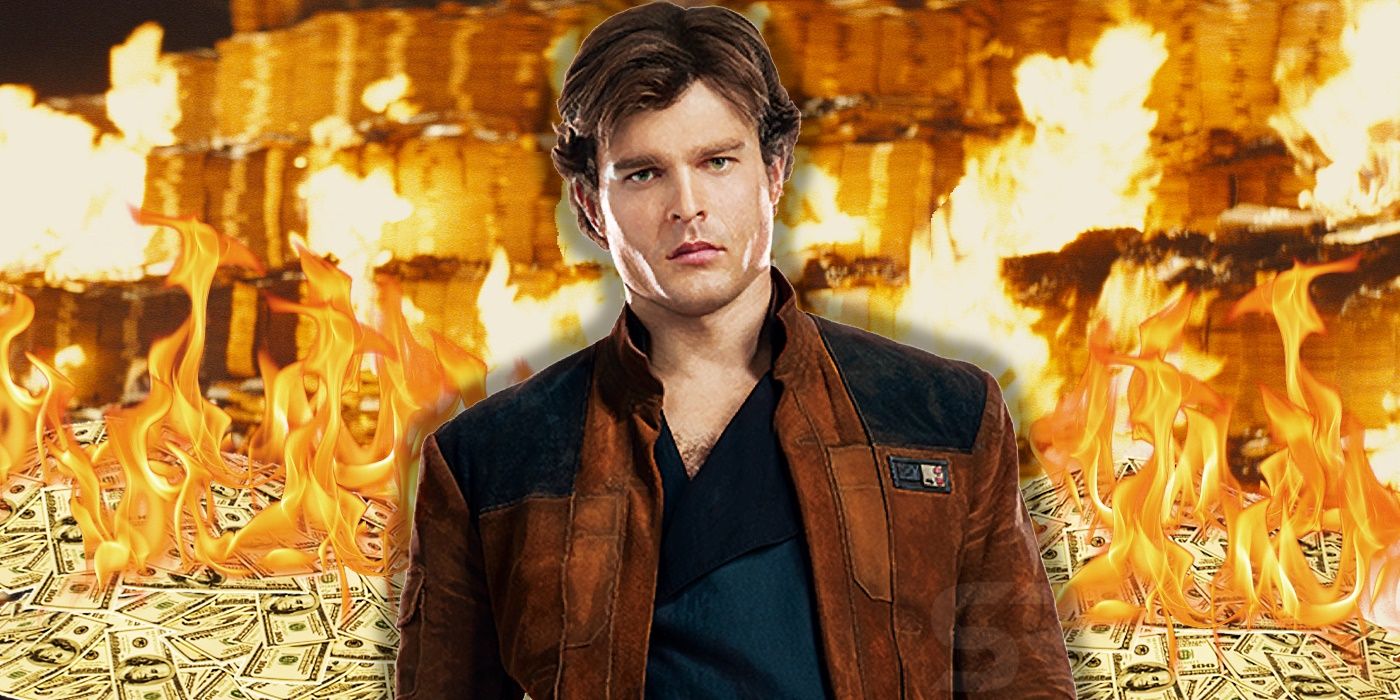 Is Disney actually to blame for the poor box office performance of Solo: A Star Wars Story? Behind-the-scenes drama at Lucasfilm led to the film's budget ballooning to more than $250 million – actually making this anthology film more expensive than Star Wars: The Force Awakens. In spite of that massive budget, though, the movie has been the first box office failure in the Star Wars franchise. Solo is expected to finish its box office run in the red by more than $50 million. It's officially the first Star Wars film to lose its distributor money; even The Clone Wars animated movie grossed $68.2 million worldwide against a budget of $8.5 million.
Disney and Lucasfilm are currently conducting a post-mortem on Solo, trying to work out how to prevent this ever happening again. Future Star Wars spinoffs have reportedly been put on hold, meaning we're unlikely to see James Mangold's Boba Fett or the much-anticipated Obi-Wan Kenobi movie. Meanwhile, Lucasfilm is reportedly done with hiring riskier directors like Gareth Edwards, Colin Trevorrow, or Phil Lord and Chris Miller. They're reportedly instead aiming to hire directors with a proven track record of handling big-name blockbusters.
Related: Star Wars Fandom Has Finally Got Over The Prequels – Thanks To Disney
But are Disney and Lucasfilm actually learning the right lessons? It's important to understand just why Solo has performed so badly, in order to correctly pivot towards future success. And the House of Mouse may be missing the obvious; that a lot of responsibility for this actually sits with Disney in the first place.
A Strong Concept Is Needed
According to Lawrence Kasdan, he was working on the script for Solo even before the Disney purchase in 2012. When Disney took control of Lucasfilm, Kasdan was asked to make a five-minute presentation to the likes of Bob Iger and Alan Horn. Surprisingly, he focused in on a single scene, in which Han got his name.
"My presentation was, [Han] comes to an immigration spot and someone asks, 'What's your name?' It's not just that he doesn't have a name, which tells you a lot about his history. He says 'I have no people.' That to me is so forlorn and so isolating and rife, and the guy fills in his name. Bob Iger said 'Alright, I'm in.' That was it. That was the moment. He reacted to it the way I reacted to it, which was, it's very moving. This was a guy who has nothing. Someone plants a name on him. He doesn't even know the guy. It sticks for the rest of the saga."
It's quite staggering to think that an entire Star Wars movie was greenlit because of a single scene. Interviews and concept art in The Art of Solo: A Star Wars Story suggest that the film lacked any further defining vision, and Kasdan toyed with countless different versions of the script. The variations are staggering; the first meeting between Han and Chewie, in particular, went through countless different versions. In one draft, Han and Chewie were both serving in the Imperial Army, and had a brawl in an officer's mess; in another, a starfighter crash led to Han being sentenced to front-line combat against the Empire on Mimban, and it was Han who was saved by Chewie.
Related: Han Meeting Chewie Was So Much Better In The Early Solo Script
Contrast this with Rogue One, where director Gareth Edwards pitched the film as a Vietnam War movie. He actually photoshopped rebel helmets on the tops of photos from conflicts in the Middle East and World War II, and used those as part of his pitch. There wasn't just a single scene; there was a high-level concept, something that was sorely lacking in Solo.
Disney seem to have assumed that Solo would be a success simply because it was Star Wars, and that a strong high-level concept wasn't necessary. That certainly explains early missteps; in March 2017, Iger told investors that Solo would reveal how Han got his name. To Iger, he was offering insight into the heart of the film; when details of the conversation went public, fan reaction was hardly positive. Lucasfilm President Kathleen Kennedy was forced to issue a clarification at Star Wars Celebration 2017; she attributed Iger's remarks to a misunderstanding, and insisted Solo wouldn't change Han's name.
Problems Behind The Scenes
The behind-the-scenes drama on Solo is already a matter of cinematic legend. Lucasfilm hired Phil Lord and Chris Miller as directors of Solo, with Kasdan in particular impressed by their "funny and imaginative" approach to film-making. There was reportedly a "culture clash" from day one, with Lord and Miller expecting the kind of directorial freedom they were used to from films like The Lego Movie. The duo favored a comedy improv style, and it's believed they were aiming to produce a film with the tone of Guardians of the Galaxy. There have been claims they pushed Alden Ehrenreich to perform in an increasingly zany style, with Lucasfilm insiders comparing his portrayal of Han to Ace Ventura. On-set conditions also weren't good; some reports have suggested Lord and Miller reshot scenes up to 30 times, but were never really able to tell actors what it was they actually wanted in the first place. The film began to run behind schedule, and finally Lucasfilm had enough.
In June 2017, with the film actually supposed to be nearing completion, Lucasfilm fired Lord and Miller. Lucasfilm swiftly hired Ron Howard to finish Solo. Incredibly, it's believed Howard reshot "nearly all" of Solo, for possibly "twice the budget." Some sources have reported that at least 80 percent of the spinoff was reshot under Howard's watch; that's a staggering claim, given there were allegedly only a few weeks left of principal photography when Lord and Miller departed.
Related: Solo: A Star Wars Story Reshoots: What's Lord & Miller And What's Ron Howard?
Why did Lucasfilm only step in so late in the day? Creative differences between studios and directors are pretty commonplace, but they're usually ironed out well before production begins. Lord and Miller were hired in July 2015, and had reportedly almost finished filming when Lucasfilm finally intervened. What's more, it's important to note that this isn't the only crisis Lucasfilm has had with their directors of late; Colin Trevorrow departed from Star Wars: Episode IX last year as well, while we only recently learned the scale of Rogue One's reshoots. Something's clearly gone wrong at Lucasfilm, and that one can't just be pinned on Disney.
The post Is Disney To Blame for Solo's Failure? appeared first on ScreenRant