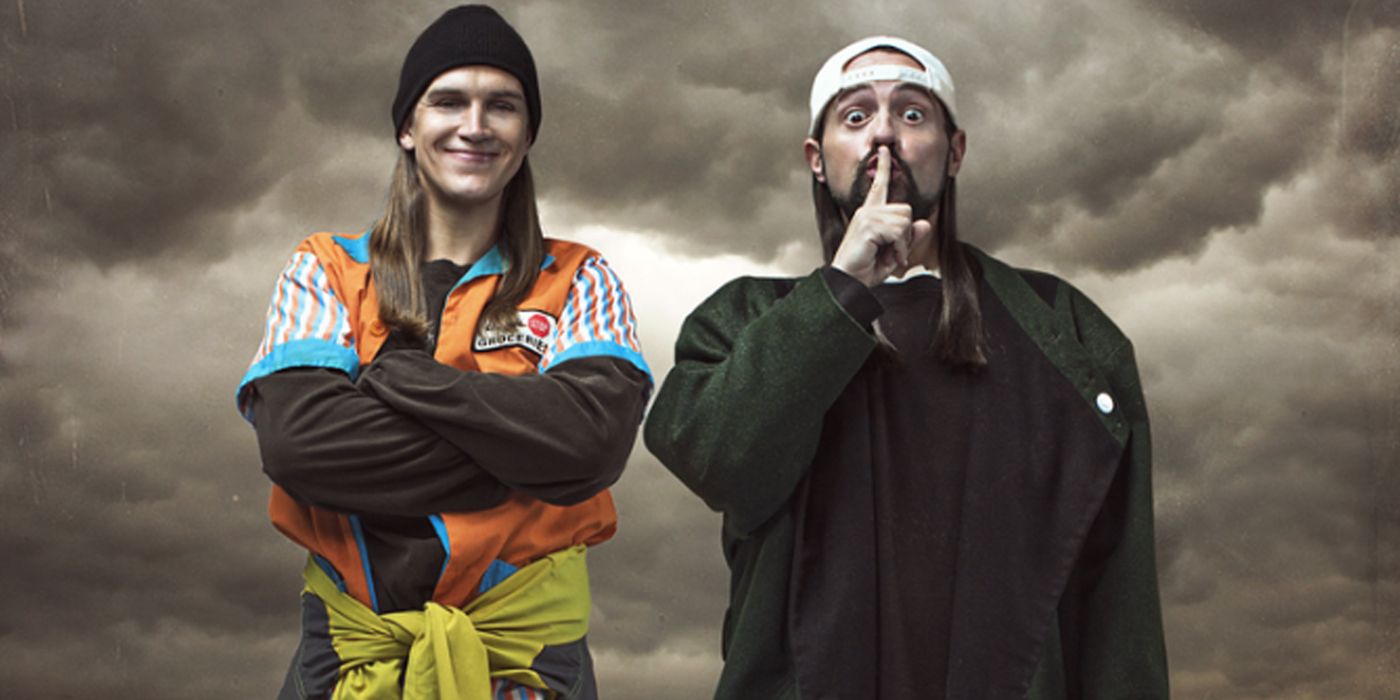 Kevin Smith's Jay and Silent Bob Reboot has been picked up by Saban Films, and stars Jason Mewes and Smith have revealed official plot details. Instantly recognizable to many as the team that originated 25 years ago in Smith's debut film Clerks, the last time that Jay and Silent Bob starred together in their very own feature film was back in 2001 with Jay and Silent Bob Strike Back.
In subsequent years following their introduction to the world, Jay and Silent Bob have become something of a cult phenomenon. They appeared as animated characters in 2013's Jay and Silent Bob's Super Groovy Cartoon Movie, battled foes and the munchies in their video game Jay and Silent Bob: Chronic Blunt Punch, and are currently in the process of creating a live-action VR series which will be shot from the perspective of Silent Bob. The two real-life pals have also done a series of live performances together, and they'll teaming up yet again.
Related: Kevin Smith Donating Weinstein Movie Residuals to Women's Charity
According to Deadline, Saban Films has picked up the North American distribution rights for Jay and Silent Bob Reboot. Clearly a fan of the Jay and Silent Bob IP, Saban's president Bill Bromiley called the deal "a huge milestone," while acknowledging the loyalty of the global franchise's fan base. Production on the film is currently underway in Louisiana. Smith and Mewes have also released a video detailing their return, revealing that Jay and Silent Bob Reboot will follow the titular characters as they attempt to stop Hollywood from rebooting Jay and Silent Bob Strike Back. They also highlighted the fact that the fan-owned Legion M will finance the film alongside Hideout Pictures and Skitbags Entertainment. Check out the video below:
Jay and Silent Bob Reboot will reportedly lambaste all the typical criticisms that moviegoers have with regard to sequels and reboots, a move that is keeping in line with the sort of humor that has made Jay and Silent Bob the successful comedic duo that they are. Smith had previously stated that Jay and Silent Bob will appear in Moose Jaws, the upcoming final instalment of his True North trilogy, and that their demise will come after they're eaten by the film's psychopathic moose. With Smith's new lease on life following a heart attack he suffered in 2018, it remains to be seen if he's still willing to kill off the much-loved stoners. In fact, Smith credits that very serious incident with giving rise to the Jay and Silent Bob sequel, saying:
"Last February, I almost died. So on the one year anniversary of my widow maker heart attack, as a celebration of life and a big ol' F you to Death, my best friend and I will be rolling cameras on a sequel/remake/reboot of a movie we first made nearly twenty years ago! In Jay & Silent Bob Strike Back our herbal heroes found out Hollywood was making a movie based on them, so they journeyed out to Hollywood to stop it. But I've learned so much as a storyteller and have grown immensely as a filmmaker since then, so audiences can expect something completely different: In Jay & Silent Bob Reboot our herbal heroes find out Hollywood is making a reboot of the old movie that was based on them, so they journey out to Hollywood to stop it again. I offer my (literal) undying thanks to our amazing partners at Saban and Universal for making this dream come true and backing this cinematic silliness!"
There's no doubt that Kevin Smith has changed a great deal since his heart attack, including the fact that he became a vegan and lost a great deal of weight. If this new life path is being reflected in his work, then fans have will likely continue to have much to look forward to in the coming years. That said, fans should still expect the same type of raunchy, over-the-top humor in Jay and Silent Bob Reboot that have defined these characters for the past twenty-plus years.
Source: Deadline