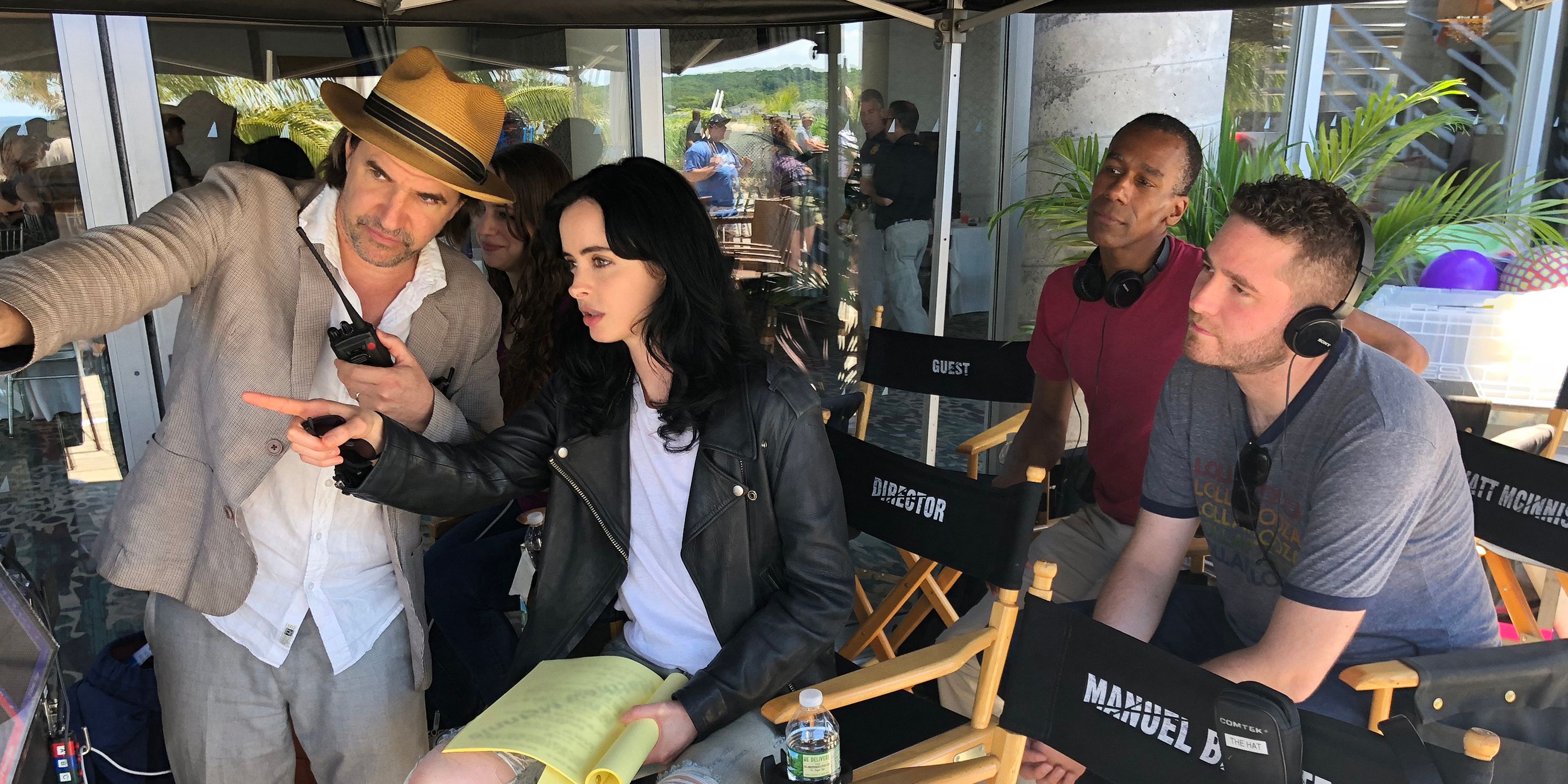 Jessica Jones star Krysten Ritter is adding a new skill to her repertoire as she'll be directing an episode of the show's upcoming third season. Now that The Defenders is out of the way and Netflix seems committed to three Marvel shows a year, the street-level heroes of the MCU are returning sooner and sooner. Two years seems to be the max between series, but the next batch of Jessica Jones episodes could come even sooner. Last month, Jessica Jones season 3 character breakdowns hinted the show would be back much earlier than expected while also hinting at a villain pulled from the comics.
Since that initial news dropped, things have moved quickly. Jessica Jones season 3 began filming last week, meaning more information and set photos should be just around the corner. We also know a bit about some of the new additions, as some Jessica Jones audition tapes offered hints of the characters that will be joining season 3. And while we're still awaiting some official news about the show and when we might expect to see it, an interesting detail has emerged.
Deadline is reporting that Krysten Ritter will be tackling directorial duties for an episode in season 3. While no additional details were revealed, it's another step up for the actor who recently released her debut novel Bonfire. As such, expect her to try her hand at writing for the show sometime in the future. Along with the news, Netflix released an image of Ritter in her Jessica wardrobe as she steps behind the camera.
Netflix notoriously keeps release dates close to the vest, and that in conjunction with Marvel's standard secrecy means we don't know when Jessica Jones season 3 will drop. But given that it's currently filming, it seems almost guaranteed to arrive in 2019. If it does, it will join both season 2 of The Punisher and Iron Fist, which are also assumed to debut next year. Of course, Marvel TV head Jeph Loeb seemed to indicate Iron Fist season 2 could come this year. But with Daredevil season 3 expected to premiere in the fall, four Marvel-Netflix shows in one year seems unlikely.
Future Marvel shows will be on Disney's streaming service, but the series in the Defenders-verse are currently going strong. Season 2 of Luke Cage was praised almost universally for topping its predecessor. It set up a bold new direction for season 3 and helped tease out some possible future team-ups. That said, fans are still hoping Luke and Jessica will fulfill their comic book destiny and end up together (and have their daughter). Perhaps season 3 of Jessica Jones will help tee this up, so stay tuned for more details as they emerge.
Jessica Jones season 3 is expected to premiere in 2019 on Netflix.
Source: Deadline
The post Jessica Jones Star Krysten Ritter Will Make Directorial Debut In Season 3 appeared first on ScreenRant