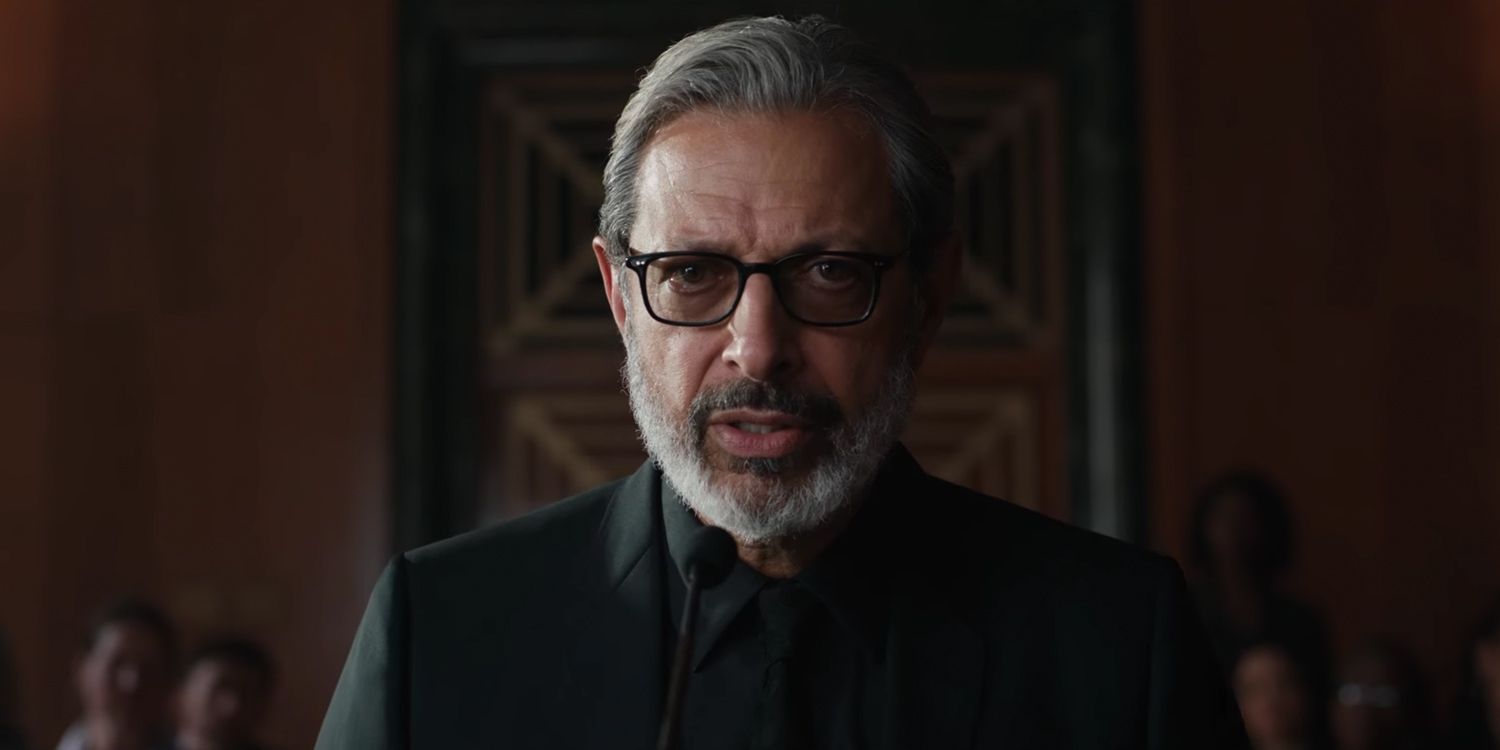 Jeff Goldblum would be more than open for Ian Malcolm to return for Jurassic World 3. Despite being a supporting character, Goldblum's Malcolm stole the show during the original Jurassic Park. Malcolm was a mathematician who provided some much-needed comic relief during the darker sections of the story, with several of his scenes becoming fan favorites.
Malcolm was upgraded to lead for The Lost World: Jurassic Park, where the character is reluctantly drawn into a rescue mission to the original testing site for the dinosaurs. Malcolm returned for the first time in over 20 years recently for Jurassic World: Fallen Kingdom, where he gives a speech before the Senate on dinosaur rights. Sadly, Goldblum only returned for one scene, but with Jurassic World 3 confirmed for a 2021 release, the door is left wide open for him to return.
Related: Jeff Goldblum Is In Jurassic World Evolution Video Game
The actor himself hinted recently he and other members of the original cast might return for Jurassic World 3, and in a new interview with Collider hestated – in a very Goldblum-y way – he'd be happy to come back and work with Colin Trevorrow again.
Who knows? I'm curious about it, you know. If nothing else happens I'd be entirely satisfied and nourished and lucky and thrilled to have done all of this, if I can be any service, that's my posture and authentic feeling. But I've kind of nosed around because I've had such a great time, and [Trevorrow] is so good, we did that jeep commerical, he directed that, he's awful good. I'd like to work with him more on anything.
Jurassic World 3 is said to be more of a 'science thriller' like the original movie and will move away from dinosaur hybrids. The movie is also said to wrap up the current trilogy, and with Malcolm's brief return for Fallen Kingdom, it feels like the stage is set for characters from the original series to crossover. Goldblum at least seems very game, but fans would also love to see Sam Neill and Laura Dern make a comeback too.
Despite the cult surrounding Ian Malcolm, Goldblum recently revealed the character was almost cut from the script for the first film. Steven Spielberg and the writers felt Malcolm may not have been vital to the story, and aspects of his persona could be melded with Neill's Dr. Grant instead. Thankfully, Goldblum lobbied for the part to stay. While some fans may have been disappointed with Malcolm's short return for Fallen Kingdom, the character has a much bigger role in video game Jurassic World Evolution, where he guides players as they build their own dinosaur park. If it works for the story, hopefully he'll make a return for Jurassic World 3 too.
Source: Collider
The post Jurassic World 3: Jeff Goldblum Interested in Ian Malcolm Return appeared first on ScreenRant