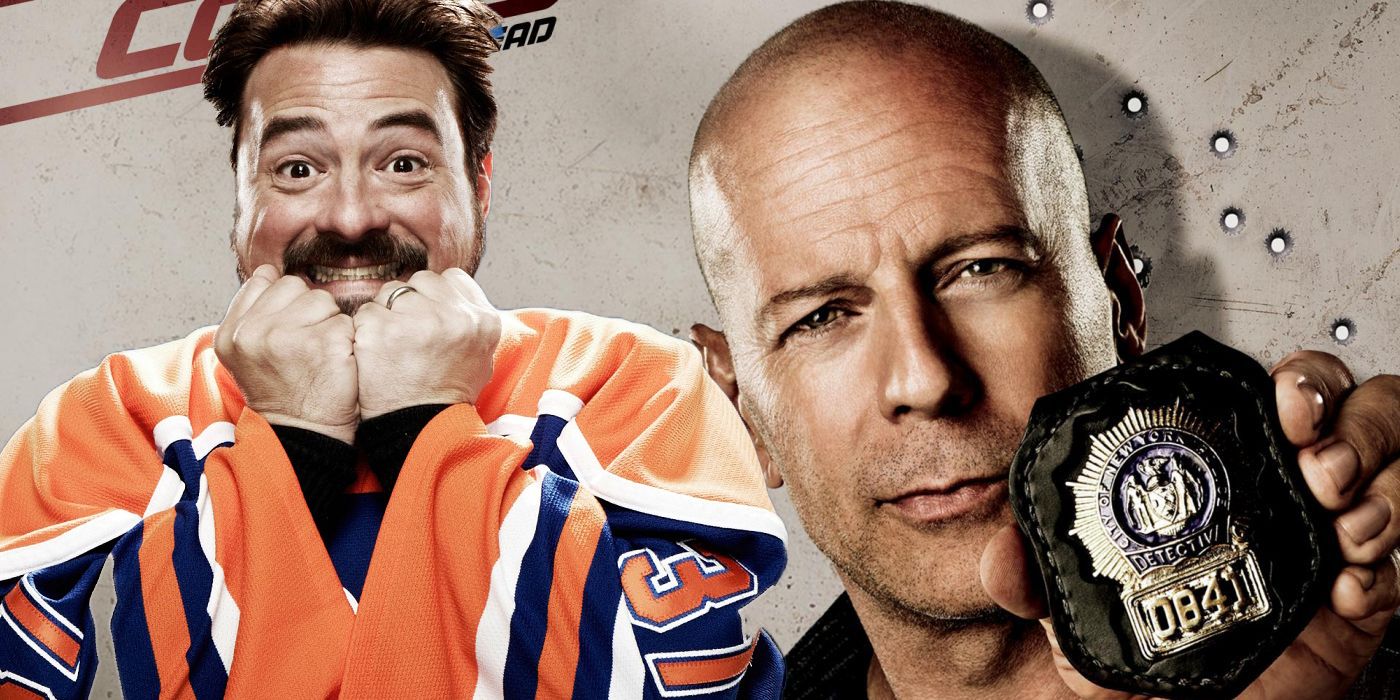 Kevin Smith did not receive an invitation to attend the upcoming roast of Bruce Willis. Many expected the director – who openly discussed his unfavorable experience working with Willis – to be a part of the event. Smith has replied in his typical sarcastic fashion.
According to Smith, before the director worked with Willis on Cop Out in 2010, Smith had been a huge fan of the action star. But his experience working with Willis was famously negative. Smith first tried not to call out Willis by name, merely hinting that one of the actors in the film "wouldn't even sit" for a photo shoot while implying that the troublesome actor was not Tracey Morgan. Smith was later quoted warning fans not to meet their heroes. This incident made Smith a prime candidate for the roast in many's eyes. The bad blood coupled with Smith's comedic abilities seemed like a lock. Well, not so much.
Related: Kevin Smith Invites Stan Lee to Come Live With Him
Smith did not receive an invitation to the upcoming Comedy Central roast, a fact that did not go unnoticed by his fans. In true fashion, the director took to Twitter to comment on the apparent slight by referencing the very film that led to their falling out. Smith first noted that he doesn't actually like to make fun of other people. He also admitted that he didn't mind skipping the event entirely. But he couldn't help but make a jab at Willis for not allowing Smith the option, calling the decision a "cop out." Read the full tweet below:
I have a hard time making fun of others (which is why I tend to turn inward and mock myself). And honestly: even though I've worked with him twice, I'm way okay with not being invited to this Roast. But it does kinda feel like a… what's the term I'm looking for here? A cop out. https://t.co/oGLqUCqDTz

— KevinSmith (@ThatKevinSmith) June 29, 2018
Joseph Gordon-Levitt, who played a younger version of Willis' character in 2012's Looper, is set to host the event. Seven celebrities were added to the guest list yesterday, including Edward Norton, who co-starred in Wes Anderson's Moonrise Kingdom with Willis, Cybill Shepherd, Willis' Moonlighting co-star, and Kevin Pollack, who appeared with Willis in The Whole Nine Yards.
Smith has had a rough time, recently. He suffered a heart attack in February after collapsing before a comedy event. AMC also recently announced their intention to cancel Smith's long-running cable series, Comic Book Men. The director has been taking things in stride, however. After his health scare, he adopted a vegan diet and has successfully and proudly lost a lot of weight in the process. In lieu of the series, Smith's attention has been spent resurrecting his popular characters Jay and Silent Bob. The characters recently reunited on an episode of The Flash and will be featured in an upcoming VR series.
Source: Kevin Smith
The post Kevin Smith Wasn't Invited to Bruce Willis Roast & His Reaction is Priceless appeared first on ScreenRant