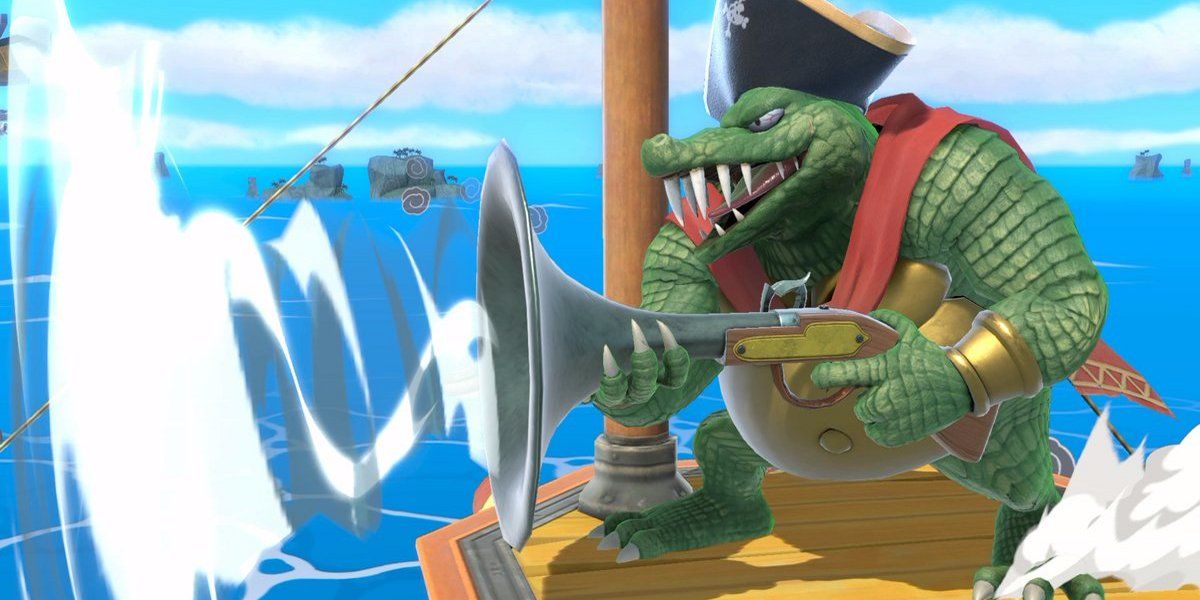 Fans of Donkey Kong villain King K. Rool are offering their thanks for the character's inclusion in Super Smash Bros. Ultimate. In a recent Nintendo Direct video presentation, the King of the Kremlings was confirmed to be one of five new characters joining the game's roster.
Super Smash Bros. Ultimate for the Nintendo Switch features every character in the history of the series, but will only include a limited number of new challengers. Among these is King K. Rool, who was announced as a playable fighter alongside the original Castlevania protagonist Simon Belmont, his descendant Richter Belmont, Metroid's Dark Samus, and Chrom from Fire Emblem: Awakening. The most notable new addition to the roster is King K. Rool, who fans have been wanting for several years.
Related: Don't Expect Goku In Super Smash Bros. Ultimate
The Twitter Kremling Kampaigner, which has been devoted to advocating that the character join the series, has issued a statement offering their thanks to Ultimate director and series creator Masahiro Sakurai on behalf of all King K. Rool fans. The statement, which refers to his inclusion as "a dream come true," states that King K. Rool "will be forever immortalized as a Nintendo all-star, looking better than we could have ever imagined."
Despite K. Rool's popularity, it's worth noting that the character hasn't been relevant for well over a decade, so his presence is Ultimate is still surprising. K. Rool was the main villain of all three Donkey Kong Country games for the SNES, and has only appeared sparingly in the games that followed. When the franchise was rebooted, the character was completely overlooked. Even his creator, Gregg Mayles, expressed surprise when he was announced for Ultimate.
Sakurai acknowledged in a column he writes for Famitsu that King K. Rool received a "ton of votes" in the Smash Ballot, which was released several years ago. At the time, it was believed that the purpose of the poll was for fans to vote on the DLC characters for the Wii U and 3DS Smash games. However, it appears that the Smash Ballot played a major role in the character selection process for Ultimate instead.
The King of the Kremlings' presence in the upcoming game is proof that Nintendo and Sakurai are listening to the fans. Nintendo seems to be pulling out all the stops to ensure that Super Smash Bros. Ultimate is the best game in the franchise.
Super Smash Bros. Ultimate launches for the Nintendo Switch on December 7, 2018.
Source: Kremling Kampaigner