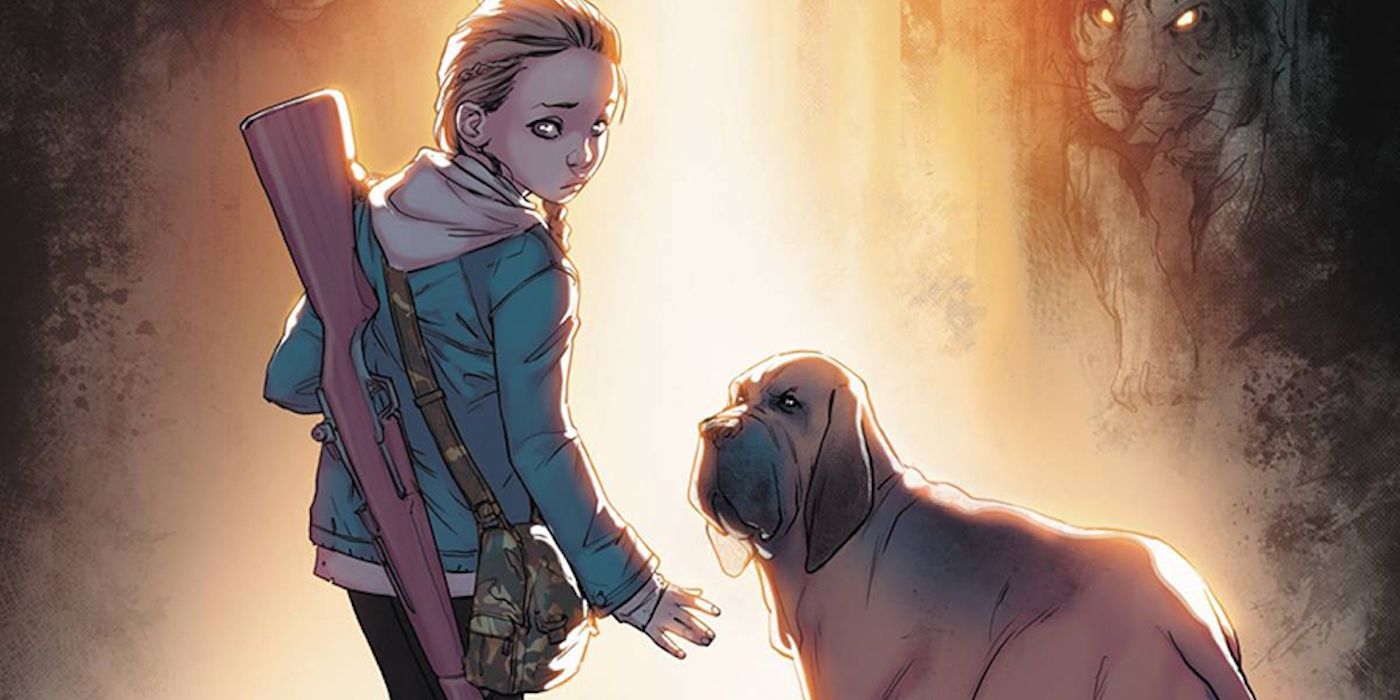 Legendary has acquired the movie rights to Animosity. Written by Marguerite Bennett and drawn by Rafael de Latorre, this acclaimed comic book series is published by AfterShock.
Animosity takes place in a world where the animals have woken up, as in thinking and speaking, but more to the point, understanding. Although this is every animal lover's dream in theory, in actuality, everything descends into chaos when many of these creatures seek vengeance. While the story confronts the unsettling reality of animal cruelty across the globe, at its core Animosity is about eleven-year-old Jesse, and her forever faithful pooch, Sandor, traveling cross-country in search of help. The series is an incredibly compelling coming of age story set in a dystopian world, that somehow manages to find the humor, as well as the heartache.
Related: Steven S. DeKnight Interview: Pacific Rim Uprising
Not much has been revealed yet, beyond Legendary's announcement of obtaining the film rights. What is known is that the project will be produced by AfterShock President Lee Kramer, as well as CEO Jon Kramer. Legendary's Jon Silk will oversee the project. AfterShock Comics launched in 2015 and quickly become known for publishing quality creator-owned comics. Legendary is responsible for such blockbusters as Jurassic World: Fallen Kingdom and Pacific Rim: Uprising. Although the latter fell short of expectations, the former has already passed the $700 million mark at the box office.
Debuting in 2016, Animosity was a success both critically and commercially, and has since spun off another ongoing series, Animosity: Evolution, as well as a miniseries, Animosity: The Rise. Both are also written by Bennett, with art by Eric Gapstur and Juan Doe, respectively. Bennett created one of AfterShock's first projects, InSeXts, but has also worked for Marvel, DC and other indie publishers on projects as varied as A-Force, Batwoman and Red Sonja.
As with adapting any beloved ongoing series into a feature film, there is the concern of faithfully rendering many issues of source material into a single movie. Aside from that, it's likely going to be a fairly difficult transition from page to screen. Bennett tells a gorgeous and heartrending story amidst a horrifying – and at times hilarious – backdrop. In perfect harmony with the words, de Latorre's art expertly conveys the love between a young girl and her dog, as well as the many emotions of creatures great and small. The story might be better served as a TV series. It's ultimately too early to speculate too much though, as so few details are available. Legendary has proven itself capable of making great movies and with AfterShock's CEO and President onboard as producers, it would seem this excellent comic is in good hands.
More: All The Clues To Jurassic World 2's Big Twist
Source: Legendary
The post Legendary Acquires Movie Rights to Post-Apocalyptic Comic Animosity appeared first on ScreenRant