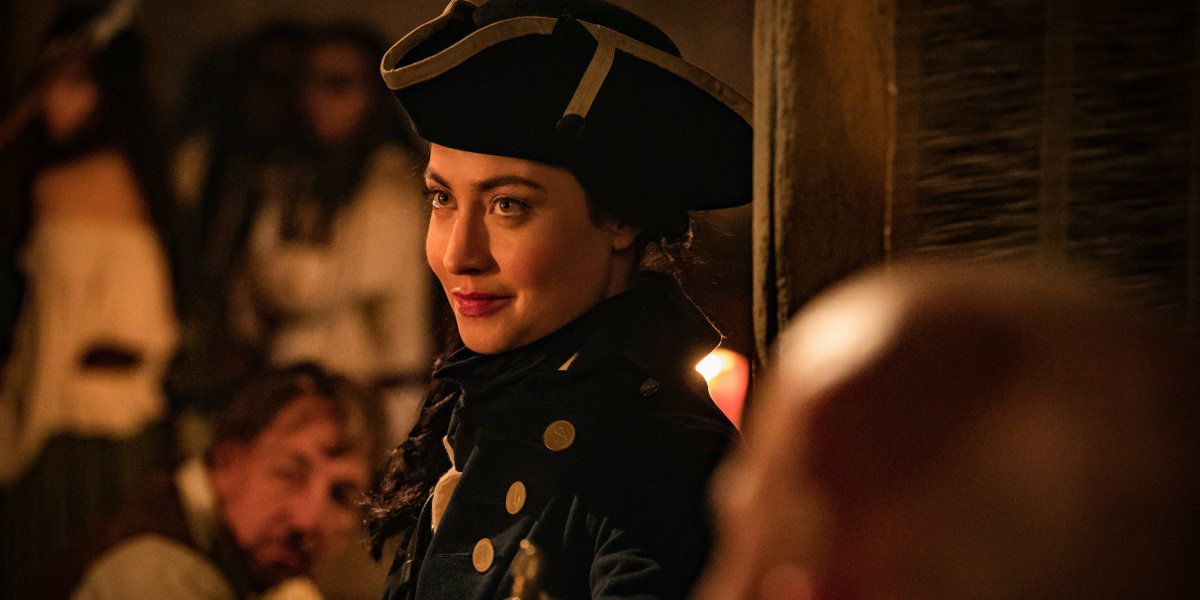 Courtney Ford has been upped to series regular for Legends of Tomorrow season 4. Ford made her proper Arrowverse debut in the Legends of Tomorrow season 3 episode, 'Return of the Mack', though it wasn't altogether clear who her character was at first. It turned out she was Nora Darhk, daughter of Damien, whom the Legends had only just defeated in season 2. After using some dark magic of her own to resurrect her old man, the Darhks set off to wreak havoc across the vastness of time by unleashing the demon Mallus into our world.
However, things didn't go quite according to the Darhks' (evil) plan. In the end, Damien partly redeemed himself by sacrificing his life to save Nora, allowing her and the Legends to defeat Mallus in the process. It appears that Nora might be getting a redemption arc of her own in season 4 by (potentially) helping the Legends battle the various monsters they inadvertently let into our world during their efforts to bring Mallus down (much to their new teammate John Constantine's chagrin).
Deadline reports that Ford has been upped to series regular status for Legends of Tomorrow season 4. Other new series regulars this season include Constantine actor Matt Ryan and Jes Macallan (who plays Sara Lance's girlfriend and head of the Time Bureau, Ava Sharpe). Ford is also married in real life to Brandon Routh, who play Ray Palmer aka. The Atom on the show, as it were.
The Deadline article doesn't offer any details about Nora's role in the Legends season 4 storyline. However, it stands to reason that she will be lending the time-traveling heroes a hand in the episodes that lie ahead. Nora was arrested by the Time Bureau in the season 3 finale, but was (secretly) given the Time Stone by Ray, to use for good. Thus, the stage has been set for Nora to become a hero in her own right – by using her magic to serve the forces of light, this time around.
In addition to having good screen chemistry with her real-life husband on the show, Ford as Nora has a fun dynamic with the Legends that should benefit from further development in season 4. Ford's upgraded status also goes to show just magic-driven this new season really will be. Legends arguably became the best Arrowverse series in season 3 thanks to its willingness to continuously evolve and embrace its own ridiculousness. By diving head-first into fantasy this season, the show has a pretty decent shot at maintaining that upward trajectory, too.
DC's Legends of Tomorrow season 4 premieres Monday, October 22 on The CW this fall.
Source: Deadline
The post Legends of Tomorrow Season 4: Courtney Ford Upped to Series Regular appeared first on ScreenRant