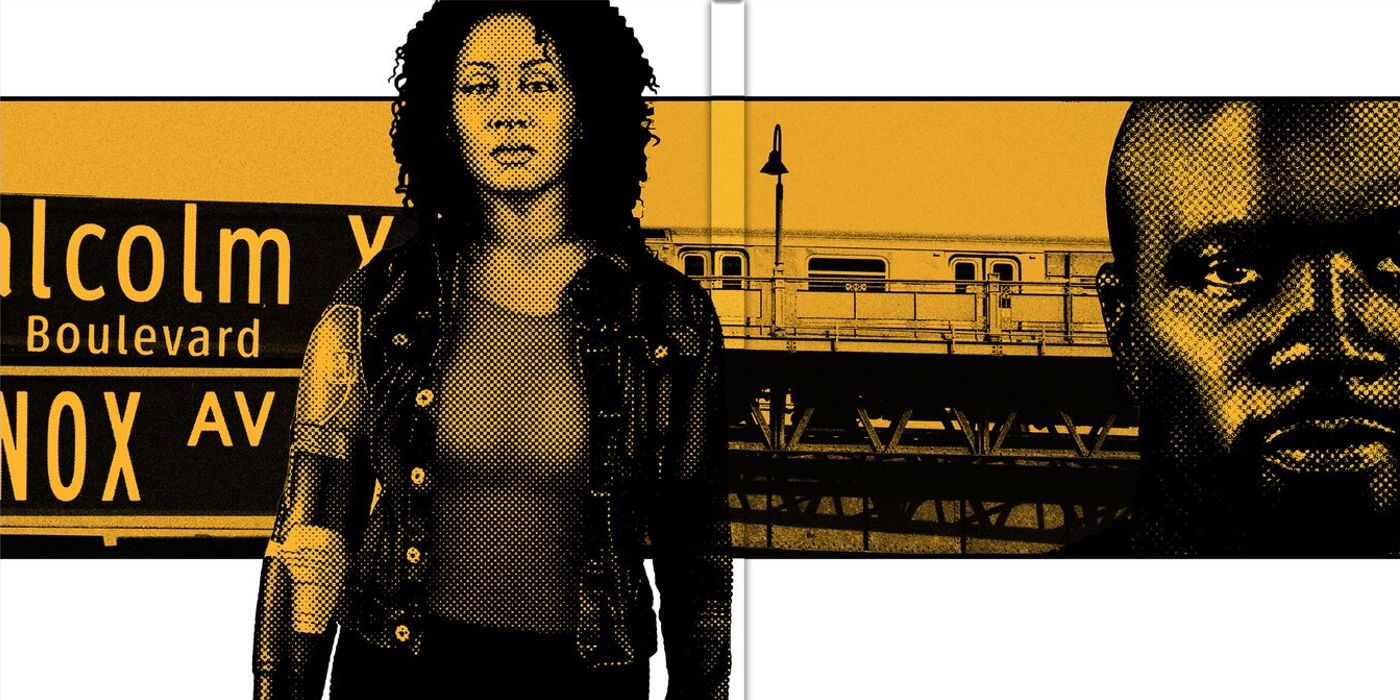 The second season of Marvel's Luke Cage went live on Netflix on June 22, and now a brand new double-vinyl version of the soundtrack is available for purchase, courtesy of Mondo. Contained in a sleeve featuring original artwork of the character by Sarah Deck, the album consists of the original score composed for the newest season in addition to specific licensed track selections, including an exclusive song written and performed by Rakim, "King's Paradise."
The Luke Cage series exists within the span of Marvel properties streaming on Netflix, including Daredevil, Jessica Jones, and The Punisher. Led by showrunner Cheo Hodari Coker, Luke Cage presents the bulletproof Harlem superhero protecting his neighborhood from criminal elements, and the character has often crossed over with other Netflix Marvel shows, while distinguished by a focus on people of color, a hip-hop aesthetic, and themes consistent with the show's urban landscape.
Luke Cage's soundtrack released by Mondo is carefully curated and composed by musicians Adrian Younge and A Tribe Called Quest's Ali Shaheed Muhammad, with a strong emphasis on Golden Era hip-hop from the '90s. Throughout both seasons of the show, artists like The Wu-Tang Clan, Rakim, Nas, and Mobb Deep have shared a presence with artists like Sharon Jones & The Dap Kings and Raphael Saadiq, linking the character and feel of Luke Cage with a carefully considered sonic identity. Even the episode titles refer to hip-hop greats; season 1 episodes were each named after Gang Starr songs, and season two's are sourced from the records put out by Pete Rock & CL Smooth.
For the new album, Younge and Muhammad expanded on the themes in the first season with new motifs inspired by reggae and dub music, specifically chosen to align with the new villain Bushmaster, who is featured prominently throughout the new season. The character, played by Mustafa Shakir, is a super-powered Jamaican gangster based on the original John McIver/Bushmaster character who first appeared in Marvel comics in the '70s.
Adrian Younge has often explored musical motivations related to composer Ennio Morricone's signature soundtracks from classic Westerns, especially those made by director Sergio Leone. Taking cues of some of Morricone's famous character themes from films like The Good, The Bad, and The Ugly and A Fistful of Dollars, Luke Cage's title theme and soundtrack infuses them with funk, jazz, and hip-hop aspects to present a wholly original style unique to the series.
This newest double album is printed on smokey translucent 180 gram yellow vinyl and, while it's presently available, interested buyers should note that the vinyl release for Luke Cage season 1 quickly sold out and remains a sought-after collector's item.
Luke Cage season 2 is now streaming on Netflix.
Source: Mondo
The post Luke Cage Season 2 Soundtrack Gets Awesome Vinyl Release From Mondo appeared first on ScreenRant