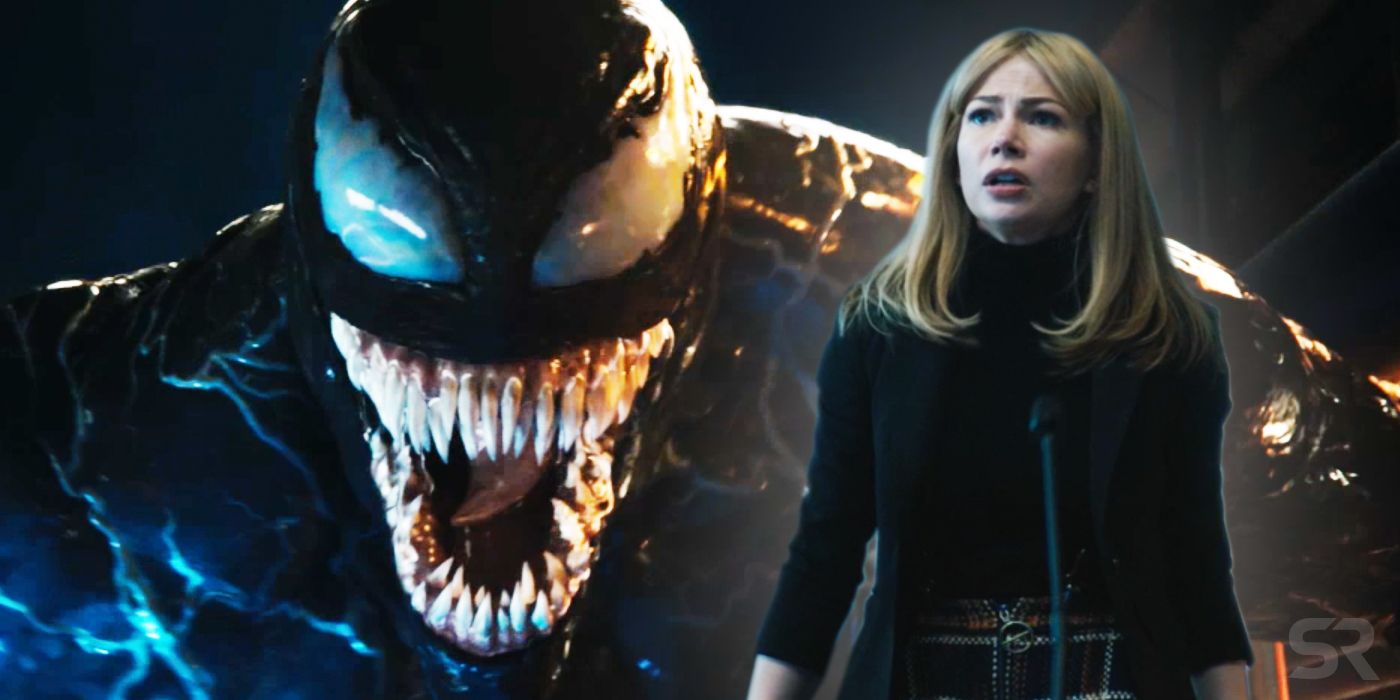 Despite starring opposite Tom Hardy as Eddie Brock's love interest Anne Weying in Sony Pictures' surprise 2018 hit Venom, Michelle Williams recently joked that she doesn't understand the story at all. Williams is a four-time Academy Award nominated actress, and Venom marked her first foray into superhero films.
Directed by Ruben Fleischer, Venom departed from the character's typical origin story that involves Spider-Man to instead shift greater focus onto struggling reporter Eddie Brock (Hardy). In the film, a group of alien symbiotes – that includes Venom – crash-land on Earth thanks to a Life Foundation space probe. The Life Foundation, led by Riz Ahmed's Carlton Drake, has less than virtuous intentions to bond the alien entities with humans. The superhero movie smashed all box office expectations, in part thanks to amazing stunts and visual effects, grossing $855 million worldwide – more than Wonder Woman, 2002's Spider-Man, Deadpool, and many other highly regarded films in the genre. Venom was so popular, in fact, that it even received an Honest Trailer treatment that comically paints Eddie Brock as a potential cannibal. In addition to Hardy, Williams, and Ahmed, the film also features Jenny Slate, Reid Scott, and Woody Harrelson in a small teaser role.
Related: Marvel's New Carnage is Killing EVERY Venom
In a recent sit-down with her After the Wedding co-stars, Julianne Moore and Billy Crudup, and Variety at the Sundance Film Festival, Williams joked that she knows next to nothing about Venom even though she played such a central role. When asked about details for the planned sequel, Williams responded, "I don't even know much about Venom [1]" let alone anything about the sequel. It's somewhat unclear if Williams was just being coy or truly found the storyline confusing.
Due to the film's global success, Venom 2 is already in the works whether Williams knows much about it or not. Hardy is set to return as the titular antihero, as is Williams as Weying and Harrelson as the character Carnage. Kelly Marcel, who joined the Venom team during rewrites, will write the sequel and also serve as an executive producer. The success of Venom has also helped other Spider-Man spinoffs pick up steam, including the Jared Leto-led vampire flick Morbius.
Following the wide release of After the Wedding, Williams can next be seen in FX's limited series Fosse/Verdon alongside 2018 Oscar winner Sam Rockwell. The series offers a look into the life of filmmaker and choreographer Bob Fosse (Rockwell), as well as his relationship with Broadway star Gwen Verdon (Williams). As for Venom 2, like Williams, we'll have to wait and see.
Source: Variety